This month the Sports Girl spotlight is on Australian tennis champion - Lleyton Hewitt. We take a glance at his career so far!STATISTICS
Highest Champions 1 17/1/00
Current Champions Race Position: 4
Turned Pro: 1995
Born: Adelaide, South Australia
Lives: Adelaide, South Australia
Height: 180cm
Weight 65kg -145 lbs
Plays: Right Handed BASELINER
Birthdate: 24/2/81
2000 Tour Record
Singles Record: 26 - 4
Singles Titles: 3
Davis Cup win / loss 7-3 (singles)
Doubles Record: 8 - 3
Doubles Titles: 0
Davis Cup win / loss 0
Prize Money: approx. $325,806
Lleyton Hewitt Bio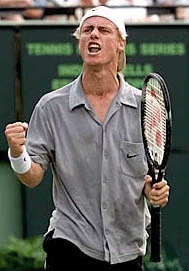 Lleyton Hewitt has beeen born and bred into a family of sporting achievers. His Mum, Cherilyn Rumball, is a former
champion netballer, his father, Glynn Hewitt, is a league footballer, and his sister, Jaslyn, is already is ranked number one in Australia for her age in tennis. She has achieved already more in tennis than Lleyton had at the same age.
The Hewitt's have a grass court at their West Lakes home. This was where a much younger Lleyton began his tennis career. When Lleyton showed a remarkable ability for a 4 year old and he was hitting balls consistently over the net, his parents decided it was time to get him a coach. Again, he was only four years old.
"Rather than get into bad habits, it was best he learnt how to hit the ball correctly." says Glynn Hewitt. Two years later, they sought out Peter Smith, a player who coached John Fitzgerald, Roger Rasheed, Louise Stacey and his own son, Luke Smith.
At the tender age of five, when most of us are playing hide and seek or getting into all sorts of mischief, Lleyton and his family would make the trip to Melbourne for the Australian Open. Lleyton would sit for up to 12 hours a day watching players practise.
Lleyton's involvement with tennis was orchestrated by his parents who quite deliberately steered him away from football. Lleytons parents concerns for the physical risks involved with football bought him to the road of professional tennis. Had Lleyton played football, it is quite possible he may have ended up playing for his favourite team - the Adelaide Crows. As his mother says, "I guess we've guided him into things we felt were good for him before he did. I guess that's just our gut feeling."
By the time Lleyton was eight, he was winning "under-10 games" and always won a year ahead of his age. A professional career was a looking very promising.
"It's always a bit of a pipe dream," says Glynn. "But there are many times along the road you think they're not going to make it."
"It's at the back of the mind," says Cherilyn. "Then you think, 'better keep the schooling going because it's not going to work out'".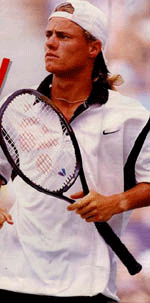 In 1998, Lleyton was away from school for around nine months, and being on the road so much has helped him grow up fast. At the age of 13, Lleyton flew to Bangkok alone. The rest of the team had left from Sydney. Lleyton had to share accomodation with people he did not know and some of whom did not speak English.
Lleyton didn't know what was happening and was quite petrified. So since then, he has made his own arrangements, travelling to the US, Japan, Asia, the Middle East and Europe,
including Slovenia, Slovakia, Belgium, Italy, France, Austria, Germany and Switzerland.
Lleyton's controlled competitiveness is helped by his love of sport which he spends just about every waking moment either watching, discussing or playing.
For years the family would get up early, jog to Football Park, run, do sprints, jog back and work out. He is a huge fan of recreational golf and has expressed his dream, second to tennis, would be to play professional AFL football for the Adelaide Crows.
In 1999 Lleyton had his first taste of playing Davis Cup when he was called upon to play for Australia with Pat Rafter at the quarter finals in Boston. Lleyton went on to win both his rounds against Todd Martin and Alex O'Brien. Lleyton then joined Wayne Arthurs in Brisbane to again win against Russia defeating Kafelnikov and Safin. His Davis Cup record at that stage was 4-0. Lleyton and Mark Philippoussis played the final in Nice against France. Lleyton played a close match but went down in straight sets. This was by now no concern as Lleyton had helped Australia win the Davis Cup for the first time in 13 years.
Lleyton has continually grown from strength to strength and at such a young age, he is destined for further greatness & success within the professional tennis arena. His name is fast becoming well known in homes within Australia as well as in homes of tennis followers worldwide.