Known for her roles in ABC's Black-ish and Netflix's BlackAF, Madison Shamoun is an actress on the rise, who has worked alongside Kenya Barris, Rashida Jones, Tracee Ellis Ross, Anthony Anderson, and many more.
Born and raised in San Diego, California, Madison Shamoun's passion for musical theater and talents for acting, dancing, and singing started when she was very young. Recognized for her star potential and undeniable talent, Madison is the recipient of two National Youth Theater Awards for Best Supporting Actress, for her performance as Lucy in "13" (2013) and Motormouth Maybelle in "Hairspray" (2015). Madison recently graduated from the University of California Los Angeles with a Bachelor of Arts in Acting for Theater, Film, and Television. During her time at UCLA she starred in many stage and film productions including her lead roles as The Pupil in 'The Lesson,' and Olivia in 'Georgia is Waiting.'
Following her graduation from UCLA, Madison's acting career has continued to blossom. A member of SAG-AFTRA, she's worked with directors like Pamela Adlon, Catherine Reitman, Jody Margolin Hahn, and Ken Kwapis. Madison has been featured in guest star roles on ABC's BLACK-ISH, Netflix's BlackAF, and Disney's Sydney To The Max. She has also appeared in FX's 'Better Things' directed by Pamela Aldon, and Maren Morris' newest music video 'Girl' directed by Dave Myers. Madison's upcoming projects include 7 Minutes In Hell and The Restart. She also recently starred in a short film for Tribeca's 2019 YOUTUBE platform, and an MTV commercial spot for Coca Cola. Madison is represented by Buchwald and Brave Artists Management. Madison has also been Vegan for 10 years. She passionately supports the fight against Animal cruelty by wearing/using all vegan products and clothing. She is also very passionate about eradicating homelessness and volunteers at local food banks in her free time.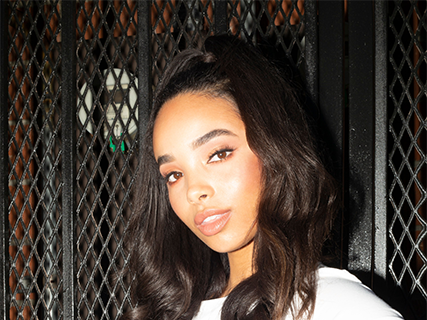 Madison Shamoun Interview

Can you tell us about your recent projects?
Madison Shamoun: Yeah! You can find me on ABC's Black-ish, Disney's Sydney To The Max, and #BlackAF on Netflix. A pilot and horror film I shot back in 2019 will hopefully make their way out to the public this year as well!
You recently graduated, what direction would you like to take now?
Madison Shamoun: I'm really trying to focus my time and energy on television right now. So, being a series-regular is definitely next on my list. There's so much content out there, so many stories to tell, and we have all these great platforms to do so.
What are some of the challenges you face as an actress?
Madison Shamoun: Where to begin. It keeps changing honestly! I like to say new levels, new devils. Acting is a non-linear career. There's no progression. No test you take, then med school, then residency. You just begin and learn along the way. This is really a career where mentorship is an integral part of leveling up, so finding qualified people in the industry who won't take advantage of you is a big challenge. There's also so much heartbreak. Hearing "no," or getting really close to the job of your dreams, only to not get it. It's an emotional rollercoaster!
How have you coped during lock down to stay motivated?
Madison Shamoun: The industry was definitely on pause for a while, so I took the time to read scripts, watch shows, do research on my LA market. The things I always felt I didn't have enough time to do before lock down.
Who would you most like to work with and why?
Madison Shamoun: Ahhh it's a long list! This is strangely specific, but I had a dream a few weeks ago that I was in an A24 film adaptation of Chekhov's Three Sisters. Alongside Zendaya and Zoe Kravitz. That would be a total dream come true.
Can you tell us what/who inspired you to become an actor?
Madison Shamoun: I kind of came out of the womb singing and dancing. I've always been performing in one way or another. But I have this vivid memory of watching The Phantom of The Opera when I was about 6 years old and thinking, I have to do that. I have to play Christine one day.
How important are your role choices as a role model to up and coming actors?
Madison Shamoun: I don't know if I'm a role model, but as a mixed woman in Hollywood, I make it a point to not take on anything that perpetuates Black stereotypes in a negative way. I would never do anything that didn't feel right in my gut.
What is your stance on Black Lives Matter Movement and how has it affected you personally?
Madison Shamoun: It's important work. It's unfortunate that we even have to say it, but that's what it is right now. At the start of it, I was really overwhelmed. I couldn't say BLM without someone else telling me that "all lives mattered". I have family and friends who were just misinformed about the movement, and I spent a lot of time really getting into it with them. It's been exhausting and emotionally draining to be frank, but entirely necessary and worth it.
What changes do think this movement has made, and how much more is there that can be done?
Madison Shamoun: There's a lot going on! I mean I see a new petition to sign almost every day. Protests that are still happening a month later, with huge turnouts. There have been arrests, de-funding, money given to grieving families, actors have even stepped down from animated roles to give opportunities to PoC to play them. The biggest thing that I've noticed is a greater awareness in general. But there's still SO much work to be done… and we could start with arresting the cops that murdered Breonna Taylor.
Connect on Social Media: