Mechanical Pterodactyl is the creation of Melbourne-based multi-instrumentalist/producer Yen Nguyen.
Nguyen brings eclectic sounds and production techniques together to make unique and layered compositions that he releases under the moniker 'Mechanical Pterodactyl'. His latest single 'Strike Up A Match' is testament to his unique approach, piecing together electronic and acoustic instruments, and drawing influence from the likes of Bon Iver, Frank Ocean and James Blake.

'Strike Up A Match' is the first single from Mechanical Pterodactyl's second full-length album Timelapse, which was written and produced all by Nguyen over a period of seven years!

All of the guitar, bass, synth, keys, and drum parts that feature in the song were played by Nguyen and recorded one at a time. However, the song is not a solo effort entirely as it does feature long time collaborator Jenny Lee and her elegant alto voice. Lee's vocals are soft and enchanting and the perfect element to weave rich and haunting harmonies around Nguyen's baritone. The two voices act like two devils on the shoulders of the song's protagonist; "Gotta make a decision, there's no time for precision".

Underneath the ethereal vocals growls an insistent synth bass fuelled on by the pulse of dual drum kits. The song culminates as a string quartet emerges over layers of guitar, Rhodes piano, and synths as Lee's voice proclaims "I'd have made it out the door, if I had somewhere to go".

"It's the feeling of being stuck in a loop, of playing out the same routine from week to week. Strike Up a Match is a song about snapping out of it." - Yen Nguyen (multi-instrumentalist/producer)

Stream here: http://bit.ly/StrikeUpAMatch1


Interview with Yen Nguyen
Question: How would you describe your music?

Yen Nguyen: It's evolved over time. Our sound is a little bit trip-hop a little bit alt-rock and the songs are quite layered in terms of arrangement and production. Instrumentally I like to mix acoustic and electronic instruments, so using drum machines and synthesizers as well as drum kits, guitars, keys and vocals.


Question: Which is your favourite song to perform live and why?

Yen Nguyen: There's a song from the new album called "I'll wait" that I play solo with a loop pedal which is scary because if you mess up a part it can ruin the whole thing. I'm layering up my voice, a synthesizer and a drum machine to build this really big sound and when it all comes together it's really exciting.


Question: If you could have anyone, in the world, attend a show, who would it be?

Yen Nguyen: Jacinda Ardern, and the show would be for her inauguration as Australia's new head of state.


Question: Do you prefer performing live or recording?

Yen Nguyen: I work as a producer so recording is a big part of the musical process for me. To me recording is about capturing the quintessential performance of a song and that's really exciting. As a producer I'm always interested in taking a song to its maximum potential. That can be about bringing out the best performances from the musicians, adding or changing arrangements, or it can be about the choices you make in capturing those instruments, whether you record in a church hall or a bedroom for example.


Question: What is the story behind the name?

Yen Nguyen: I like near-rhymes and I like band names that conjure up some kind of imagery. I picture a Mechanical Pterodactyl being something like DaVinci's flying machines made of canvas and wood.


Question: What motivates you most when writing music?

Yen Nguyen: It can come from a number of places. Sometimes it's a melody you start humming to yourself, sometimes it's a feeling you need to express. Sometimes you hear another piece of music and you think "I want to write something like that". Usually it's a combination of all of those things.


Which music/artists are you currently listening to?

Yen Nguyen: I've just started listening to Nakhane who is amazing. I've also been listening to the new James Blake.


Question: What or who was your inspiration to go into the music industry?

Yen Nguyen: I don't remember a specific moment of inspiration. I started playing music when I was young and I wanted to play from when I was younger.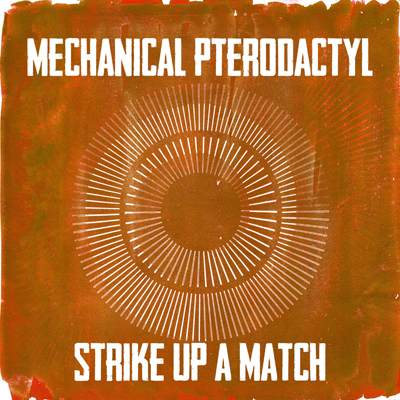 Question: If you could collaborate with another artist, who would it be?

Yen Nguyen: I'd probably say Justin Vernon. I loved the production on the last Bon Iver album in particular. Lots of dirty lo-fi sounds mixed with some really lush arrangements.


Question: What's a typical day like?

Yen Nguyen: I work a day job in publishing and I come home to my partner and our cat. It's difficult to make an income from music but you do it because you love it and it is part of who you are.


Question: What has been your favourite part of becoming a music artist?

Yen Nguyen: My favourite part has always been creating albums. It doesn't matter if it's my own songs or an artist I'm working with.


Question: Can you share your socials?

Yen Nguyen: https://www.facebook.com/mechanicalpterodactyl
@mechanicalpterodactyl


Interview by Brooke Hunter