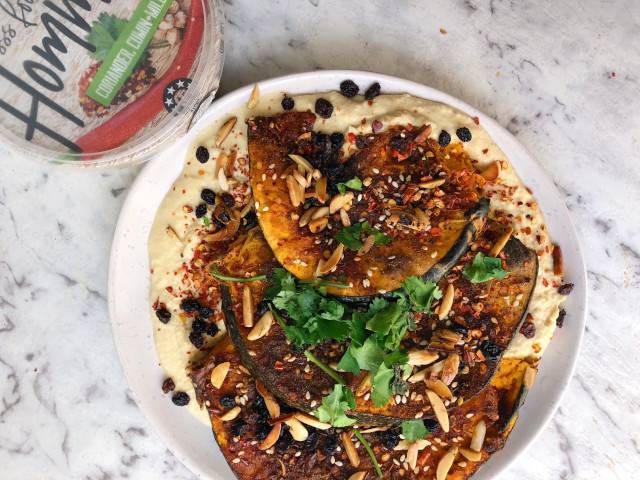 Forget the customary carrot sticks and cucumber slices for summer entertaining and use hommus to create surprising dishes that will delight at any get together. All without forking out for expensive ingredients.
As we break into the warmer months and with the entertaining season fast approaching, the traditional picnic dip can be found in many Australian fridges, says Jalni Shah, General Manager SSS Foods: "Why not hack your hommus? With many of us planning staycations during the festive season, this summer will focus on having fun and entertaining at home, which means more time spent in the kitchen mastering unique creations for friends and family!" says Jalni.
Mediterranean Baked Pumpkin by @scoopitup_


Ingredients:
• 1/2 pumpkin sliced
• 1 tub SSS Foods Coriander, Cumin & Chilli Hommus
• Handful roasted almonds slivered
• Handful craisins
• Handful coriander
• Chilli flakes
• Spices to roast: cumin, chilli, smoked paprika, coriander, salt, pepper, olive oil and honey

Method
1. Preheat oven to 200 degrees
2. Coat pumpkin with all spices and olive oil, generously sprinkle each one and add a drizzle of honey to each
3. Bake for 30 mins
4. Roast almonds lightly in pan for 1-2 mins
5. Spread SSS Foods Coriander, Cumin & Chilli Hommus on plate
6. Place down pumpkin and top with chilli, craisins, almonds and coriander

Feel inspired this summer and create delicious, unique twists on summer classics, with the much-loved kitchen staple. "We hope that Australians take on the challenge of hacking with hommus this entertaining season. It's an easy, cheap way to get tongues wagging," adds Jalni.

SSS Foods Natural (RRP: $3.80) and Coriander, Chilli & Mild Chilli (RRP: $3.80) hommus flavours are available in Woolworths stores nationwide. To find out more about SSS Foods range and to get inspired by a variety of recipes, visit sssfoods.com.au.