Megan Adams Portrait of Wayne Bennett for The Archibald Prize Interview
From a young age, most of us are encouraged to chase our dreams. However, this wasn't the case for artist Megan Adams, who was discouraged time and time again and told that it was impossible to have a career in art.

Determined to follow her passion, Megan overcame many roadblocks and has entered into The Archibald Prize this year. All proceeds from the sale of her signed acrylic canvas portrait of Wayne Bennett (Australian Professional Rugby League Football Coach) will be donated to Alex McKinnon's foundation – RiseForAlex Fund. Following the 2014 rugby tackle that resulted in McKinnon becoming a quadriplegic, he is faced with over $100,000 a year in expenses to treat his injuries. Megan's painting has successfully been sold for $2,000.

The five challenges Megan Adams overcame to pursue her passion for art were:

Strong discouragement from everyone she knew
Throughout her life, Megan drew and painted constantly, excelling in Visual Arts at school. It was only at the end of high school that her teachers, principal and family told her that it would be impossible to make a career out of being an artist. As a result of the lack of encouragement, Megan suffered from depression at the age of 18 and did not pick up a paintbrush for six years. When her fiancé saw her artworks and suggested to her to start painting again, it took another two years before she bit the bullet and began night art classes. Within 10 months, Megan received her first commission request from Michael Bridges (previous Leeds United English Footballer, now Australian Sports Presenter) to paint his wife. This has since resulted in further commissions from CEOs and hotels, creating a burning desire in Megan to continue painting.

Fear of rejection
The fear of her work being a disaster was something that took a long time for Megan to overcome, even to the point that placing paint on the canvas was nerve-racking. She eventually decided that the worst that could happen would be throwing out the painting and trying something different. Now, the only way she can finish a painting without fear of rejection is knowing that she loves it. If she loves the painting, it gives her the confidence that someone else out there will enjoy the painting just as much as her, if not more.

Limitations of space
Megan currently uses the living room in her small apartment as her studio. With numerous art supplies, canvases, tarps and drop sheets all over the apartment, and large artworks occupying space of up to 2 x 3 metres, it has left little room for anything else. However, Megan utilises the space in the best way possible and shows that your environment shouldn't be a barrier from following your dreams.

Cost of materials
Using high quality materials and the right equipment can make all the difference in a painting, but this also comes at quite an expensive cost. By truly dedicating everything to her dream, all of Megan's money goes towards canvas, paints, mediums and more. Despite this, she believes that if you consider the achievements at the end, it will pay off.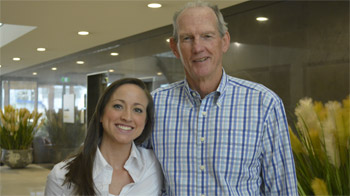 Time poor juggling full time work and art
Working as a Personal Assistant in Darwin can sometimes mean that Megan works 10 hour days. However, the long hours do not hinder her from following her passion. After work, she paints until the early hours of the morning and resumes the process the next day. If Megan's not painting, she's updating her website, meeting people regarding commissions, varnishing, researching new techniques, organising couriers and more. Every spare moment of her time is dedicated to her art.

'When I worked in administration and event planning for the Newcastle Knights and Newcastle Jets, I met Wayne Bennett and developed a great relationship with him," says Megan. 'I feel honoured that Wayne allowed me to paint him. I know how close his bond with Alex is. I would love to sell this painting and hope that the proceeds can raise further awareness and support for Alex. From this experience, I can honestly say that anything is possible if you have the drive and determination – you just never know what might happen."

By the end of the year, Megan hopes to have 20 paintings completed and expand into galleries on an international scale including China and Singapore.


Interview with Megan Adams
Question: What inspired your acrylic canvas portrait of Wayne Bennett?

Megan Adams: I wanted to paint Wayne Bennett due to the remarkable relationship that he has with Alex McKinnon. Wayne really supported Alex before and after the incident so who better to paint than a man, coach and friend that's been there for him. The bold colours used for the portrait of Wayne Bennett depict his personality being one of the toughest coaches in NRL and yet the kindest person you'll know. Many people don't know that while Wayne likes to keep his humour for off camera he can be the funniest person in the room.


Question: Can you talk about why you donated the profits of this portrait to Alex McKinnon's foundation – RiseForAlex Fund?

Megan Adams: I donated the funds raised through the sale of the Wayne Bennett portrait to the Alex McKinnon's Foundation - RiseForAlex Fund because I wanted to help contribute to Alex's recovery. Alex is a great role model to everyone in regards to staying positive and never giving up.


Question: What is the RiseForAlex Fund?

Megan Adams: The RiseForAlex Fund has been created to provide Alex McKinnon relief, a Newcastle Knights professional Rugby League footballer, who suffered a devastating spinal injury in a rugby league tackle in March 2014. Alex spent two weeks at the Royal Alfred in Melbourne before he was airlifted to the Royal North Shore Hospital in Sydney. Alex's spinal injury left him unable to walk and in need of medical care. The RiseForAlex Fund raises funds to provide Alex with ongoing financial and medical support, allowing Alex to focus on his recovery and rehabilitation.


Question: How did you take your passion of art and make it a career?

Megan Adams: Turning my passion of art into a career at first came by accident as I was completing an artwork my friend Michael Bridges (previous Leeds United English Footballer, now Australian Sports Presenter) saw the painting and instantly wanted a portrait of his wife. I was shocked that he wanted to commission me. Once I completed the portrait of Kate Bridges, Michael was so overwhelmed and grateful that it created a burning desire to continue painting. This has since resulted in further commissions from Ridges Hotel, CEOs and many more. I've dedicated my time to creating a website and social media pages to reach more people.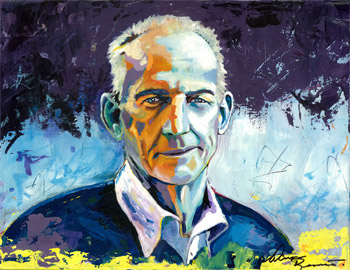 Question: What challenges did you overcome to become a successful artist?

Megan Adams: Some of the challenges that I've had to overcome to be a successful artist include working out of my small apartment and with numerous art supplies, canvases, tarps, drop sheets all over the apartment, and large artworks occupying space of up to 2 x 3 meters, it has left little room for anything else. However I utilise the space in the best way possible as I don't believe your environment should be a barrier from following your dreams.

Using high quality materials and the right equipment can make all the difference in a painting, but this also comes at quite an expensive cost. By truly dedicating everything to my art, a lot of my money goes back into my canvas, paints, mediums and more. I believe in providing the highest quality artwork to my clients and don't consider the cost as a negative but a positive.

My artworks consist of many layers and can take 5 months to create, at times I find myself painting into the early hours of the morning and resume the process the next day. If I'm not painting, I'm updating my website, meeting people regarding commissions, varnishing, researching new techniques, organising couriers and more. Every spare moment of my time is dedicated to my art.


Question: How did it feel to be discouraged to pursue your passion?

Megan Adams: It was an awful feeling to be discouraged to pursue my passion of becoming an artist growing up. Even though I excelled in visual arts in school, my teacher, principal and family all said it was impossible for me to become an artist. As a result of the lack of support, I suffered from depression at the age of 18 and lost all self-esteem. I'm fortunate now to have 100% support from my fiancé, family, friends and even strangers.


Question: What advice do you have for young artists?

Megan Adams: I would like to encourage any young artist to follow their dream because with hard work and determination, I can honestly say that anything is possible.


Question: How did you overcome the fear or rejection?

Megan Adams: The fear of my work being a disaster was something that took a long time to overcome, even to the point that placing paint on the canvas was nerve-racking. I eventually decided that the worst thing that could happen would be throwing out the painting and trying something different. Now, the only way I can finish a painting without fear of rejection is knowing that I love it. If I love the painting, it gives me the confidence that someone else out there will enjoy the painting just as much, if not more.


Question: Do you have a website?

Megan Adams: My website is www.meganadamsfineart.com which people can purchase artworks from.


Interview by Brooke Hunter