Peta Shulman GoodnessMe Box Wholefood Night Markets Interview
GoodnessMe Box has announced the launch of Australia's first Wholefood Night Market, to be held at Sydney's most sought-after location, The Grounds of Alexandria.

Riding the surge in the 'Food as Medicine" philosophy, GoodnessMe Box is the innovative subscription health food box, which offers 5-10 nutritious and delicious food ingredients and snacks to thousands of subscribers each month.

For one night only on Wednesday 11 November 2015, The Grounds of Alexandria will transform into the coolest destination for health and wellbeing, where 600 guests will have the chance to sample the latest and greatest health foods to discover and taste, for just $25. Confirmed suppliers for the Wholefood Night Market include blk., IsoWhey, Pic's Peanut Butter, Luz Almond, Spiral Foods and Suncoast Gold Macadamias. Guests will also have the chance to listen to exclusive talks, including Lola Berry with her latest new smoothie book – Lola Berry's Little Book of Smoothies and Juices – and view cooking demos from leading health and wellbeing guru Scott Gooding.

Wonder the markets with some organic wine and mingle among some of the most well-known celebrity authors, chefs, and influencers in the community. Attendees on the night will also be treated to a limited health-inspired BBQ from The Grounds of Alexandria, for one night only, showcasing some of the night's sponsors.

With the health food industry rapidly expanding and gaining popularity, The Grounds of Alexandria is soon to revamp their menu to have a health-inspired edge. The Grounds is widely known as a trailblazer in the restaurant arena and the partnership with GoodnessMe Box is the perfect alignment, coupling wholefoods with the awe-inspiring style and cool-factor that The Grounds brings to the table.

GoodnessMe Box founder, Peta Shulman, says: 'We're so excited to be launching Australia's first ever wholefood night market at Sydney's most sought-after location. Partnering with some of the highest quality and most remarkable health food brands, which share our same passion for providing natural, nutritious food products, we're proud to be able to give back, and offer a truly unique experience!"

'The health food industry is booming and if anyone is on top of trends, or for that matter setting trends, it is The Grounds of Alexandria. You can be sure that the Wholefood industry is a fast growing phenomenon if they have jumped on the bandwagon," Shulman added.

Tickets are strictly limited, so consumers are encouraged to book in quick. To purchase tickets, visit www.goodnessmebox.com.au/markets



Interview with Peta Shulman
Question: What should we expect from the GoodnessMe Box Wholefood Night Market?

Peta Shulman: On Wednesday 11th November, our guests will experience Australia's first Wholefood Night Market at one of Sydney's most sought-after locations, The Grounds of Alexandria. For one night only the venue will be transformed into a fairy lit haven for healthy foodies!

Guests can expect to mingle with some of Australia's most well-known health personalities, whilst gaining insight into the latest and greatest health food trends from all of the night's suppliers.

There will also be the chance to listen to exclusive talks, including Lola Berry with her latest new smoothie book – Lola Berry's Little Book of Smoothies and Juices – and view cooking demos from leading health and wellbeing guru Scott Gooding, Caral Oates and The Fit Foodie!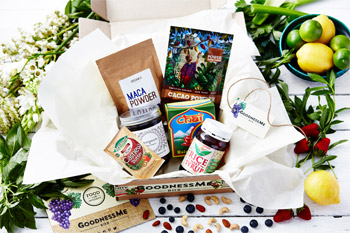 Question: What types of foods will guests be able to sample at the GoodnessMe Box Wholefood Night Market?

Peta Shulman: Guests will be able to sample everything from muesli, smoothies, raw chocolate, felafel, gluten-free waffles, protein balls, protein loafs, nut butters galore and more! Brands on the night include blk. water, IsoWhey, Pic's Peanut Butter, Luz Almond, Spiral Foods and Suncoast Gold Macadamias – just to name a few!

We also have organic wine, fresh juice and health inspired BBQ food available for purchase on the night.


Question: What is GoodnessMe Box?

Peta Shulman: GoodnessMe Box is a health food sampling service. Each month, GoodnessMe Box surprises subscribers with 5-10 natural and GMO-free health food goodies.

The GoodnessMe Box experience is all about discovery, so each month the content of the box is a surprise. Plus, each box includes nutritional recipes.


Question: What do subscribers usually receive in their GoodnessMe Box?

Peta Shulman: Each month is a surprise! Together with our health practitioners we search for the latest and greatest health foods the world is going nuts about!

Products are required to be two or more of the following: Organic, raw, gluten free, dairy free, sugar free, sustainable, fair trade, and vegan and free of any artificial preservatives or additives.

You can expect to discover anything from coconut chips, maca smoothie powder, black seeds, dukkah, birch water, lupin flakes, beetroot chips, gluten and sugar free muesli, orange chocolate tea, almond chia meal and more!


Question: What are your 2016 health food and superfood predictions?

Peta Shulman: Next year, I predict we'll see a ton of new superfoods on our plates. Birch Water (sap from the birch tree) is big on my prediction list.

Other superfoods that could be big next year are Baobab, which has great probiotic value and naturally high in Vitamin C, Lucuma, a fruit from Peru that is said to help skin health and also Teff. Teff is a gluten-free grain that can also be ground to make flour.


Question: Can you share with us your top 5 healthy snacks?

Peta Shulman: Wellness by Tess's Triple-C coconut, cashew and cacao-nibs bars. They are chewy, caramelly in flavour and irresistible! A hidden gem in my books.
I am also a huge fan of Simply Raw's Coconut Rough Superfood Energy Bar made with medjool dates.
Something super easy is hummus and veggie sticks. Fine Fettles hummus is delicious with veggie sticks. Vegetable cracker snack packs are great too.
Paleo Beef Jerky is a great afternoon snack choice
For an energy boost I turn to nuts mixed with shredded coconut, cacao nibs and goji berries.


Question: How will you be approaching the festive season in the healthiest way?

Peta Shulman: I try to approach the festive like I do all year-round. Everything in moderation, find your balance and try to eat foods in their most natural state. The festive season is a time to celebrate and there are a lot of delicious treats out there made from whole foods. Ensure you never arrive at a party absolutely starving and if you do have particular food intolerances, pack a small snack in your handbag like nuts or fruit, just in case.

For friends or family who may be looking to make healthier choices, or are already passionate about health and wellness, receiving a box of healthy delights can be a thoughtful and unique gift that keeps on giving.


Question: What's your favourite, go to dinner?

Peta Shulman: My meals are always made from wholefoods with loads of veggies. I love fillets of wild salmon with wilted spinach, sweet potato or brown rice.


Question: What's a typical days food like, for you?

Peta Shulman: Morning
I get up early to make breakfast because it's my favourite meal of the day! Often I'll make my almond meal pancakes with coconut flour and vanilla pea protein – I really like IsoWhey Wholefoods pea protein which is gluten free and vegan too.
I am also a big fan of the health benefits of bone broth to help maintain good gut health which I have most mornings.

Midday
I like to pack my own lunch for work although once a week I may buy something from one of the amazing health food joints down the road from the office, like About Life, Henley's Wholefoods, or O Superfood and Nutrition (we are a little spoilt for choice being based in the health hub of Bondi Junction!). At 1:00pm I'll have salad with lots of veg and either tuna, salmon or chicken with some brown rice or sweet potato and sprinkled with lots of dukkah or Raw Core Love seed sprinkle by Muma Health.

Evening
At 7:00pm I'm usually still in the office and my tummy begins to tell me I'm hungry which means home time (phew!). I'll start cooking at around 7:30pm – I am a big salmon lover. I keep it simple as I can often get home late and need a quick meal fix. I try twice a week to eat meat and I've recently discovered quinoa meatballs, which are out of this world!


Question: And, what's next for GoodnessMe Box?

Peta Shulman: Next month it's the Christmas box - think dukkah, sugar free cookies, chia seeds, birch water and other delectable treats without the hidden sugars, preservatives and additives

We will be doing everything we can to ensure our customers continue to receive the best clean, healthy products available on the market. Watch this space!


Interview by Brooke Hunter