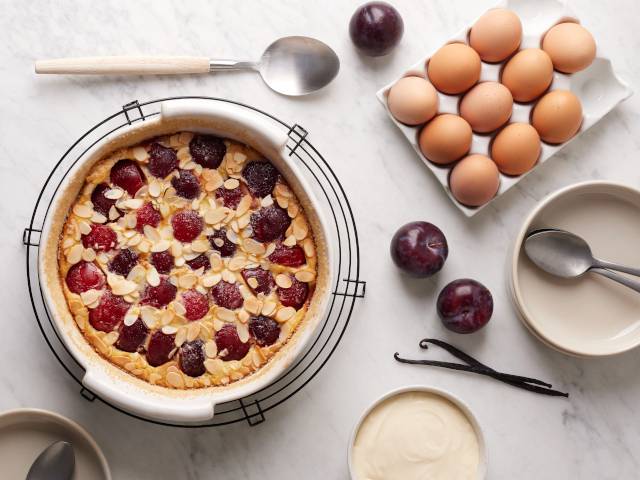 Plum Clafoutis
"Clafoutis is a wonderfully simple French dessert of fruit suspended in a flan-like egg custard and baked in the oven. It is such a beautiful way to celebrate seasonal fruit. Often made with whole cherries in summer or blueberries too, I love it with plums which just look so beautiful. Other stone fruits like apricots and nectarines are lovely too or in winter, I often use frozen raspberries. I've used a rather large dish here but you could use one a little smaller, which will result in a taller clafoutis. It may need a little extra cooking time, so begin checking at the 25 minute mark for "doneness". The clafoutis should still wobble a little and will firm up upon cooling. Serve warm with a spoonful of double cream." - Julia Busuttil Nishimura

Serves: 6-8
Cook and prep time: 30 minutes

Ingredients:
• 3 eggs
• 100g caster sugar
• 125ml full cream milk
• 1 vanilla pod, seeds scraped
• 60g plain flour
• Pinch of fine sea salt
• 3 tbsp unsalted butter, melted and cooled, plus extra to grease
• 450g plums, cut into quarters, or eighths if large
• Raw sugar, to line and top
• Almond flakes, to top
• Double cream, to serve

Method:
1. Preheat the oven to 190 C/ 175 C fan-forced.
2. Grease a 28 cm round ceramic dish with butter and place a few heaped tablespoons of raw sugar into the dish. Shake it around to coat it in the sugar then tip out any excess. Arrange the plums in the dish and set aside.
3. In a medium bowl, whisk together the eggs, sugar, milk and vanilla. Sift the flour into a large bowl then whisk in the wet ingredients. Pour in the butter and whisk to combine. Pour the batter into the dish around the plums, scatter over some more raw sugar and top with flaked almonds. Bake in the preheated oven for 25-30 minutes or until just set. Allow to cool for 10 minutes then serve with cream.