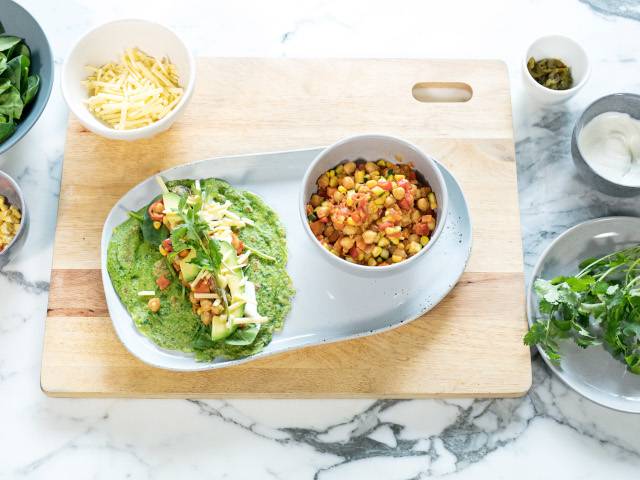 Healthy Recipes for the whole family to enjoy!
Australian Eggs have curated a collection of healthy recipes that can cater to everyone's taste buds. These recipes are a mixture of Low fodmap, Gluten free and Heart healthy, while being sure to be family favourites.

Spinach Wholemeal Crepes – Heart healthy

Prep time: 20 mins
Cook time: 30 mins
Serves: 4-6

Ingredients
Crepes
• 3 large eggs
• 1 tbs extra virgin olive oil, plus extra to drizzle pan
• 120g baby spinach
• 1 cup milk
• Pinch salt
• Fresh black pepper
• 2 cups wholemeal flour

Filling
• 1 tbs extra virgin olive oil
• 1 red onion, peeled and finely diced
• 1 red capsicum, cored and diced
• 1 carrot, diced
• 1 ear of corn, kernels removed with a sharp knife
• 2 cloves garlic, peeled and finely chopped
• ½ tb smoked paprika
• 1 red chilli, finely sliced
• 1 zucchini, diced
• 2 plum tomatoes, seeds removed and diced
• 1x 400g tin of chickpeas, drained and rinsed
• Handful of fresh coriander, roughly chopped (alternatively use fresh parsley)

To serve
• 2 cups Rocket or salad leaves
• 1 avocado, sliced
• 4 tbs natural yoghurt
• 60g grated cheddar cheese
• Pickled jalapenos

Method
1. Whisk the eggs in a bowl with the extra virgin olive oil.
2. Blitz the spinach with the milk in a blender. Add to the eggs and whisk together, season with a pinch of salt and grind of black pepper. Add the flour and mix until just combined. Leave to rest in the fridge for half an hour.
3. Meanwhile make the filling. Place a large saucepan over moderate heat and add a tablespoon of extra virgin olive oil. Add the onion and capsicum to the pan and sauté for about 5 minutes or until soft, taking care not to burn (you may need to turn down the heat).
4. Add the carrot, corn, garlic, paprika, chilli and zucchini and sauté for another few minutes.
5. Add the tomatoes and chickpeas and stir well to combine. Gently simmer for about 10 minutes until all the veggies are cooked through. Season to taste and stir through the coriander. Keep warm while you cook the crepes.
6. Heat a non-stick crepe pan (or you can use a frying pan) and drizzle or brush with a little extra virgin olive oil. Pour half a cup of the batter into the pan and gently tilt the pan to spread the batter into a thin circle (you can buy a special crepe utensil to easily do this). Cook for a minute or two, until you see a few bubbles, then flip the crepe and cook the other side for a further minute or two. Remove onto a warmed plate lined with a sheet of kitchen paper. Cover with a tea towel to keep warm and repeat this process with the rest of the batter (this recipe makes 6 crepes).
7. Once ready to serve, lay each crepe on a warmed plate. Layer on half of the crepe a few rocket or salad leaves, slices of avocado and spoon over the spicy veggie chickpeas. Top with your choice of dollops of natural yoghurt, grated cheese and/or jalapenos. Fold over the other half of the crepe and serve immediately.