Five Renovation Wow Factors
Looking to add some -wow factor' to your home this year? 'Australia's Renovation Queen" and Founder of Renovating for Profit, Cherie Barber shares the top five interior design trends that are making a splash in 2017 and her tips on how you can easily incorporate them into your home.
Tropical prints
If you want to add some excitement to your interior, invest in a bold piece of furniture or add a tropical wallpaper with sophisticated botanicals to invigorate your home. Not ready to dive headfirst into the tropical trend? Try investing in some rainforest-inspired cushions with a trendy pattern to add a refreshing touch!
Wal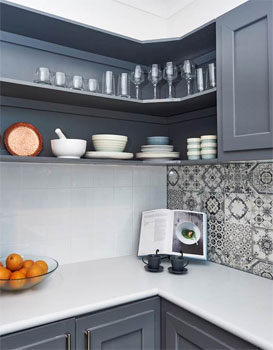 lpaper
Wallpaper has been a trend gracing the pages of Vogue for years now and shows no sign of disappearing in 2017. Featured wallpapers have emerged as a timeless and classic trend that compliment any interior style. A feature wall can transform a room's feel or aesthetic, bringing pattern, colour and textures together into a cohesive whole. New trends have emerged with fabric wallpapers in linens and silk which are pushing the boundaries. You could also try more earthy and organic textured materials in natural tones, whether it be a grass weave or design that takes its cue from nature.
Rich colour
There's a move away from safe neutrals into more adventurous hues and moody palettes this year, with a big lust on green. Whether it's an emerald green vase or a feature wall in Pantone's Colour of the Year – Greenery, the hues of green are coming back for 2017, giving your interiors a revitalizing and refreshing touch that is symbolic of new beginnings. Alternatively, you could strike out your interior with a deep-ocean blue, a shade of violet, or try a rich terracotta to add warmth.

Open shelving
One of my favourite trends, and a classic modern style that has persisted for years is open shelving. Open shelving offers a more relaxed and comfortable atmosphere to your kitchen by opening and brightening up the space. Try floating shelves instead of top cupboards to increase your storage options.

LED lighting
You might be surprised with the effects of LED lighting if you find yourself experimenting in the kitchen or the bathroom. LED lights are an efficient and affordable way to illuminate your interior space, especially since the pricing has dropped and they are designed to last longer than traditional light bulbs. Try strip lighting under an island bench or in the kickboards for an efficient way to enhance your space.