Rikki-Lee Barley Liptember Interview
Women's mental health fundraiser Liptember has launched its 2017 campaign by announcing four new beneficiaries, including new Ambassadors to help further drive awareness on Women's Mental Health awareness

Now in its eighth year, the popular crusade encourages women to 'kiss away the blues' by committing to wearing special brightly-colored and newly-added pastel official Liptember lipsticks sold through Chemist Warehouse stores nationwide to raise funds and awareness for women's mental health.

Liptember Ambassadors include; Sophie Cachia (Young Mummy), Jo Stanley (GOLD FM Host), Crissie Swan (NOVA FM Host), Silvana Philippoussis (Model), Jo Silvagni (Presenter), Felicity Harley (Editor), DJ Tiger Lily (DJ), Chelsea Roffey (AFL goal umpire), Caitlin Thwaites (Australian Diamonds Netballer), Amber Greasley (Model), Abby Gilmore(Blogger ), and Lydia Lassila (Olympian) to name a few.

Liptember founder Luke Morris said as well as supporting the Centre for Women's Mental Health and Lifeline, this year Liptember funds will also go to:

Jean Hailes for Women's Health - Striving to improve the knowledge of women's health throughout various stages of their lives;
R U OK? - Dedicated to encouraging all Australians to connect and have regular and meaningful conversations with anyone struggling with life;
The Pretty Foundation – Committed to empowering women and girls with the perspective, skills and support to develop and nurture a positive body image for themselves and others: and
Batyr - Providing preventative education in the area of youth mental health.

"We're incredibly proud to be in a position to expand our support of women's mental health in 2017 by partnering with these wonderful organisations. Liptember's new partnerships will allow the campaign to make a greater impact on the mental health of women across the country," says Luke Morris, Liptember Founder.

CEO of R U OK? Brendan Maher said the exciting new partnership not only significantly builds RUOK's capacity but also supports Liptember's focus on better mental health outcomes for women.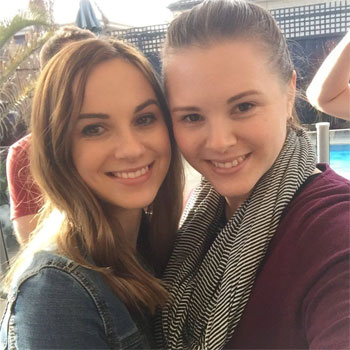 "As a health promotion movement, R U OK? aims to inspire all Australians to be better help-givers, by providing guidance on how to have a conversation with someone who's struggling. Growth in awareness and participation in R U OK?'s campaigns will empower more women as help-givers and strengthen the social scaffolding around women who need support," Brendan said.

Suicide is the biggest single cause of death for women aged 20-34 and one in three Australian women will suffer depression or anxiety during their lifetime. Liptember supports women's mental health and acknowledges that more focus needs to be placed on treating men and women separately when it comes to depression and anxiety, with women statistically much more susceptible to these conditions.

With the support of major charity partner the Chemist Warehouse Group, a huge $1.2 million dollars was raised in 2016 for Liptember. These funds have allowed Liptember to continue our support of national programs and services to improve the mental health of Australian women and support other incredible outcomes such as;
Development of screening questions for Safe Mothers, Safe Babies program.
Production of Safe Mothers, Safe Babies mental health manual.
Further 15 ¬staff trained in Safe Mothers, Safe Babies program.
Position developed for a fulltime Safe Mothers, Safe Babies Clinical Psychologist.
Development and trial of tools to better identify and support pregnant women in situations that could put them at risk of domestic violence.
A further 100 mothers supported by NBO Australia.
Answered 14,815 Online Crisis Chats.
Provided seed funding for Australia's very first Crisis Text Chat service.

Getting involved is easy! Simply register online at https://www.liptember.com.au/#register and seek sponsorship from family, friends and co-workers for committing to wearing official Liptember lipstick throughout the month of September.

Official Liptember lipsticks are available at all Chemist Warehouse, My Chemist and My Beauty Spot stores nation-wide for as little as $4.99.

For more information visit liptember.com.au.

Anyone seeking help should contact Lifeline 13 11 14 or visit lifeline.org.au



Interview with Rikki-Lee Barley
Question: Can you tell us about what originally inspired you to get involved with Liptember, seven years ago?

Rikki-Lee Barley: I saw the advertisement for Liptember whilst watching a morning show on TV and I thought it was a great initiative as I have been around people with anxiety since I was around seven years old and was diagnosed with depression and anxiety in 2010.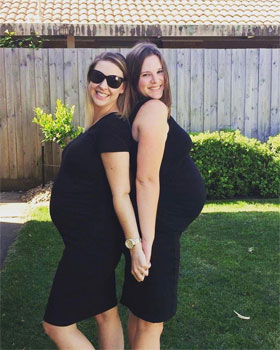 Question: How much, have you raised for Liptember, over the past seven years?

Rikki-Lee Barley: Not including this year's total so far, my friends and family have donated just under $10,500 while sponsoring me!


Question: What are your goals for Liptember 2017?

Rikki-Lee Barley: This year I am aiming for $500-$1,000 so I can take the total to over $11,000 raised for Liptember. You can see my fundraising page here.


Question: How has your life changed in the last twelve months? And, how has this change affected your anxiety?

Rikki-Lee Barley: At the beginning of 2016, I started a new job and got married. I had been under a lot of stress and my anxiety returned. In August last year, I found out that I was pregnant; I was excited but also worried as I was worried that post-natal depression could affect me, given my past mental health issues. Thankfully, there is no cause to be concerned. Since giving birth, I have been a lot more calm – I think now I take things as they come and don't worry about the future as much.


Question: Can you share with us, how anxiety affects you, on a daily basis?

Rikki-Lee Barley: My anxiety has settled in the last year and a half. Now when I go out, I still worry about panic attacks but have learnt to push them to the side. I drive myself most places so I can leave at any time.


Question: Nowadays how do you manage your anxiety?

Rikki-Lee Barley: Medication has helped me in the past. When I was pregnant, I didn't go out to many big events because I could not take any medication that previously helped me get through tough times, I guess there was a bit of avoidance (my psychologist would say)!

At the moment I am at home with my son, therefore I don't have to do anything that I think will put me in an anxious mood. I am currently the happiest I have been in years.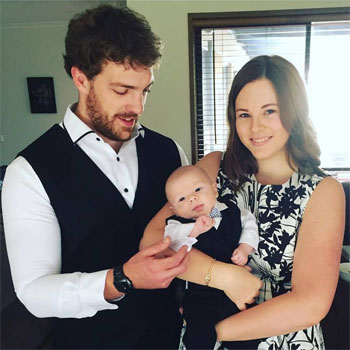 Question: You were married in 2016 - can you share with us, how anxiety affected you on your wedding day?

Rikki-Lee Barley: When I remember my wedding day, I have mixed feelings. I was so excited to get married to my high school sweetheart and to spend the day with our closest family and friends. On the other hand, and unfortunately the hand I remember most when I reminisce, is how extremely anxious I was. My anxiety comes from not being able to leave a situation where I feel like I will have a panic attack. I told myself for months beforehand that "it was only one day" and that I could last that long, at least. I counted the hours, prepared to tick them off in my mind the minute they were complete, one step closer to the end. I purposefully organised my reception to finish earlier than midnight to ease my anxiety. The day started at 7am and I fought an internal battle with my mind until just before the ceremony. It was then that I decided to take my medication, it would keep me a bit calmer until the night was over. There was a point when we got introduced as husband and wife and I had a wave of a thought that I felt like I would have a panic attack. It wasn't until I realised that the day was running quicker than I thought that I started to calm down. I wish my happy feelings of the day were not clouded by my anxiety. I have always been very open with my struggle with anxiety and all my family and friends knew. If something did happen and I had a panic attack on the day, I would have not been ashamed or embarrassed. Unfortunately with anxiety, it isn't rational.

Question: When did you realise you needed to seek professional help, for your anxiety?

Rikki-Lee Barley: I recognised that I needed help two months after I started having panic attacks. I knew exactly what was going on as I recognised the signs from watching my mother, since I was young. I didn't leave the house for three months except for the doctors and a trip to a garden shop, where I felt like I was going to die. I thought that if I didn't seek help as soon as possible, it would be harder to get better. I had just turned 21 and had my whole life ahead of me.


Question: What advice would you give someone who had recently been diagnosed with depression or anxiety?

Rikki-Lee Barley: Don't be ashamed to talk to someone. I know it can seem difficult, but there are so many avenues to seek out help now. If you don't wish to talk to a family member or to a friend, places like Lifeline have friendly voice to talk to.


Question: How can Australians support you and Liptember?

Rikki-Lee Barley: You can support Liptember by visiting www.liptember.com.au and donating or visiting a Chemist Warehouse store and purchasing the Liptember lipsticks. You can see my fundraising page here.


Interview by Brooke Hunter