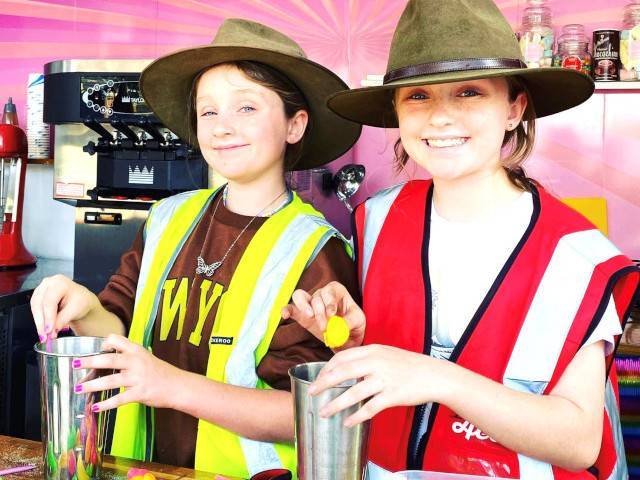 FIFTH GENERATION SHOW FAMILY CELEBRATE 200 YEARS OF THE ROYAL EASTER SHOW

Serving up World's Biggest Dagwood Dog & Dole Whip Floats as well as old-school Cupie dolls
Sydney Royal Easter Show, 8-19 April, 2022

Five generations of Evans and Foster family Royal Easter Show heritage will be celebrated this April when the gates swing open for the 200 year anniversary of the Sydney Royal Easter Show.

"Our families have been involved with the Show for close to half the time it's been running. For around 100 years the Foster and Evan's families have been a part of the Show with food and rides. It's the biggest event on our calendar each year and something we all looking forward to", said Jade Evans, who along with her husband Josh, kids and other family members runs food outlets and rides at the Sydney Royal Easter Show.

The renowned Evan's family Dagwood dogs are being given a SUPER SIZED overhaul to celebrate the Royal Easter Show's 200th anniversary and will offer a HUGE World's Biggest Dagwood dog at a mouth-watering 2 foot long.

King of the Dagwood Dogs, Josh Evans - whose family first introduced the show food staple to Australia in the early 1930s - says, "We're still hand making our Dagwood dogs using the recipe my Grandparents bought back from an American fair, along with Australia's first food trucks. This year we've decided that bigger really is better and we're bringing the World's Biggest Dagwood Dog to the Royal Easter Show with a huge 2 ft doggie, still made using my Grandparents original recipe."

"This year will be even more exciting as we'll have our fifth generation involved and running their own outlets at the Show alongside us. Josh's family actually introduced food trucks to Australia, long before they became as trendy as they have in recent years – so it's a proud moment to see the next generation, our kids, so excited to be part of their family history. Our daughter Ava will run her very own food truck at the event when it opens next week," said Jade Evans.

Sixteen year old Ava Evans has saved up and purchased her very first food truck to operate at the 2022 Royal Easter Show, and is excited to be running her own 'I Love Churros' outlet. Ava will serve up the original style cinnamon sugar Spanish street food staple as well as loaded versions with toppings such as biscoff and Tim Tams.

The budding young entrepreneur says, "It's been a lot of work but is really exciting. I've grown up with mum and dad and my grandparents and other family members working at the major shows, and now it's my turn to run something. I saved up the money I've made working at shows and am looking forward to turning my investment into more savings. I'm not sure what I'll do ultimately – I'd like to go to Uni – but working at the shows is in my blood and is such a fun job. Plus it will be awesome to be working for myself, not someone else like all my friends do. The hours are long but the rewards can be great if you know what you're doing. And with the expertise and support of my family behind me I'm hoping I can't go wrong."

The 'I Love Churros' truck will take pride of place amongst a range of show food favourites that also includes Disney cult favourite Dole Whip which will make a return to the Royal Easter Show after debuting last year.

"Last year everyone was so excited that the Disney cult favourite was finally available in Sydney. For years you could only get a Dole Whip at Disneyland so we had huge lines of people wanting some of the pineapple soft serve goodness at last year's Easter Show. And this year we hope they'll come support us and try our huge Dole Whip floats that will be served in the World's Biggest Sippy Cups. The huge Sippy Cups have previously only been available for mega cocktails in Las Vegas venues," said Ted Foster, Dole Whip's Australian distributor.

Rounding out the family fun at the Royal Easter Show will be the Evan's nine-year-old twin daughters Willow and Faith who will be selling old-school Cupie Dolls on a stick from a stall alongside their parents.

Named in honour of their 'nanna's', who both sold cupie dolls at shows around Australia when they were young, 'Betty & June's Dolls' will have thousands of the retro Cupie dolls on a stick for sale.