Samantha Gash World Vision's 50th Anniversary Run Interview
Samantha Gash, a 31-year-old ultramarathon runner from Melbourne, is planning to undertake a gruelling run across the diverse terrain of India for World Vision's 50th Anniversary.

Kicking off on 22 August, Samantha will run close to 4,000km from West to East across India to raise money for World Vision projects tackling barriers to quality education. Samantha is calling on Australians to join her by taking part in the Run India 12 Week Challenge while following her virtually as she runs across the seventh largest country in the world.

Starting from one of the driest deserts on earth, Jaisalmer in Rajasthan, Samantha will take about 77 days to complete the journey and run an average of 50km per day, ending in Shillong, which is the capital and hill station of Meghalaya.

'It is the longest run that I have ever undertaken and the preparation from training to logistics to fundraising has taken over two years with several trips to India. However, I know from experience that you can never plan for everything, especially with India's formidable weather and landscapes," said Samantha.

'A real highlight for me will be meeting the people and visiting the communities along the way that are engaged with World Vision. Although training is taking up most of my time and headspace, the reason that drives me is the -why'. Every time I train I visualise myself in India and I know that any discomfort I could possibly experience will pale in comparison to many of the situations I will see."

World Vision CEO Tim Costello said Samantha is an inspiration:

'Samantha's passion for shining a light on some of the world's most vulnerable children by undertaking this huge challenge is formidable and impressive," Tim Costello said.

'Samantha's goal to run 4,000km across India may seem too big, too ambitious, but similar to our goal of ending child poverty, no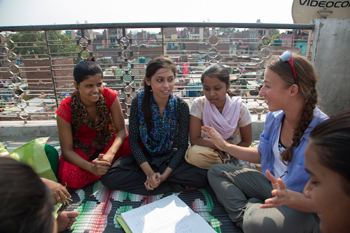 target is too difficult to achieve when we have determination, passion and work together to achieve our goal."

Only a few people have run across the sprawling landscapes of India before, but Samantha is not one to shy away from challenges. In her first year as an ultrarunner, she became the first female and youngest person ever to complete RacingThePlanet 4 Deserts Grand Slam Challenge; a series rated by Times Magazine as one of the top ten endurance competitions on the planet. In 2012, she also became the youngest Australian woman to run 379km non-stop across the Simpson Desert and in 2014, she ran 1,968km over 32 days across South Africa; both runs raising funds for children's education.

Partnering with World Vision for Run India, Samantha has already raised $56,041 for projects that tackle issues such as malnutrition, access to appropriate water and sanitation, underage marriage and gender bias, which all present major obstacles to quality education for young women and men in India.

World Vision's 12 Week Challenge invites runners and walkers from all ages to form teams to track their distances against Samantha and fundraise. Australians can register teams of up to 10 people starting from 11 July.

To donate directly to Run India or join the 12 Week Challenge visit www.runindia.org.au.

Follow Samantha's journey and join the conversation via #RunIndia, Twitter @WorldVisionAus and Facebook.



Interview with Samantha Gash
Samantha Gash is a former lawyer turned endurance athlete, corporate presenter and social entrepreneur, who has made a name for herself as an international ultramarathon runner. Her thirst for adventure, experience and thrill for life has allowed her to discover what she cares about the most - achieving social change through the vehicle of adventure and running.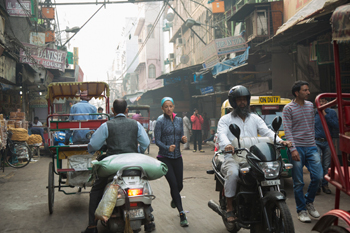 Samantha has run through some of the most extreme and inhospitable locations on the planet. Having become the first female and youngest person ever to complete RacingThePlanet 4Deserts Grand Slam Challenge in 2010, Samantha saw herself star in the award winning film Desert Runners. Following this run, she completed a 222km nonstop run in the Himalayas (2011), and it was on this run that she decided she would commit her life to running for change. She has since run 379km across Australia's Simpson Desert (2012) and 1968km across South Africa (2014) for Save the Children. In 2016 she has partnered with World Vision to visit the communities they work with across India, to learn first-hand about the challenges the communities face, as well as sharing their stories of success that are providing hope for their future.


Question: What inspired you to support World Vision's 50th Anniversary?

Samantha Gash: The run is from the West to the East of India. I travelled to India in 2011 for a race and India was the place that changed the way that I wanted to view endurance sport. Previously I used it to push physical and mental boundaries and when I was racing in India in 2011, I realised I could start using my capacity to run long for a purpose outside of myself. I loved India and I found it incredibly intense and overwhelming place in the best of ways but I was saddened by many of the challenges that Indians face especially Indian children, on a daily basis.


Question: Why did you decide to run over 4000km West to East across India?

Samantha Gash: The distance to be perfectly honest isn't 100% accurate, it's roughly 3800km. And, on a day-to-day basis we will be making it the safest way to visit the World Vision communities; there are things such as the Monsoon season which has been late this year which means some parts of the run will be changed all due to environmental and safety factors. This has been a difficult project as I am not certain on the route I'm taking, every day which is weird as I do not know the exact distance I will be running, every day.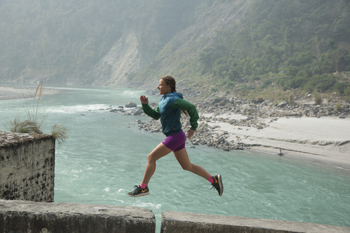 Question: How does it feel to be the first female to do this, run?

Samantha Gash: Yes, I think so but I don't care too much about that. I know everyone loves to attach titles such as -the first' or -the longest' but there are many incredible women who have done incredible things, for India, on this scale even though it hasn't been this exact route. No-one will have done this route because it's based on the 18 World Vision programs that I am going to and especially as it's not the most direct East to West route that you could take.


Question: Can you talk us through the stops you're making at the 18 World Vision programs?

Samantha Gash: I am visiting communities in Rajasthan, the Delhi region and all the Northern based areas of India. We are going to focus on the different barriers that they have in accessing education with the program. In some of the communities we will be looking at women's economic development programs or sustainable farming practices or self-defence classes. We will be focusing on all the different initiatives that World Vision works with in the Indian communities to help them live healthier and more sustainable lives.

Specifically for me it's about looking at programs that relate to a child being able to access education.


Question: Can you talk about your training schedule leading up to the event?

Samantha Gash: It's very hard to train in Melbourne's winter to go into one of the driest seasons on earth, it's normally dry in India but it's very humid currently because of the intense rain from the Monsoon Season. I have a treadmill in a Hot Yoga studio; I'm a big yoga convert, I love yoga particularly hot yoga and I'm quite close with the owner of the Yoga studio so I asked her 'Do you mind if I put a treadmill in your studio?" I'm not sure she imagined how big my treadmill was! It's connected the Yoga community to Run India too, which is really important.

I also train in an altitude chamber along with strength training because a huge part of endurance running is having a very resilient body. I used to do a lot more running and now I realise that I need to train myself to deal with loading day in day out which is very different to the way I used to train. At the same time it's about being as healthy as I can to get to the start line. The biggest challenge, I think I'll have with this project is keeping healthy particularly because I am connecting with the communities and so many different people which increases the risk of getting a disease.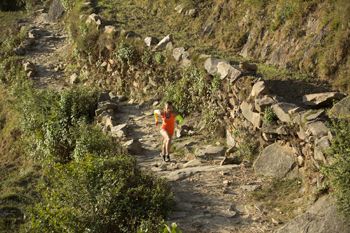 On the runs I usually do, I typically run on a trail where you're completely alone with your team. This time, I am running in second-most populated country, in the world, I will be seeing people, all the time.


Question: What are you most looking forward to about this run?

Samantha Gash: Firstly I am looking forward to the community engagement. I have visited a couple of the communities that I will be visiting again. For so long I've been researching and trying to understand the challenges of the people we're trying to raise funds for and support the programs. It'll be nice to move away from the documentation and connect it to real people with meaningful engagements and interactions. I want to see the incredible hospitality of the Indian communities.

I love running through different cultures and landscapes – I can't wait to see the shift that happens when you run from one side of the country to another including from the desert to urban centres, the Foothills to the Himalayas to central India through to the mountains in the East – that is cool. To see changes as you run through a country is an amazing experience.


Question: What do you plan to achieve, in a day, whilst on the run?

Samantha Gash: Yes, I have plotted out my route for every day and what community engagement project that I have including the rough times I have. When I'm in Rajasthan I have to start between 4 – 4:30am and as we move towards the East I'll be starting at 6am, probably. The timing is all based on climate and landscape as in the Himalayas it gets pretty hilly so it may take me a little longer, per day to do the mileage.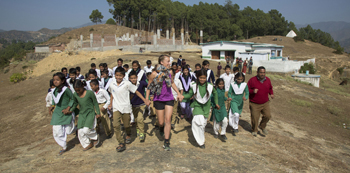 Question: How can we support you and the Run India project?

Samantha Gash: Firstly by following the Run India project where people can donate and take in the immersive nature of what this project does through a 12-week challenge; we are inviting people as individuals or as teams to sign up to the 12-week physical challenge which allows them to virtually run across India. It's great as people can choose their distance for example they may want to run as a team through Rajasthan, which is the first 800kms or they want to run halfway, to Delhi.


Participants choose a distance and each week, each individual team member will add their walk/run distance and they'll see where in India they are and how they compare against me and other teams. The Run India project enables you to choose to fundraise for six of the education World Vision programs we are raising funds for.

People don't just want to donate, they want to be a part of a personal challenge and experience including how far they can run but also engage in the content to feel as if they're helping and are in control.

You can follow me on Instagram and Facebook.


Interview by Brooke Hunter