What It's Really Like To Live With Rheumatoid Arthritis
Over 400,000 Australians have rheumatoid arthritis (RA), according to the Australian Institute of Health and Welfare. Among them is 41 year old Queensland based mother of two, Shannyn Meloncelli, who was diagnosed with rheumatoid arthritis almost a decade ago, at 36 weeks pregnant with her first child.

"My life has completely changed since then. My children's father left and I was left chronically unwell and a single mother to two babies under 18 months old," Shannyn explains. "Before, I was very independent and financially secure but now, with a systemic autoimmune condition that affects everything from organs to connective tissue, I'm challenged everyday; physically, mentally and financially."

Shannyn mentions that across the board, people can have extensive health issues that exist alongside their arthritis. For Shannyn, she also has thyroid condition Hashimoto's and, in the last five years, was diagnosed with meningioma brain tumours. With no known cause for her tumours, which thankfully are benign, Shannyn has already endured one grueling surgery and is undergoing further testing and treatment for her remaining tumours. "My brain tumours have exacerbated my RA symptoms and I can have flare-ups that last weeks to up to a year - it can all be a real juggle," she explains. "Having fantastic friends, a supportive family and a loving partner has certainly helped me."

Along with supportive loved ones, Shannyn also believes that building a steady routine, particularly one that incorporates exercise, is important for anyone with RA, or other chronic conditions. "Mornings can be difficult, because it's when your joints are at their worst and the fatigue makes it feel like you haven't slept at all. But, I exercise everyday. I do yoga and pilates classes and also go bike riding with my kids most days. Find a routine that works for you, even if it's just a walk around the block or in your backyard," she advises.

Shannyn is also a patient advocate for CreakyJoints Australia, representing Queensland. "Organisations like CreakyJoints are important because they are proactive and advocate for healthier habits for those living with arthritis," she explains. "I'm in a position where I've settled into a great routine, been able to manage my condition for years and have access to a support system and research. But there are so many people who are in isolation and in need of care and support, and CreakyJoints has allowed me to help them."

Shannyn is passionate about sharing her knowledge and shares her tips below for those that are newly diagnosed with arthritis, and other chronic illnesses, who are struggling to navigate unfamiliar territory.

Give yourself a break. The reality is that some nights dinner just won't get made, and that's ok. Sometimes you'll be able to make a meal that can be stretched over more than one night and other times you'll end up having breakfast for dinner. It's important to cut yourself some slack and remember, if you have children, they'll be understanding - they're more aware and empathetic than we realise.

Tap into your support network. Focus on the people in your life that are helpful, and distance yourself from those that aren't. If you feel isolated, find connections in other ways. Facebook groups will help you connect with other arthritis sufferers and organisations like CreakyJoints provide access to advice, education and research.

Know when to rest. Fatigue is one of the hardest things I've had to manage. There are times when I have to rest for a few hours in the middle of the day or cancel plans at the last minute. You can also experience "specialist fatigue". For me, managing my RA alongside hashimoto's and my brain tumours, means I have to juggle multiple appointments with multiple surgical teams and specialists. It can be overwhelming to juggle conflicting information and treatments. You will learn to adjust, but don't be afraid to reschedule appointments if you're starting to feel overwhelmed. It's ok to take a breather by removing yourself from the medical world for a day.

Don't stay in judgement, it will get better! Over time I've learnt to just take it one day at a time. It's so important to look ahead rather than focusing on life before diagnosis. You will be a lot happier when you go at your own pace and choose to keep looking and moving forward instead.


Interview with Shannyn Meloncelli
Question: Can you tell us about your rheumatoid arthritis diagnosis?

Shannyn Meloncelli: I was pregnant and I had been quite unwell, I wasn't having a great pregnancy and I was in a lot of pain. I was diagnosed with Carpal Tunnel Syndrome as my hands were painful and the treatment was splints. Although, my GP at the time believed something else was wrong apart from the Carpal Tunnel Syndrome and so I was sent for blood tests. At 36 weeks pregnant my GP told me I had rheumatoid arthritis.


Question: What is it really like to live with rheumatoid arthritis?

Shannyn Meloncelli: I have got a lot better at managing the rheumatoid arthritis; the fatigue is the worst thing for me as I am constantly tired. I have to think about the activities I am doing; I often have to cancel plans and I am not working. My feet and knees are the worst, pain wise, which means there are certain things I cannot do such as walking; I ride a lot instead.

I currently manage the condition by conserving energy. For example, today, I went to yoga and had coffee with friends and now I am at home and even though I have a tonne of things to do, I am resting so I can go out for dinner after school-pickup. I have to rest otherwise I won't have enough energy to go out, this evening.


Question: What helpful tips would you like to share to a newly diagnosed arthritis patient?

Shannyn Meloncelli: It does take every person a different amount of time but you need to let things go. Once you can wrap your head around letting things go early on, it is easier. Early on I was fastidious with the housework and now my house is messy (toys everywhere and unfolded washing); I have to focus on the priorities – the housework can wait. It is important to go easy on yourself as the fatigue is overwhelming at times and not pushing yourself is my best advice.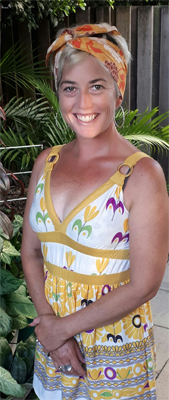 Question: How does diet and exercise affect your rheumatoid arthritis?

Shannyn Meloncelli: Exercise has been central for me, physically and psychologically – the most important part (as discussed in Creaky Joints) is adopting healthy habits. Healthy habits look different for everybody; my arthritis isn't as advanced as others. For some, a healthy habit might be getting up and moving more often even if all they can manage is walking around the lounge room or backyard. For me, I am lucky and I can get out to yoga, water aerobics and bike rides; I have young kids which are a big motivation for me.

I am gluten and lactose intolerant and they both flare up my system. The more active you are the better your joints will be. The longer you sit or lie in bed for any one time the more it affects your mobility; it's about walking around regularly. I am lucky, in that I can ride for 5km as long as I rest afterwards.

Creaky Joints Australia promotes good sleep habits, resting, activity and exercising to your ability as well as energy conservation and keeping the weight off. The less weight you are carrying the better off it is, for your joints.


Question: Why was it important for you to become a patient advocate for Creaky Joints Australia?

Shannyn Meloncelli: From my perspective Creaky Joints Australia is about promoting healthy habits and being there for others with rheumatoid arthritis. As a QLD advocate I am completely open to having anyone contact me, at any time – I am happy to help others with rheumatoid arthritis. I feel very fortunate as I have a good support system and my disease progression – I don't have extensive joint damage which puts me in a good position to help others.

I have a Masters in Science and my focus was looking at the coping and support mechanisms of mothers diagnosed with rheumatoid arthritis; I have done a lot of research in this area. I am a single parent and was very early on in my children's life (I was pregnant with my second child) which meant I have learnt to adapt my own strategies which doesn't mean every day is great for me but I'd like to help others as I've learnt through the mistakes. I can help because I've made all the bad mistakes (laughs). The worst mistake you can make is pushing through, all the time, it doesn't end well.


Interview by Brooke Hunter