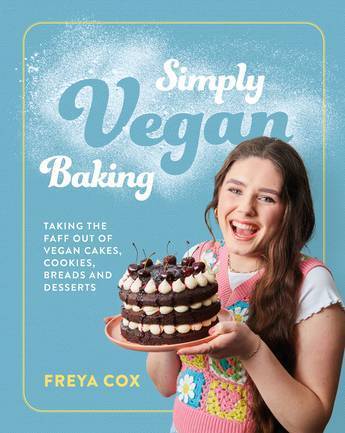 Taking the faff out of vegan cakes, cookies, breads and desserts
70 fun and accessible recipes for all your favourite classic bakes made vegan - from Great British Bake Off's young vegan star, Freya Cox.
Vegan baking needn't be difficult or boring - it can be simple and delicious!


Freya Cox was the first vegan contestant on The Great British Bake Off and her mission is to show that vegan baking is just as delicious if not more so than 'regular' baking and, when all the ingredients are available from your local supermarket, there's no reason not to give it a try. Try any of the 70 reassuringly familiar recipes and you'll be amazed that they're so effortlessly vegan.


From simple cakes, traybakes, pastry and bread to special desserts and showstopping cakes, there's something faff-free for every occasion.
Recipes include:
• Salted Caramel Cupcakes
• Carrot Cake
• Triple Chocolate Cookies
• Cinnamon Rolls
• White Chocolate and Raspberry Blondies
• Banoffee Pie Slices
• Lemon Meringue Pie
• Black Forest Gateau
Simply Vegan Baking