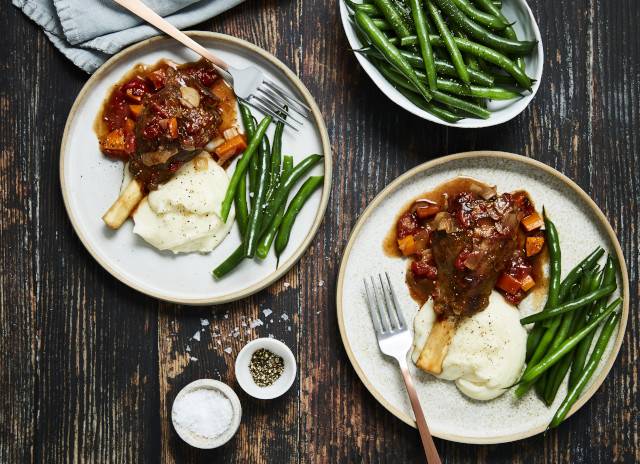 Slow Cooked Lamb Shanks For Two
Serves 2
Prep 30 minutes
Cooking 2.5 hrs

Ingredients
• 2 Cleaver's organic lamb shanks
• 1 tbsp plain flour
• 1 tbsp olive oil
• 1 small onion, diced
• 1 carrot, diced
• 2 cloves garlic, crushed
• 100ml red wine
• 250ml beef stock
• 1 cup tinned chopped tomatoes
• 2 sprigs fresh rosemary
• 2 tsp chopped fresh thyme

METHOD
Pre-heat the oven to 160°C
1. Place the flour into a plastic bag and season with salt and pepper. Add the shanks and shake to lightly coat the shanks with flour.
2. Heat oil in medium sized casserole dish, or cast-iron pot. Sear the lamb shanks all over, then remove and set aside.
3. Add more oil if necessary, reduce the heat to medium then add the onion and saute until translucent. Add the garlic and carrot, stir for 1 minute then add the red wine and stock.
4. Bring to the boil and simmer for a minute or two then add the shanks and rest of the ingredients. Stir to coat the shanks with the sauce.
5. Cover the pot with a lid (or aluminium foil)
6. Place in the oven and cook for 2 hours, basting the shanks with the sauce from time to time.

Serve with creamy mashed potatoes and steamed green beans.

If you using a slow cooker add all ingredients and set on slow for 6 hours or high for 4 hours.