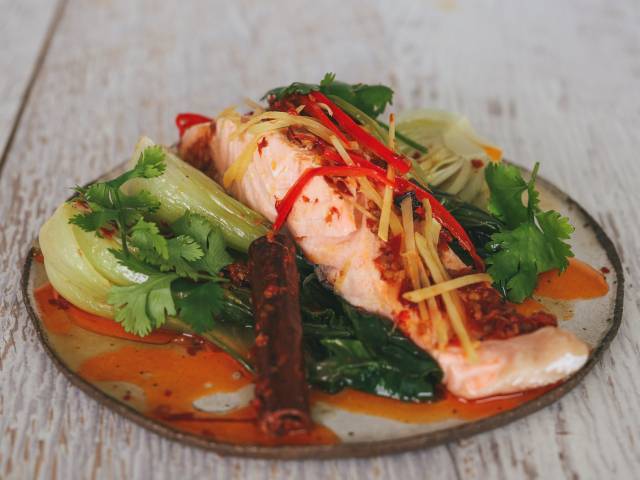 Guy Turland's Steamed Salmon with Lemongrass
Serves: 2-3 people

Ingredients:
2 bok choy, sliced in half
300g Tassal Fresh Tassie Salmon Skin Off
1 stick lemongrass
3 shiitake mushrooms
2 coriander stalks
1 long red chilli, julienned
1cm ginger, julienned
1 cup steamed rice

Chilli Oil
¼ cup chilli flakes
1 tbsp chilli powder
½ tsp salt
2 tbsp toasted sesame seeds
1 cup vegetable oil
1 tsp Sichuan peppercorns or chilli flakes
1 tsp fennel seeds
1 star anise
1 piece cinnamon or cassia cinnamon
1 bay leaf
1 cardamom pod
3 slices ginger
1 spring onion stalk

Method:
1. To make the chilli sauce, mix chilli flakes, chilli powder and salt together in a bowl.
2. Add oil into a cold pot with remaining chilli oil ingredients and cook over a low heat for 30 minutes or until the spring onion turns brown, then turn off the heat. Allow oil to cool for 5 minutes and then strain the mixture through a fine sieve into a deep, heat proof bowl. Let sit for 5 minutes and then discard everything caught in the sieve.
3. Return oil to the stove over a medium heat, once hot add half of the chilli flakes mixture. Let the oil bubble intensely for 2 minutes. Reduce heat and once bubbling subsides add the remaining mixture. Remove from heat and stir well with a clean, dry spoon until combined. Allow to cool to room temperature.
4. Prepare two steaming baskets by lining them with baking paper and bring a pot of water to the simmer.
5. Place the bok choy halves in one steaming basket.
6. Using the back of a knife, bash and bruise your lemongrass and cut into sticks so that it fits in the steaming basket. To prepare the other steaming basket, place lemongrass on the baking paper, top with coriander stalks and then salmon fillets. Spoon 1-2 tsp of chilli oil over the salmon fillets and then generously cover with shitake mushrooms and julienned chilli and ginger.
7. Stack the salmon steamer on top of the bok choy steamer and steam for 15 minutes until your salmon is tender.
8. Serve in the basket with extra chilli sauce and steamed rice.