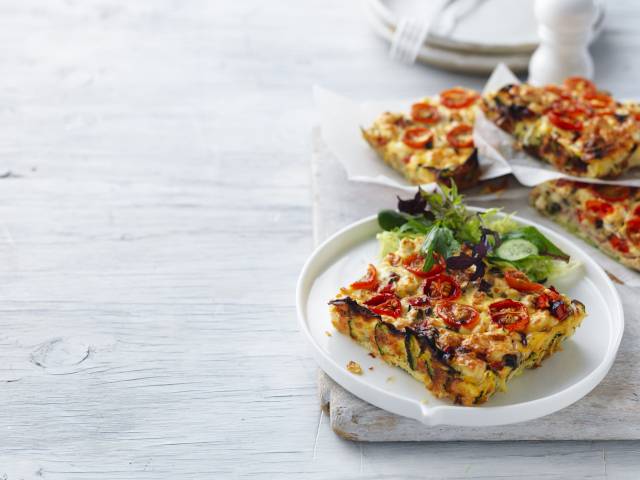 Ham and vegetable slice
Prep time: 20 minutes
Cook Time: 40 min
Serves: 4

Ingredients
• 1 tbsp olive oil
• 20g butter
• 200g cup mushrooms, chopped
• 3 green onions, thinly sliced
• 1 red capsicum, finely diced
• 4 large zucchini (800g)
• 100g leg ham, roughly chopped
• 6 eggs
• 200g fetta, crumbled
• Salt and pepper, to serve
• 125g cherry tomatoes, halved
• Mixed salad greens, to serve

Method
1. Preheat oven to 200C. Grease a 7-cup capacity baking dish. Heat oil and butter in a frying pan over high heat. Add mushrooms and cook, stirring often, for 8 minutes or until golden. Reduce heat to medium and add onions and capsicum. Cook for 4 minutes or until tender. Transfer to a bowl and cool.
2. Using a vegetable peeler, run blade down length of zucchini forming ribbons. Line prepared baking dish over base and sides with zucchini, overlapping slightly. Place ham into base of dish over zucchini.
3. Whisk eggs and add vegetables and fetta. Season with salt and pepper. Pour mixture into baking dish, spreading evenly. Place tomato halves over bake, cut side up. Bake for 40 minutes or until golden and set. Serve with salad greens.