Tella Balls Dessert Bar debuts its first VIC store

The -King of Desserts' has announced its first Melbourne store opening at Melbourne Central, following the successful launch of Tella Balls Dessert Bar in QLD last year and NSW in 2016.

Tella Balls Dessert Bar will officially open its doors at 10am on 5th of February 2018, and is home to over the top, Instagram-worthy Nutella-filled desserts, including the original Tella Ball doughnut - a light and fluffy doughnut ball drizzled in cinnamon sugar and filled with oozing Nutella goodness. Also on offer are doughnut sliders, doughnut fries, doughnut ice-cream cones, dessert lasagne, dessert kebab, house made crepes and pancakes.
The store will open in the food court of Melbourne Central, with neighbouring retailors including KFC, McDonalds, Hungry Jacks, Coles, Soul Origin and Sumo Salad.
'We're really excited to be opening in Melbourne because at the very heart of the Tella Balls Dessert Bar's philosophy is to position ourselves right in the centre of culinary hubs," says Co-Owner Aki Daikos.
'Melbourne is arguably at the forefront of great food choices. They know a good thing when they see it and we know they're going to love us. We call it natural progression" 'So many Melbournians have been reaching out on social media begging us to bring our concept to them. They spoke and we listened!" says Simon Kappatos, Co-Owner.

Tella Balls Dessert Bar will offer its original dessert menu including its Signature Dessert Lasagne, which boasts layers of decadent mousse and fresh cream on a chocolate biscuit base and lashings of Nutella served with vanilla bean gelato, and its Signature Tella Ball Slider, which involves house made Nutella flavoured gelato sandwiched between The Original Tella Ball, drizzled with Nutella and topped with Cadbury Flakes. Dessert lovers also can't go past the Pastatella, a fettuccine style house made crepes tossed in a Belgian milk & white chocolate sauce, topped with house made vanilla bean gelato and a side serving of shaved milk and white Belgian chocolate, carved straight off our rotisserie. Other desserts include house made gelato, milk shakes and delectable desserts straight from the patisserie.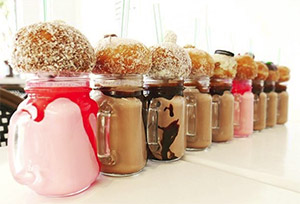 Tella Balls Dessert Bar Melbourne
Shop LG02, Melbourne Central, 211 La Trobe Street Melbourne VIC 3000
10am – 9pm, open 7 days a week
Image above from left to right: Original Tella Ball, Tella Balls Nutella Doughnut Ice-cream Cone, Tella Balls Slider, Waffle Burger