Venero Armanno ventures into horror and supernatural for his 11th compelling novel
Swift-moving, brutal, with unexpected moments of tenderness, The Crying Forest compels the reader's attention to the end.

Venero Armanno's long-awaited 11th novel has only just been released and is already making an impression with fans of dark fantasy, thrillers, crime, witchcraft and the supernatural.

Like most of Brisbane-based Armanno's novels, The Crying Forest (IFWG, 334pp), took inspiration from the author's real life and involved research into new areas his previous books haven't ventured.

The author of ten critically acclaimed novels, Venero Armanno's titles include Burning Down (2017), Black Mountain (2012), The Dirty Beat (2007) and Candle Life (2006). Prior to this, Armanno's novel, The Volcano, won Best Fiction Book of the Year in the Queensland Premier's Literary Award. Firehead was shortlisted for this same award in 1999. His work has been published in the US, France, Germany, Switzerland, Austria, Holland, Israel and South Korea.

In this dark, twisted and terrifying novel, The Crying Forest introduces us to characters who are much more than they appear on the surface, and even delves deeply into the realms of Italian witches and werewolves.

"The Crying Forest is a literary supernatural tale in that characters' emotions, their relationships and personal baggage really drive the plot " as well as a lot of real history," said Armanno.

"It's my first foray into the supernatural with original inspiration coming from a very spooky house my pregnant wife and I moved to, which is in an isolated area next to a large state forest frequented by wild packs of dogs that howled at night and waged battles with a proliferation of introduced deer.

"It all just seemed to cry out for a novel about the supernatural, but being outside of my usual genres, it's taken a lot of time and research to bring to fruition," he added

The new book is set in the mid-1970s with Agata Rosso, a once-mighty yet now prematurely aged Italian witch, believing that the special gifts in a young girl named Lía Munro can restore youth and vitality both to herself and her bedridden husband.

She sets a deadly plan in motion to capture and use Lía, who is starting to understand things about herself that she could never have imagined: she can see things others can't, she can travel in the spirit realm, and finally realises the extent of her power.

Picking up on the enormity of that power, Agata Rosso realises that somewhere close by, finally, is the one person who can restore her own youth and energy and raise her beloved husband Giancarlo back to life.

But will Lía have enough power to protect herself, plus her father she loves so much?

Onto the scene comes a wealthy criminal, Karl Haberman, himself wracked by terminal illness. Agata and Karl join forces in a desperate search to find young Lía. The terrible ceremony that's planned could save them all, but can Lía find the strength and courage to conquer an evil so ancient it reaches back to Italian folklore?

The Crying Forest is published by IFWG Publishing and available in paperback (334 pages) RRP $AU35.95, eBook RRP $AU5.99 and audio book RRP $AU39.95 from all good online bookstores including Amazon , Booktopia, Audible and Book Depository.
Interview with Venero Armanno
Question: What originally inspired the idea of The Crying Forest?

Venero Armanno: Twenty years ago I moved into a big house in the country that some people find dark and spooky but that against all common sense I really like. Nearby there's the start of a large forest, and before a lot of gentrification set in – old farm properties being turned into housing estates – we had wild deer and wild packs of dogs. Put all those elements together and a writer's creative subconscious goes into overdrive.

I've also always been interested in how people find their place in the world, and in this case the character of the young teenager Leá kept haunting me, making me want to know how a girl with "powers" would come to both accept and love herself despite being so different to everyone else.


Question: Are the characters based on anyone you know, in real life?

Venero Armanno: No, I'd never use real people as a basis for the things I want to write, except by way of maybe a few character touches here and there.

In The Crying Forest there's an elderly witch who desperately wants the powers of our teenage protagonist, also a witch though she doesn't yet know it. I suppose the elderly witch is sort of based on someone my parents knew when I was a kid. New migrants to Australia, they had more faith in the "old ways" than modern medicine. So twice they had this elderly woman come to help me. Even though she dealt in weird potions, she attended to me once for a broken thumb and once for a sore neck. Needless to say her ministrations only made things worse.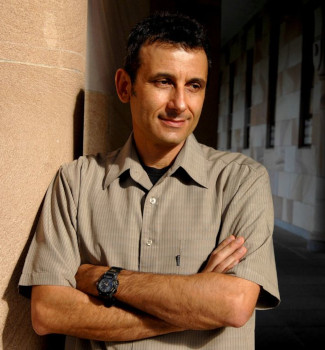 Question: How much of your inspiration comes from real life and real people?

Venero Armanno: Other than the elderly witch I mentioned above, a lot of the inspiration for The Crying Forest came directly from where I live. In the local forest walk I've often come across deer and stags, and at night there'd be the howling of wild dog packs. Sometimes the dogs and deer would clash. And then there was the way some people would react to my house itself, feeling uneasy, feeling it must be haunted (it's not – or at least, any ghosts here must like me!).


Question: Is there a message you hope readers take from The Crying Forest?

Venero Armanno: Oh definitely. It might sound trite, but love conquers all and the ties that bind us to family and friends are far far greater than the things that will hurt us. My main character, Leà, understands this deep down and her actions ultimately revolve around protecting and caring for everyone she loves.


Question: What research did you do, prior to writing The Crying Forest?

Venero Armanno: Even though The Crying Forest is a supernatural mystery and thriller that involves witchcraft and ghost children, I wanted to see how much I could ground it in reality. So I did a lot of research into witchcraft based around my own ethnic identity (Italian) and discovered wonderful agrarian folk tales and mythologies from Northern Italy, all revolving around good witches and bad, plus, believe it or not, werewolves. So there was once a group called the Benandanti, and these good witches battled bad forces in the psychic or spiritual realm. The outcome of these battles would determine whether crops grew well or not, and how the harvests would turn out.

Assisting the Benandanti would sometimes be werewolves – not the type from Hollywood movies – but men, mostly, suffering their own psychic wounds. All of this was terrifically interesting for a writer like me, so I went down various rabbit holes researching these elements until they found their own natural paths into my novel.

Then there was research into Australian crime figures of the late 1960s and 1970s, as there is a strong crime element to the book as well. One reviewer said The Crying Forest is like The Wicker Man meets True Detective. I'd not thought of the book like that before, but see it's really true. In fact, it's the best description of my book I can think of.


Question: Was it difficult reliving certain aspects/times of your life, whilst writing The Crying Forest?

Venero Armanno: Well, I'll tell you a secret: I did creep myself out writing the book in my house. I did find that at night I found myself switching on upstairs lights before venturing upstairs. At the moment I'm still doing it.

But the book is set mostly in the 1970s and I found it a wonderful experience drawing on my memories of how things used to be back in those days when I was a young teenager. It's an era I really love and am so happy to have experienced.


Question: What advice do you have for aspiring writers or artists?

Venero Armanno: The thriller writer James M Cain (The Postman Always Rings Twice) once said to writers: "If your story doesn't keep you up at night it won't keep a reader up." And that's a good thing to remember: we write for readers, so it's important to keep the things that readers respond to in mind when creating a story. That doesn't mean pandering to easy tropes like sex and violence. It means to concentrate on true characterisations and a well-developed plot that readers might hopefully connect with. And tie these things to a great theme, something that means something real to you.


Question: What or who inspired your love of reading/writing?

Venero Armanno: For whatever reason it was something I came to completely on my own, possibly as an escape from the awful racism I encountered growing up (there was no cachet to being a child of Sicilian migrants back in those days, believe me, and the school I went to was particularly violent and virulently racist). My parents were new migrants to this country and so their reading and English comprehension was very poor. I remember then being amazed when around the age of three I started reading newspaper headlines and articles to them.


Question: What's next, for you?

Venero Armanno: Without giving too much away, as well as Italian characters, The Crying Forest features a couple of Spanish characters, one of which comes from a werewolf bloodline. If my book connects with readers I would love to follow that particular story strand to Spain and, in particular, Barcelona, where there's a terrific backstory and another major story to follow!


Interview by Gwen van Montfort