The Kings of Mykonos Wog Boy 2
Cast
: Nick Giannopoulos, Vince Colosimo, Alex Dimitriades, Kevin Sorbo, Zeta Makrypoulia, Cosima Coppola
Director
: Peter Andrikidis
Genre
: Comedy
Rated
: M
Running Time
: 102 minutes
Synopsis
: The sequel to the box office smash hit comedy, The Kings of Mykonos: Wog Boy 2 heralds the return of Steve Karamitsis (Nick Giannopoulos) alongside Frank (Vince Colosimo) in a story that takes our heroes from one Greek paradise (Melbourne) to another (Mykonos) in order to reclaim a family inheritance.
Verdict
: The original Wog Boys, Steve Karamitsis (Nick Giannopoulos) and Frank (Vince Colosimo) head to Mykonos after Steve is told he will inherit a beach-front property, in Greece, from an uncle his never met before. Fans of the first Wog Boy movie will love the sequel, as The Kings of Mykonos is similar to the attitude-changing original, featuring beautiful women, nice cars and comical jokes.
Frank aims to become the King of Mykonos by being with a record-number of good-looking Greek women whilst bumbling Steve takes a journey through Mykonos and deals with previously unknown relatives and life changing family information.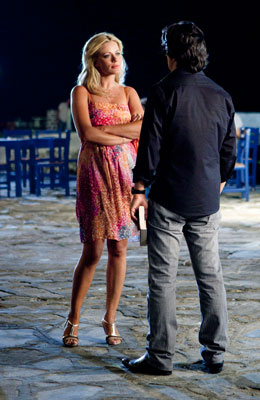 The blue water background and fascinating Mykonos scenery steals the movie; showcased by handsome and rich property developer, Mihali's (Alex Dimitriades) stunning Greek castle on the beach, which is sure to leave you feeling very jealous.
It is worth seeing this comedy, if only for the main dance scene. Steve and Frank rip up the dance floor in perfect unison proving they do have all the moves. Keep an eye out for the very special goat and of course, the very amusing 'Land Down Under' finale.
Audiences who haven't seen the original Wog Boy movie, will still enjoy The Kings of Mykonos; as the film is a great laugh-out-loud comedy!
Rating
: ***
Release Date
: 20th of May
Website
:
www.kingsofmykonos.com.au