Australians Agree Lamb Is The Meat That Unites Everyone Around The Table
New research has uncovered the evolution of the Australian dinner party, reporting changes in the way we host dinner parties over the last 10 years, with these being more casual, having to cater for a range of dietary requirements and the topics of conversation more edgy than in the past.

Today's dinner party is less formal (51%), with the preparation of food likely to be a shared effort (32%) and more culturally diverse recipes being served (32%), reflecting the face of modern-day Australia.

Hosts have to cater for a variety of dietary requirements (61%), including gluten intolerance (25%) and dairy intolerance (22%), so are seeking meals that unite everyone around the table, no matter who they are, where they come from or what they eat.

It's no surprise then that Lamb is a popular choice, with nine in ten (91%) Australians agreeing it is the perfect dinner party meal. Almost half (49%) consider it easy to cook and 43 per cent applaud its versatility, allowing them to serve up dinnertime favourites, including Italian (50%), Chinese (31%) and Thai (25%).

At home dinner parties – be it a casual soiree or formal meal – are more popular than ever, with almost nine in ten Australians (88%) catching up with friends and families over a meal at home. Leading the pack are Millennials with 56 per cent hosting or attending a dinner party at least once a month, in comparison to 41 per cent of Gen X and 24 per cent of Baby Boomers.

When it comes to millennial dinner parties, the conversation is as colourful as the menu. Hottest topics for discussion are gossip (54%), travel (49%), careers (47%) and relationships and sex (39%). In comparison, Gen X-ers are discussing their children (60%), whilst Baby Boomers are talking travel (64%) and continue to steer clear of religion (5%).

Additional findings from the research by We Love Our Lamb include:
The most popular ways to prepare Lamb – the meat more people can eat – are roasting (63%), slow cooking (38%) and barbecuing (32%)
Roasting is especially popular with Baby Boomers (74%) while Millennials are more likely to be experimental and try smoking, stir frying or using minced Lamb Since Lamb is such a uniting force and a top choice for dinner parties nation-wide, Australian

Lamb is calling on all Aussies to come together over Lamb this spring – no matter their background, religious beliefs or dietary requirements.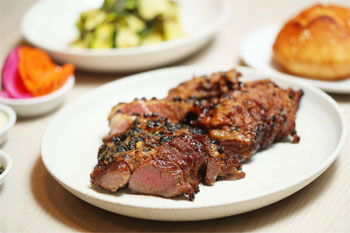 Thi Le created four delicious lamb recipes, check them out:
Lamb Flatbread with Parsley and Sumac Salad
Jungle Spiced Lamb Sausage
Lamb Backstrap with Jungle Mix and Smoked Rice Powder
Masala Lamb Ribs
For juicy cooking inspiration for a modern day dinner party, head to www.WeLoveOurLamb.com.au



Interview with Thi Le from Melbourne's Anchovy
Question: Why is lamb one of your favourite meat?

Thi Le: Lamb is versatile and I love how flavoursome it is. It's great to cook on the barbecue too, which is good for me because I love grilling and working with coal fire.


Question: Where did you find inspiration for the lamb recipes you created for We Love Our Lamb?

Thi Le: Inspiration for the dishes goes back to the diversity of where I grew up. My friends were Laotian, Cambodian, Filipino, Turkish, so my recipes come from far and wide. I used to swap lunches with a Turkish friend in school - she would get my rice paper rolls and I would eat her lahmacuns (like Turkish pizza)!


Question: Can you share the current lamb trends for dinner parties?

Thi Le: Whole secondary cuts like lamb shoulder or lamb neck are popular for dinner parties at the moment. These cuts are ones that can be prepared ahead of time, meaning the host is free to mingle and drink when guests arrive.


Question: If you were to have family over for a dinner party; what dishes would you serve?

Thi Le: Whole braised lamb neck with pickles and flatbread. Everyone can get their hands dirty serving themselves, which is great fun and brings everyone together. It's also a dish that your guests can help prepare – whether it's picking herbs or making the pickle.


Question: Which of the lamb dishes on Melbourne's Anchovy menu is a crowd pleaser?

Thi Le: Our whole braised lamb neck is a popular choice. It's cooked in our master stock and served with milk buns and other condiments. The sight of it being brought out of the kitchen draws attention and all the guests really dig into the dish. There are no pleasantries - it's everyone for themselves!


Question: What inspired your love of cooking?

Thi Le: Eating, sharing, talking, dining with loved ones. I feel like growing up around the dining table inspired me to want to cook for others.


Question: Can you share your earliest cooking memory, with us?

Thi Le: Zapping cheese singles in the microwave and scraping melted cheese off the plate - haha!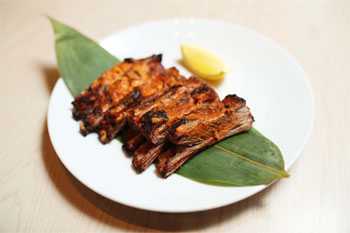 Question: What's a typical day like at Anchovy?

Thi Le: The kitchen starts at 10am in the morning. I brief the kitchen about menu changes and then prep commences. We listen to a mixed bag of songs while we prep, although recently there has been a lot of Britney and Mariah! Suppliers and deliveries come in throughout the day. We play around with new dishes when seasons change and new produce is available - for example, we are currently trying to work out what to do with globe artichokes and asparagus. The dining room team is in at 3pm to set up the room. Family meal is at 4pm – we're working our way through the different cuisines of the world at the moment, currently we are on Tanzania. We then have a briefing with the dining room team at 5pm and go through reservations, counts of what we have, what's new and what's off and speculate about the service in front of us. Service begins at 5.30pm, which is great now that spring is here as we can enjoy the light before dinner service really settles in. We start packing down the kitchen and try to get most of our ordering done before it gets too late. After service we hang out with the team over staff drinks, which can be anywhere between 11pm and 1am depending on the day and try to head home to get some sleep before the next day starts again.


Question: What are the five ingredients you could not live without?

Thi Le: Fish sauce, chilli, lemongrass, garlic....wow, it's like I'm making a curry!


Interview by Brooke Hunter