Top Movies to Watch Before Your Next Overseas Vacation
A big part of the fun in travelling overseas is the excitement to be had in the planning of the trip and the lead up to departure. A great way to start to immerse yourself in another culture before you even take off is to settle down on the couch and watch a lovely travel-based film.

Whether you want to enjoy just one flick before you fly, or are keen to indulge in a whole movie marathon, there are plenty of top movies you can watch to whet your appetite for your next international adventure.

There have been hundreds of movies shot all over the world, from Europe to Asia, India and Northern America, to name a few. The hard part is deciding which great ways to stream movies straight to your living room you'll use, and which movies to pick when there are so many to choose from! To give you some inspiration, read on for a sampler of some of the films that will have you wanting to hop on a flight right away.
The Best Exotic Marigold Hotel

If you're contemplating taking a trip to India you'll want to make sure you watch indie favourite film 'The Best Exotic Marigold Hotel". Released in 2012, the movie follows a group of British retirees who decide to spend their 'golden years" in a less expensive, and seemingly lovely and exotic, hotel in India.

Lured by advertisements proclaiming a restored hotel with all the mod cons, the retirees soon discover that the venue is well past its best. Though their new environment is found lacking, the group still share some remarkable experiences and find that there are plenty of laughs and love to be found in the twilight years when you're open to new adventures.

The heart-warming comedy-drama stars such well-respected actors as Dame Judi Dench, Bill Nighy, Dame Maggie Smith and Dev Patel. The film was so popular with audiences that a sequel, 'The Second Best Exotic Marigold Hotel" was made, and released earlier this year. The new movie features many of the same cast members as the original, plus the addition of new faces like Richard Gere.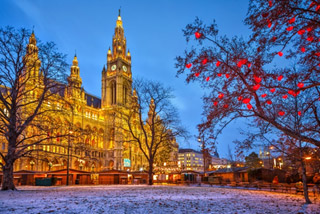 Before Sunrise

A cult classic from the 1990s, 'Before Sunrise" is the first of a romantic film trilogy starring Ethan Hawke and Julie Delpy. The movie is set largely in the beautiful city of Vienna, as the two lead characters wander around the European location after meeting and clicking on a train.

From its grand architecture, and plethora of museums, galleries and other cultural venues, to a hidden cemetery on the outskirts of the city, 'Before Sunrise" showcases the glory of Vienna as it works as a backdrop to the romance.

For those looking for a movie marathon, you can also check out the other two films in the series, both of which are perfect for travellers. The sequel, 'Before Sunset", was released in 2004, around ten years after the first film and is set in Paris, while the third movie, 'Before Midnight", was released in 2013 and is set in Greece.

Eat Pray Love

If you're bound for Italy, Indonesia, or India anytime soon, and haven't yet seen the film 'Eat, Pray, Love", now is the time. Based on the best-selling book of the same name by Elizabeth Gilbert, 'Eat, Pray, Love" follows the main character's search for happiness around the globe after a marriage breakdown.

The lead role is played by Julia Roberts, and the film is a feast for the senses, whether conveying the protagonist's journey through gastronomic Italy, spiritual India, or love-filled Bali in Indonesia.

Midnight in Paris

Anyone who loves Paris or who has been dreaming of going there shouldn't miss a viewing of Woody Allen's Academy Award-winning movie 'Midnight in Paris". While Allen often sets his films in his hometown of New York City, this Parisian-based romantic comedy/fantasy showcases the beauty and allure of Paris.

The 2011 movie follows the fortunes of a frustrated screenwriter (played by Owen Wilson) who examines his life goals and past relationship struggles during the midnight time-travel adventures he finds himself on each night during a trip to France's capital.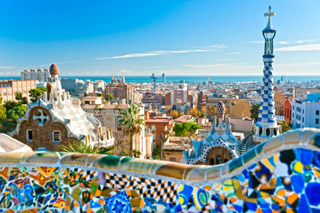 Vicky Cristina Barcelona

Another popular and Academy Award-winning movie by Woody Allen, 'Vicky Cristina Barcelona" is a 2008 romantic comedy that revolves around two American females (played by Scarlett Johansson and Rebecca Hall) who spend an unforgettable summer in Barcelona, Spain, where they meet and fall in love with an artist (Javier Bardem). The film features lots of breathtaking Catalonian architecture and is the perfect movie to watch before a Spanish vacation.