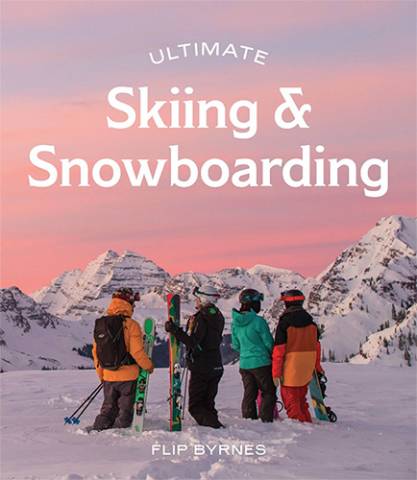 Ultimate Skiing & Snowboarding is your practical guide to the top 50 ski destinations around the world, with insider tips for even the most seasoned skier or snowboarder.
From Europe and North America to Japan, Australia and Aotearoa New Zealand, award-winning travel writer Flip Byrnes will show you where to point your ski tips for your next snow adventure. With decades of industry experience as a ski journalist, instructor and polar expeditioner, Flip is the perfect guide. Chapters include information on the ultimate runs, family resorts, and the best places to lose the crowds freeriding (looking at you Colorado's Silverton Mountain!) or to find the crowds at après (follow the Swedes in Engelberg).
There are trail maps and photos, as well as advice from high-profile locals on everything including the best runs in variable weather.
Whether you're seeking inspiration for skiing under a Scandinavian midday sun, or need tips on navigating the Tokyo underground with snowboard equipment, this is your go-to guide with insider information for skiing and snowboarding enthusiasts. It's essential to pack in your bag along with your boots.
Flip Byrnes is a multi-award-winning journalist who's slid on every continent writing lines from Courchevel to Kashmir, Russia to Romania, Quebec to Queenstown. A lifelong snow industry career has included working as an instructor, ski journalist, in ski area marketing departments and being an expeditioner whose lived in the French Alps, Colorado in the US and Australia's Snowy Mountains. She's equally happy snowboarding, skiing or split-boarding, but as the great granddaughter of Antarctic explorer and photographer Frank Hurley (of Shackleton's Endurance expedition) has a special thing for polar places, cemented when kite-skiing halfway across Greenland sponsored by The North Face. She divides her time between Europe and Australia with her UIAGM mountain guide husband and two mini mountain mad girls, and would do almost anything for raclette. Follow Flip on @theavdenturemamma.
Ultimate Skiing & Snowboarding
Hardie Grant Books
Flip Byrnes
RRP: $45.00