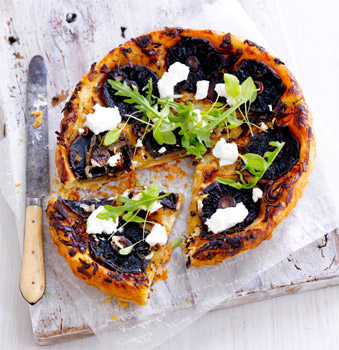 Upside Down Mushroom Tart
Serves 8 for morning tea
As always, the Cancer Council's Australia's Biggest Morning Tea stellar line up of celebrity ambassadors – who just happen to know their stuff when it comes to putting together a mouth-watering menu - have risen to the challenge and created fresh, healthy and delicious morning tea recipes.
Ingredients
1 tablespoon olive oil
1 leek, trimmed, thinly sliced
2 garlic cloves, crushed
6 sprigs of thyme
8 small flat mushrooms, trimmed
2 sheets frozen canola puff pastry, partially thawed
100g feta or goats cheese
Wild rocket or micro cress leaves, to serve

Method
Preheat the oven to 200°C fan forced.
Heat the oil in a medium (about 22cm base) ovenproof frying pan over medium heat. Add the leek and garlic and cook 3 minutes until soft. Add the thyme. Add the mushrooms, stalk side down. Increase heat to medium-high and cook for 5 minutes.
Meanwhile, cut a 23cm round from each sheet of pastry. Place the rounds on top of each other and press together. Spread half the cheese over one side of the pastry round.
Remove the frying pan from the heat. Place the pastry round cheese side down over the mushrooms, tucking the pastry under the mushrooms. Transfer the frying pan to the oven and bake for 20-25 minutes or until pastry is golden and puffed. Remove from the oven and set aside 3 minutes.
Place a board or wire rack on top of the pan and invert. Crumble over the remaining goats cheese, top with rocket or micro cress, season with pepper and serve.

Tip - If you don't have a frying pan that is also ovenproof, cook step 1 in a frying pan then transfer the mixture to the base of a well-greased 22cm (base) cake pan and continue with steps 3-5.

Whether it involves hosting an office morning tea, or going all out and hosting a high tea with all the trimmings it all matters, as every dollar raised is put back into research and support services that help cancer patients through their cancer journey every day.

Hosts can put on an event any time during May and June. Registrations are now open and signing up is easy, simply visit www.biggestmorningtea.com.au or call 1300 65 65 85