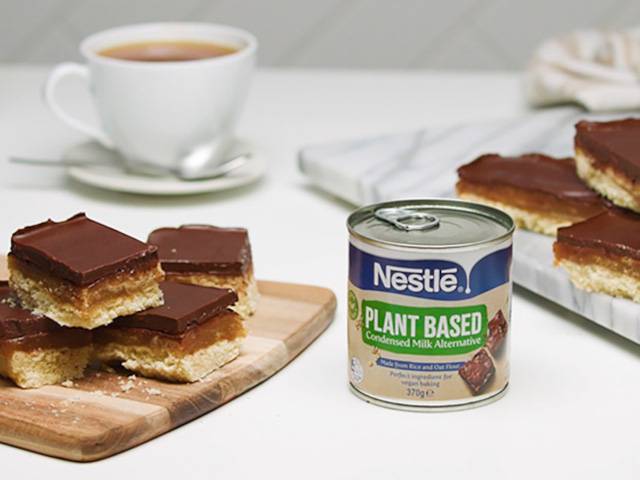 Vegan Caramel Slice
Adapted by: Cherie Tu (Thriving on Plants influencer & chef)

Prep Time: 20 min
Cook Time: 15 min
Chill Time: 3 hours
Serves: 16

Ingredients

For the Base:
1 cup (150g) plain flour
2/3 cup (50g) desiccated coconut
½ cup (80g) icing sugar
¼ tsp sea salt
125g vegan spread

For the Caramel Filling:
1 x 370g can Nestlé Plant Based Condensed Milk Alternative
3 tbsp cornflour
1/3 cup (75g) dark brown sugar
125 vegan spread
Pinch of sea salt

For the Top:
200g vegan milk or dark chocolate
1 tbsp vegetable oil (or any neutral oil)

You will also need:
20cm square cake tin, lined with an oversize sheet of parchment (overlapping the sides)

Method
1. Preheat the oven to 180C. Add the flour, coconut, sugar and salt into a large mixing bowl. Using your fingertips, rub the vegan spread into the flour until it forms a ball of dough.
2. Press the dough into the base of the tin and push it out to make one even layer. Fork the dough all over then bake for 20 minutes until lightly golden on top. Set aside to cool.
3. In the meantime, add Nestlé Plant Based Condensed Milk Alternative and cornflour into a small non-stick saucepan. Whisk well to combine. Add the remaining caramel filling ingredients in and heat, stirring constantly until bubbling. Continue to gently boil for 15 minutes (set a timer to ensure success, any less and the caramel may be too runny and any more, the caramel may be too firm), stirring regularly to prevent it from burning or sticking to the bottom. Cool for 10-15 minutes until further thickened.
4. Pour the caramel over the shortbread and spread to the sides. Cool and then set in the fridge for 2-3 hours or until firm to the touch.
5. Finally, melt the chocolate and mix in the oil until smooth. Spread over the top of the caramel. Chill until set. Using a knife briefly dipped into boiling water and then dried, cut into 16 squares and enjoy!
Check out our Vegan Truffles on Instagram Girl.au
Nestlé Plant Based Condensed Milk Alternative.