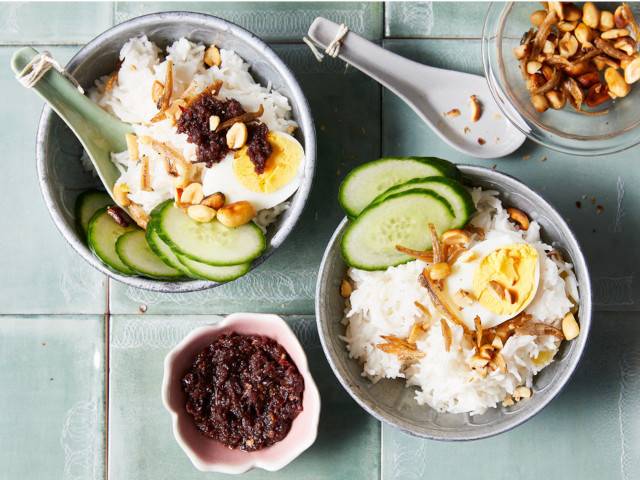 Coconut Rice – Nasi Lemak
Nasi lemak is a fragrant rice dish cooked in coconut milk and pandan leaves. A basic nasi lemak usually comes with sambal, hard-boiled egg, sliced cucumbers, fried peanuts and fried dried anchovies, but these days just about anything goes, such as chicken rendang, cockles rendang or prawn sambal. Typically, street hawkers would wrap the nasi lemak in a banana leaf to make the rice more fragrant – a lovely way to open one's appetite in the morning. Some still do this, but many opt for brown paper as a more convenient and economical wrapping.

If you go to the many street stalls, kopitiams (coffee shops) or food courts around Penang you can easily buy the mini version of nasi lemak very cheaply, offering a quick breakfast fix for locals and tourists alike.

Serves 4

Ingredients
400 g (2 cups) basmati or long-grain rice
250 ml (1 cup) coconut cream
5 cm (2 in) piece ginger, sliced
1 teaspoon salt
2 pandan leaves, knotted

Sambal
2 large red onions, sliced
3 garlic cloves, sliced
15 dried chillies, soaked in water for 15 minutes
30 g (1 cup) dried anchovies
2.5 cm (1 in) piece toasted belacan (shrimp paste)
200 ml vegetable oil
2 tablespoons sugar, plus extra if needed
1 tablespoon tamarind paste
salt

To serve
hard-boiled eggs, halved, or fried eggs, sunny side up
sliced cucumbers
fried peanuts
fried dried anchovies

Method
To make the sambal, place the red onion, garlic, drained dried chillies, dried anchovies, belacan and 100 ml of the oil in a food processor or blender and process to form a paste.

Pour the remaining oil into a frying pan and heat over medium heat. Add the chilli paste and cook, stirring regularly, for 4–5 minutes until it turns a darker shade of red and the oil has separated.

Add the sugar and cook for another minute to let it caramelise with the sambal. Add the tamarind paste and 125 ml (1/2 cup) water and cook, stirring, for 3 minutes or until the sambal has thickened slightly. Season to taste with salt and extra sugar if needed. Keep in mind that the sambal should be a good balance of sweet, spicy and sour flavours.

Wash the rice until the water runs clear, then tip it into a rice cooker. Add the coconut cream and 500 ml (2 cups) water and stir in the ginger, salt and pandan leaves.

Leave to soak for 5–10 minutes, then switch the rice cooker on and cook the rice according to the manufacturer's instructions.

Lightly fluff up the cooked rice with a fork or a wooden spoon. Serve immediately with the sambal, egg, cucumber, peanuts and dried anchovies.

Extracted from Penang Local by Aim Aris & Ahmad Salim, out now from Smith Street Books, RRP $39.99.