In the Autumn of 2018, Hello Friend Foods launched and within weeks both Bree and Matthew had to quit their full time jobs.
Bree adds: "We tested the waters in the Melbourne vegan community by offering them our Fresh Mozzarella. The response was overwhelming, and people were trying to place orders before we'd even launched, so we went back into the kitchen and came out with Australia's first vegan Haloumi."
Hello Friend Foods supplies both vegans and non-vegans with hand made cheese from their commercial kitchen in Cheltenham, Victoria.
Matthew says:"We supply retailers, cafes and caterers with premium vegan cheese. We also sell directly to customers from our online shop, which has allowed us to continue to service our community all over Australia during the ongoing Covid-19 crisis.
Everything we make is handmade, free from lactose and palm oil. We also don't use any gluten or nuts in our products, which sets us apart from other vegan nut based cheeses.
Plastic free and animal free is the future of food, and we're here to make sure that it still tastes great. We want our customers to experience the benefits of eating well, and without compromise. That's a win for us all."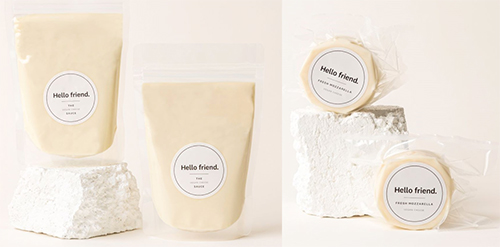 Bree concludes: "For the first year we were producing our cheese in the kitchen of a local cafe in the evenings. We hired out the space from 4pm until 6am, 7 days a week. Bootstrapping our small startup meant that we didn't have access to large machines or factory equipment, so we made each batch by hand, one kilo at a time. Pulling all-nighters became a regular occurrence. The two of us would make cheese from 4pm until 2am or 3am, get in a few hours of sleep, and then make deliveries and take care of the administrative duties for the business during the day.
As difficult as it was, we knew we were building something special. And when an opportunity came to move into our own commercial kitchen in January of 2019, we were thrilled. We were able to hire a piece of equipment which allowed us to increase our production ten-fold. All of a sudden we were making cheese quickly and efficiently, and during the daylight hours!
We started shipping interstate, and hired our first employees. We've taken on a distributor for Sydney and surrounds, which means we're getting onto more plates than ever before. Everything we make is handmade, free from lactose and palm oil. We also don't use any gluten or nuts in our products, which sets us apart from other vegan nut based cheeses. "
To grow their food revolution and expand into international markets, Hello Friend Foods has embarked on an equity crowdfunding campaign through Birchal.
Birchal is Australia's leading equity crowdfunding platform licensed under Australia's crowd-sourced funding regime.
Robin Holt, Birchal, says: "'We're thrilled to be working with Hello Friend Foods. Companies like this are on the cusp of a food revolution and with demand increasing every year, this presents an exciting opportunity for retail and wholesale investors across Australia.The dairy-free products industry is booming, and showing no signs of slowing down. Hello Friend Foods' products fit perfectly in this market and so we're very excited to offer this opportunity to Australian investors.'
Vegan Cheese by Hello Friend Foods
The business that started when Bree was picked up in an Uber. She found her business partner and business that trip.
Available products:
Fresh Mozzarella RRP $14
Haloumi RRP: $15
The Vegan Cheese Sauce Bag RRP: $18
https://www.hellofriendfoods.com/
Review: We loved these Vegan Cheese options, infact 75% of the family couldn't tell the difference. Great taste, great job Hellofriendfoods! I think I actually prefer Vegan Fresh Mozzarella, was so soft and smooth.