Victoria Mitchell After Rio Interview
Victoria Mitchell is a IsoWhey Sports ambassador, Olympian and recent winner of a series of impressive events including crossing the finish line as the first female in both the 5km and 10km events in the Canberra Times Running Marathon.



Interview with Victoria Mitchell
Question: What IsoWhey Sports products do you use, regularly?

Victoria Mitchell: I use the IsoWhey Refuel & Rebuild, the UM Magnesium and the Overtraining Syndrome Support regularly to aid my recovery. I also supplement my protein intake with 100% Lean WPI and eat the meal replacement bars.


Question: What is your favourite IsoWhey Sports product?

Victoria Mitchell: I've been feeling really good with my training, ensuring I fuel and recover with the right nutrients between training sessions. In particular the nutrition from IsoWhey Sports has really helped. My favourite would be the Refuel & Rebuild simply because I crave it after intense exercise.


Question: What are your plans, now, after the Rio Olympics?

Victoria Mitchell: I won the Australian Championships earlier this year just 2 seconds shy of a World Championship qualifier. The plan is to go abroad, qualify and then race the World Championships in London this August. Following this my aim is to make the Commonwealth Games team for April 2018 on the Gold Coast (qualifying standard is the same as it was for Rio and is for the World Champs).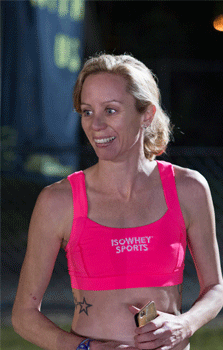 Question: How do you prepare for a run, such as the Canberra Times Running Marathon?

Victoria Mitchell: The preparation for any race is done in the prior months with hard training. However, an athlete must consider how to taper for a race, what nutrition is required, the timing of ingestion and what shoes and running attire is required.


Question: And, more importantly how do you recover, after a marathon?

Victoria Mitchell: Recovery after a marathon requires good nutrition to replace what was lost and rebuild the body after the stress of such a strenuous effort. Begin with hydration with electrolytes and follow this with some energy and protein replacement. Some good rest and light exercise will also aid the body in recovery.


Question: Can you talk us through your mental endurance training?

Victoria Mitchell: Mental endurance or 'mettle' is forged through tough training sessions and races. An athlete is constantly working on their mental endurance during their physical endurance training as one requires the other. I like to break a workout down into manageable pieces and continue to do so as the session progresses. When it gets hard and you think you can't go on you can break it down as far as simple taking the next step to get you through. If you can recall other times when you've endured then this can also bolster your resolve. You can also draw on what motivates you and your 'why', why you are doing the marathon and let this drive you forward to finish.


Question: What advice do you have for those wanting to begin running?

Victoria Mitchell: Take it slow, start small and build but above all, be consistent. Many people who start running go too hard and too far to begin with and end up quitting because they initially find it is too hard or get injured.


Question: How can we take a regular 5km run to marathon training?

Victoria Mitchell: Easily. Gradually increase your mileage with a well planned and structured program.


Question: What's a typical day's food for you?

Victoria Mitchell: Toast and coffee.
Rice paper roll, IsoWhey bar.
Snack before training (banana etc)
IsoWhey recovery drink post training.
Ravioli and salad.
Green tea, water and UM/Overtraining Syndrome Support.


Question: What would we find, in your gym bag?

Victoria Mitchell: A change of clothes, shoes. Recovery drink (Refuel & Rebuild powder in a drink bottle ready to add water) and an IsoWhey bar just in case.


Interview by Brooke Hunter