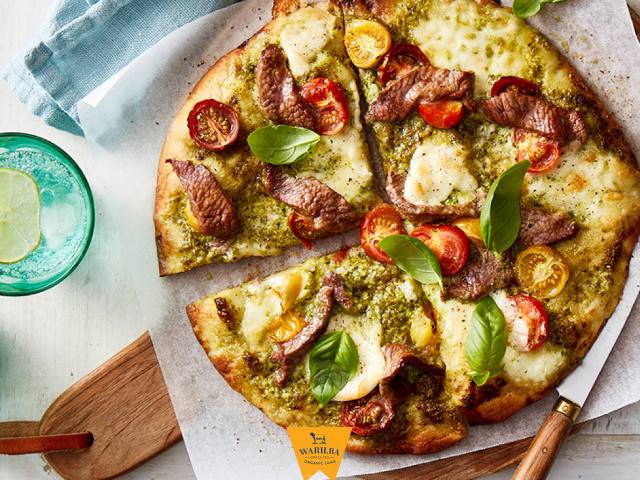 Warilba Pesto Lamb Caprese Pizza
Recipe attributed to: Meat and Livestock Australia

Serves | 2
Prep & Cooking Time | 20 mins

Ingredients:
200g Warilba lamb steak, sliced finely
1 large pizza base
100g pesto
150g baby mozzarella/bocconcini
150g large heirloom tomatoes, thinly sliced or cherry tomatoes cut in half
1 bunch basil leaves, to serve

Method:
Preheat fan-forced oven to 180°C.
Place base on a pizza stone or tray and spread pesto evenly all over, leaving a 1cm border around the edge.
Evenly place tomato slices all over pizza ensuring topping in each slice.
Toss lamb slices in salt, pepper and a little oil, then scatter evenly over pizza.
Place bocconcini evenly over pizza.
Put pizza into the oven and bake for 12-15 minutes, or until the crust is browned, cheese has melted, and lamb is just cooked.
Scatter fresh basil all over to serve.