Brisbane Local Honored for 32 Years of Hospitality Service
Born in the Philippines, Alecia married an Australian and found herself applying for hospitality positions in Brisbane. Starting as a seamstress the day after her interview, Alecia has been working for the Hilton Brisbane since its opening in November 1986, helping all 280 team members with their uniforms as well as being in charge of all of the hotel's linen. With the employee number 'six', Alecia has played a huge role in instilling the international hotel chain's core values of attention to detail and care of service.

Alecia has a number of incredible stories under her belt involving Dolly Parton, the Dali Lama and a #1 world golfer, however what really keeps her going is being able to support her family in the Philippines, including financing her brother and sister's Bachelor degrees as well as supporting her disabled sister who still lives in her home-country.

Even after 32 years, Alecia still comes to work with a smile on her face, happy and awaiting the challenges that face the coming day. One of her biggest achievements to date has been reducing waste and saving money and resources by repurposing retired linen. Across her three decades at Hilton Brisbane, Alecia has remained in the same role, having worked for nine General Managers and 14 Executive Housekeepers.


Interview with Alecia Eway
Question: How does it feel to be recognised as the Hotel hero?

Alecia Eway: I am honoured and proud to be chosen as the Hilton Effect hero, but I am just a small part of a team that works hard together.


Question: How would you define a Hotel hero?

Alecia Eway: Someone who works diligently and gives 100%, not only to do the work, but to achieve the best results for all concerned.


Question: What originally inspired your passion for hospitality?

Alecia Eway: I started working at the Magellan Hotel in Cebu City, Philippines as a bus girl in the restaurant and worked my way up to restaurant supervisor. I liked the challenges and decided to stay in the hospitality trade.


Question: What do you love most about working at the Hilton Brisbane?

Alecia Eway: The key to my longevity at Hilton is to love the job and make as many good friends as possible.


Question: Have you ever considered working at another hotel, why not?

Alecia Eway: On several occasions, other hotels have approached me with offers to run their Uniform Department as a supervisor. However, I like Hilton. The name has some prestige about it and I feel we are a family and I've made a lot of good friends here.


Question: Can you share your fondest memory of working at Hilton Brisbane over the past three decades?

Alecia Eway: Probably all the friends that I have made through the years. Only this week, I caught up with a past workmate who I haven't seen for 15 years. I have a lot of friends who are long term employees and I continue to keep in touch with them after they leave.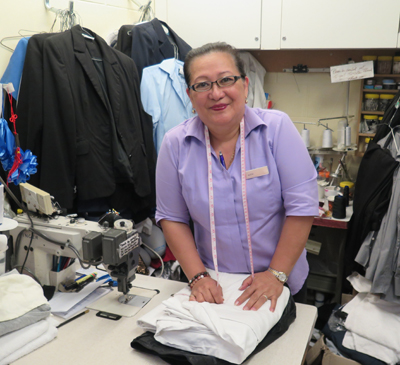 Question: Are you able to share your Dolly Parton story with us?

Alecia Eway: Around 9am, I got a call from our hotel operator who told me to go up to the Presidential Room as a guest wanted some buttons fixed on her dress. I walked in to the room and was surprised to see who it was! I remember her pretty face and tiny waist and she was so nice and thanked me for fixing her dress. I was so amazed and starstruck; I'll never forget her long floral dress with a wide belt on it and high heels.


Question: What advice do you have for a young person hoping to work at a Hilton Hotel?

Alecia Eway: I believe that what you put in will be what you get in return. Work hard and make as many friends as possible. In bad times they will support you and in good times they will make the work flow and the time pass quickly.


Question: What is a typical day like for you at the Hilton Brisbane?

Alecia Eway: I start at 7am and plan my day to consider the regular sewing. Monday is a busy days for me as there are usually new starters and I have to alter their uniforms for them. I then put two days-worth of uniforms away as our laundry is closed on Sundays. Do some clothes mending for guests. Deal with department heads on uniform matters (replacements, wear and tear, etc.) Meet with the Executive Housekeeper and deal with staff regarding their uniforms.

I take my duties and responsibilities as a seamstress very seriously to manage the uniforms and handle everything to the best of my ability and always give 100% effort and loyalty to the Hilton Brisbane.


Interview by Brooke Hunter