Alex Blackwell Australian Women's Cricket Vice-Captain Interview
Alex is the current vice-captain of the Women's Australian cricket team (the Southern Stars) and is the captain of the Sydney Thunder – who won the inaugural rebel Women's Big Bash League this summer! She became the first woman to play 200 games for Australia during the Southern Stars Ashes series win in England in 2015. She gave up her job to focus on being a full time cricketer and interesting fact…. Her and her twin sister Kate made cricketing history when they became the first set of identical twins to play cricket for Australia!



Interview with Alex Blackwell
Question: What's a typical day like, for you?

Alex Blackwell: Gym session or run session in the morning followed by breakfast at my favourite cafe Plunge in Summer Hill. Reply to emails then get washing and other household chores done. 1 hour individual batting session in the afternoon before 2 hour skills session with either the Lendlease NSW Breakers or the Sydney Thunder.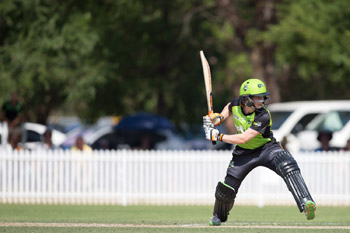 Question: Can you talk us through a week's training?

Alex Blackwell: Each week varies depending on match schedule. Typically I would complete 2 gym sessions and two running sessions per week. This is done in my own time. I then have scheduled NSW Breakers or Sydney Thunder squad training usually Tuesday and Thursday evenings 6-8pm at SCG, Blacktown Olympic Sports Park or Newington College. On Wednesday 5-7pm I'm usually at my club training with Universities Women's CC at Sydney Uni. I will fit in at least one possibly two individual batting or fielding sessions with my coach. Weekend matches would either be multiple WNCL or WBBL matches across Friday, Saturday and Sunday or just a single club match on Sunday.


Question: What do you do, in the off-season, to ensure you stay fit?

Alex Blackwell: I like to do outdoor activities such as surfing and mountain biking during the offseason as way to stay fit and enjoy my down time. In the offseason it's also really important that I maintain a balanced diet and stay hydrated to ensure I'm ready to commence training for the season ahead. Staying hydrated is critical for good health and performance, that's why I always have my Sydney Water drink bottle with me when I'm out and about.


Question: What inspired you to begin playing cricket?

Alex Blackwell: Growing up on the family vineyard in Yenda with my identical twin sister Kate was so much fun and we were always very active with various sports and outdoor adventures. Kate and I started playing cricket because our close family friend Alex Valentine played and we wanted to do what he did. The 3 of us would watch the Australian men's team on TV during the summer holidays. We recall with great fondness when we saw Michael Bevan hit 4 off the last ball to secure a win for the Aussies against the West Indies. Seeing players such as the Mark and Steve Waugh on TV had huge impact on me. I'm so pleased that women's cricket is now regularly on TV because more and more girls will be inspired to play our great game. Alex, Kate and I are still great mates today! He has followed our cricket careers with much interest.


Question: What do you love most, about the game?

Alex Blackwell: It's an incredibly skilful game in which you can find your little niche. You may simply be a great fielder and be able to find enjoyment in that skill alone. There are so many different types of bowlers and new deliveries being created all the time. In batting there seems to be no limit to what shots are possible. This season I've enjoyed adding the 'Dilscoop' to my game which is shot that goes directly over the wicket keeper.

Question: Do you have any pre-game rituals?

Alex Blackwell: The day before a game I start my hydration routine, which consists of lots of tap water because it's healthy I can trust that water in Sydney is going to be fresh, natural and filtered. I then get my playing clothes folded and packed for the next day. In the morning I'll continue guzzling on my water bottle on the way to the ground while listening to music, usually Triple J's hitlist on Spotify. I quite like to juggle a soccer ball or kick a footy with my teammates before warm up starts as it keeps my mind off my nerves before a big game.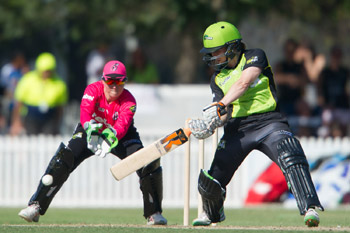 Question: What did you find most difficult about giving up your full time job to focus on your cricket career?

Alex Blackwell: It wasn't difficult to make a decision to be a full time cricketer because this is such an awesome opportunity. I really enjoyed my job as a genetic counsellor at Sydney Ultrasound for Women because they were really supportive of me as a cricketer and also the work was intellectually challenging. My work in prenatal screening was a great 'leveller' for me as it helped me keep things in perspective regarding my successes or failures in cricket. I guess my challenge being a full time cricketer is to make sure I continue to enjoy cricket like I always have, as a game I love to play with my mates, even though it is now my 'job'. I didn't think I'd have the privilege to say that in my career!


Question: Can you talk us through all the items in your cricket/gym bag?

Alex BlackwellIn my gym bag I carry multiple changes of clothes because I sweat quite a bit. Given this I need to have my Sydney Water drink bottle in my bag ready to fill up with fresh and natural drinking water so I don't get dehydrated in between training sessions. Almost always I have my swimmers and goggles in my bag so I can cool off at the beach or pool before heading to NSW Breakers or Sydney Thunder training.


Question: What advice do you have for females hoping to pursue cricket?

Alex Blackwell: Cricket is a great choice for girls! There is so much excitement around women's cricket at the moment and it is now a reality for girls to become full-time professional cricketers. I would encourage them the take the good with the bad and ride the waves of emotion in cricket. There are many tough days, for example when you get out for a duck, but the good days in cricket bring such an incredible feeling of joy and achievement. After a set back or a poor match I try to remember that my best day in cricket could be the very next game I play.

Question: What's next, for you?

Alex Blackwell: I'm about to head over to New Zealand to play 3 ODIs and 3 T20s before we head over to India to play in the World T20 tournament. The Aussie women are going for our 4th consecutive World T20 title! Next season I look forward to hopefully captaining Sydney Thunder to back-to-back WBBL titles after our very successful first year in the WBBL.


Interview by Brooke Hunter