Angelina Alvarez Creates Luxury Statement Jewellery
The designer's love of jewellery was inspired by her grandmother, whom the label is named after. Angelina was born in Spain and epitomises the European style of being immaculately dressed. She would never dream of leaving the house without her lipstick and jewellery.

The pieces are individually crafted with 24kt gold, rose gold and silver plate, inlaid with semi-precious stones. Every gemstone is carefully selected for its texture, colour and life, making each piece in the collection unique.

Our designer's love of jewellery, especially semi-precious stones, was sparked from a young age when she would play in her mother's jewellery box (while she wasn't looking of course). At 7, she was so obsessed with a pair of vintage Chanel pearl drop earrings that she took them to school to admire them all day long. This passion was reignited on a trip she took to Cusco, Peru where the jewellery selection and colours were endless.

www.angelina-alvarez.com/
@angelina.alvarez.designs
www.facebook.com/AngelinaAlvarezDesigns/


Interview with Ash Golinelli
Question: How would you describe the Angelina Alvarez range of jewellery?

Ash Golinelli: Angelina Alvarez creates luxury statement jewellery. Our jewellery transcends specific events and is able to be worn to any occasion: a European getaway, ladies lunch, the races, a cocktail party or ball and to a wedding.


Question: What originally motivated your passion for designing jewellery?

Ash Golinelli: I was inspired by my grandmother, whom the label is named after. Angelina was born in Spain and epitomises the European style of being immaculately dressed. She would never dream of leaving the house without her lipstick and jewellery. My love of jewellery, especially semi-precious stones, was sparked from a young age when I would play in my mother's jewellery box (while she wasn't looking of course). This passion was reignited on a trip I took to Cusco, Peru where the jewellery selection and colours were endless. I had always wanted to be a jewellery designer and have my own business but my family and I felt that it was important to go to university. I graduated with a law and commerce degree and worked in finance for 6 years before starting Angelina Alvarez.


Question: Where do you find inspiration for the Angelina Alvarez range?

Ash Golinelli: The glamorous European summers spent along the Mediterranean, the bright colours and architecture in Barcelona, Saint Sebastian, Seville and Madrid are a huge inspiration for me. I am very lucky and find inspiration almost everywhere I look, from the runways of large luxury brands and vintage designer fashion to the tiles on the floor of a restaurant I am eating at to the shape of a flower. When travelling with me my family are constantly waiting for me to take photos of inspiration I have seen in artworks and buildings.


Question: Can you share your earliest memory of jewellery with us?

Ash Golinelli: When I was 7 years old I was so obsessed with a pair of my mother's vintage Chanel pearl drop earrings that I took them to school to admire them all day long. I had noticed my mother's jewellery earlier than this but this was the moment I became obsessed with jewellery.


Question: Can you talk about how you individually craft each piece of jewellery?

Ash Golinelli: Our pieces are designed by me in my office. Once the sketch has been completed my factory either make an electronic CAD 3D image of my design and then use the CAD image to made a wax piece or they make a wax carving out of a block of wax into a model of the setting. Once the wax piece is made it is placed inside a metal tube and surrounded by plaster. This mould is then heated in a commercial oven to melt away the wax piece leaving a plaster mould. The plaster mould is then cast with metal. Once our metal piece has been made it will be soldered to other parts of the piece and filed to ensure that any join marks or rough edges have been removed. Once our setting is complete, our unique gemstones are set in the setting. This piece is them plated with 24kt gold. The piece is them polished and handed over to our expert quality checking team to make sure each piece that makes it to us is perfect.


Question: How do you source the gemstones for the range?

Ash Golinelli: The semi-precious gemstones used in Angelina Alvarez are great quality and every gemstone used is carefully selected for its texture, colour and life, making each piece in the collection unique. When finding the gemstones for our collection I spend a great deal of time thinking about the colours I want to use and researching different gemstones and their variations. I visit gemstone dealers and markets and discuss the gemstone selection with my factory to ultimately decide the gemstones we use to make our stunning Angelina Alvarez pieces.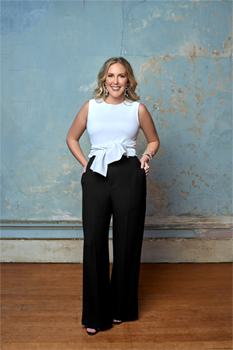 Question: Which piece of the current range is a favourite of yours?

Ash Golinelli: Picking just one favourite piece is like asking a parent to pick their favourite child… impossible.

My favourite statement earrings are the Seville earrings and the Battina earrings because they remind me of European summers.

The earrings I live in are the Christina earrings and the Celia earrings. These earrings are easy to wear and can be worn day-to-night.


Question: What's next for Angelina Alvarez?

Ash Golinelli: We are releasing our second collection later this year that is inspired by Versace tribute collection Specifically the Trésor de la Mer print from the SS 1992 collection and my love of the Disney movie, The Little Mermaid. There will be lots of cool textures and bright colours so keep your eyes peeled!

We have also started custom making jewellery for clients both fashion jewellery and fine jewellery. We have started making engagement rings and wedding jewellery for brides and bridesmaids. I love designing pieces for special occasions – I am hopelessly sentimental at my core so the idea of someone wearing my jewellery every day as a symbol of the love they share with their partner or on a special occasion gives me all the feels.


Interview by Brooke Hunter