The Story of Prince Philip Charming
Cast: Nia Vardalos, John Cleese, Ashley Tisdale, Demi Lovato, Carlos Alazraqui, Wilmer Valderrama, Avril Lavigne, G.E.M .
Director: Ross Venokur
Genre: Adventure, Animation
Running Time: 85 minutes

Synopsis: We all know how the classic fairytales end. Cinderella marries Prince Charming. Snow White marries… oh, interesting… Prince Charming. And Sleeping Beauty marries… wow, now this is just getting kind of awkward… Prince Charming!

As an infant, Prince Charming was maliciously "over-blessed" with "charm," and so through no fault of his own, women are drawn to him like a magnet. Every woman he meets falls head over heels in love with him. And as you might expect of someone born into royalty who is magically irresistible to all women, the world's most famous prince has coasted through life on this charm.

After racking up three very high-profile fiancées and hundreds of spurned lovers out for his blood, Charming sets out to break his curse by finding the most illusive prize of all " True Love. Any valiant knight in this land knows that royal suitors on such a quest must take a journey to self-discovery and manhood known as "The Gauntlet." His father did it, his father's father did it, why not him? And so, with the help of a roguish stranger named Lenny as his guide, Charming sets out to survive The Gauntlet, discover his True Love, and find his happy ending.



However, unbeknownst to Charming, "Lenny" is actually Lenore Quinonez, a notorious thief. Being born at sea, Lenore is also no "maiden of the land" and therefore the only woman in the world immune to Charming's magical allure. Immediately pegging Charming as an easy mark and his quest as a quick payday, Lenore secretly promises to deliver him to his three impatient princesses and the inevitable choice to marry one of them. But, along their journey's path, she begins to suspect that there might be more to this Prince " and her own feelings for him " than she originally thought.

Charming is a comedy about leaps of faith, true loves, and realising that happily ever after isn't as impossible as one might think.

Charming
Release Date: November 1st, 2018


The Story
I have three daughters, which means I have now been reading bedtime stories nightly for the past fourteen years. Very often, the stories we read at night take place in fairytale land and revolve around the big name princesses. And so it was only a matter of time until we had the collective realisation that Cinderella's married to Prince Charming, Snow White's married to Prince Charming, AND Sleeping Beauty is married to Prince Charming. My daughters cracked up… It's the same guy! And that was the jumping off point for me. The girls went to sleep, and I went to my computer and began to imagine how this guy, Prince Charming, was pulling this off. And why he was doing it?

But from that curiosity grew the the breakthrough idea that I needed a strong, funny, intelligent, resourceful, kick butt, and aspirational female hero who would not tolerate any of Prince Charming's ridiculous behavior. I jotted down the name of the first person I thought of who lived up to that description, Lenore Quinonez, my wife. Suddenly, Prince Charming had more than his match to contend with in fairytale land.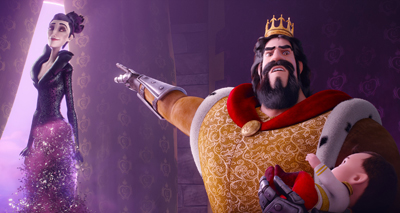 From there, the story naturally unfolded as an upside down romantic comedy. Charming, my male character, isin love with the idea of being in love, but has no idea what love really is. Lenore, my female character, istoo focused on building wealth to have any time for love. Of course, the three iconic princesses (Cinderella, Snow White, and Sleeping Beauty) were still central to the entire premise of the film, which opened me up to being able to lovingly poke fun at our most famous fairytales, all while strictly adhering to the rules of fairytales that have become engrained in us all.
- Ross Venokur


Characters

Philippe Charming
Adoring fans? Prince Philippe Charming has thousands. But a True Love? That's the thing he lacks and desperately needs, even if he doesn't know what real love is. As legend has it, Prince Charming is irresistible to all, but what the stories have always glossed over is that his charm isn't a blessing… it's a curse! Venturing outside the walls of his royal privilege for the first time, Charming has a lot of learn about the world and his place in it.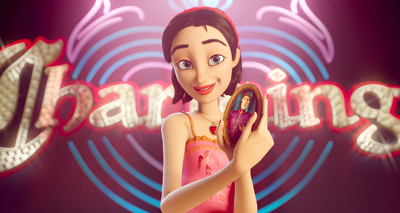 Lenore Quinonez (aka Lenny)
Strong, smart and fiercely independent, Lenore Quinonez is a bandit rivaling the likes of even Robin Hood. Always ready with a wry smirk or witty comment, she approaches the world with a cynical detachment. It's safer and easier that way. Having grown comfortable with her life as a loner, Lenore will do what she can to continue to ignore the nagging suspicion that some things in life may be more valuable that gold.

Nemeny Neverwish
Living proof that there is no fury like a woman scorned, Nemeny Neverwish is determined to destroy Love itself. She is the architect of Prince Charming's curse and the threat that Charming and Lenore never see coming. From her self-imposed exile she waits with her dark magic, counting down the days until Charming's 21st birthday, the day when the curse is sealed and no kiss can break it. Then all love will disappear from the kingdom forever!


Charming
Release Date: November 1st, 2018