Becky McDonough Monster Jam Interview
Fans of big trucks and high-powered vehicles rejoice - Monster Jam® is heading back to Australia in 2016, with up to five brand new trucks and drivers and even more super-charged moto-tainment providing a unique sensory experience like no other.

General public tickets for the world's premiere of Monster Jam – Expect the Unexpected are set to go on sale Monday 23 May 2016, with fans able to witness jaw-dropping displays of punishing stunts across seven shows in five major cities.

With three out of four cities sold-out last year, Monster Jam is back and bigger than ever with the first Adelaide Oval show added to the 2016 tour.

Kicking off on October 1, full dates and show locations are as follows:
01 October – 7pm – QSAC, Brisbane
08 October – 2pm and 7pm – AAMI Park, Melbourne
15 October – 7pm – Adelaide Oval, Adelaide
22 October – 7pm – ANZ Stadium, Sydney
29 October – 2pm and 7:30pm – Domain Stadium, Perth

The show will feature four unique Monster Jam driver competitions – Monster Jam Wheelies, Racing, Donuts and the coveted Freestyle competitions, with the Freestyle Motocross and Quad Wars also set to return.

Each city will also host one Party in the Pits ahead of a show, where fans can get up close with their favourite Monster Jam trucks, before meeting the superstar drivers.

The 2016 lineup includes a number of fan favourites, with -Grave Digger', -Monster Mutt Dalmatian' and -Max-D' back to tear up the track, alongside new additions -Alien Invasion', -Pirates Curse' and the yellow -El Toro Loco'.

Standing nearly four metres tall and four metres wide, Monster Jam trucks are custom-designed machines that weigh around 5,500kgs. Built for short, high powered bursts of speed, the powerful Monster Jam® beasts perform breathtaking stunts and can accelerate from 0-100kph in under 3 seconds.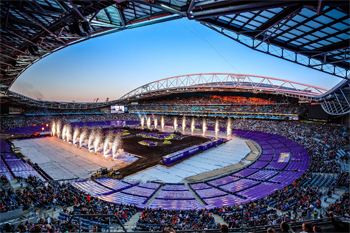 They literally fly – covering up to 50m in a single leap (a distance greater than 14 cars side by side) and up to 12m skywards.

Monster Jam events are affordably priced for the whole family with seats starting from just $28*
Tickets for Brisbane & Perth visit Ticketmaster:
www.Ticketmaster.com.au/MonsterJam or call 136 100.
Tickets for Melbourne, Adelaide & Sydney are through Ticketek:
www.Ticketek.com.au/MonsterJam.com or call 132 849.
With over 170,000 tickets sold nationwide last year, Monster Jam fans are encouraged to purchase their tickets early to avoid missing out.

For more information and to purchase tickets, visit www.MonsterJamOnline.com.au. Follow us on Facebook, Twitter and Instagram



Interview with Becky McDonough
It is not uncommon to see someone fall in love with Monster Jam trucks, want to become a part of the sport, get the proper training, start working on them as a mechanic, and then get the opportunity to drive one of these amazing machines. It is rare, however, that a female takes that path into the driver's seat. Yet that is exactly the formula that Becky McDonough used to become a driver in Monster Jam. After beginning to establish a relationship through emails with one of the sport's best known female stars, Madusa, who offered her advice on how to get into the game, McDonough went through the necessary technician training to land a job working on Monster Jam trucks and eventually became the Crew Chief for Nitro Circus. McDonough worked hard to learn that part of the craft and showed her ability to work with a team attitude, developing a tremendous chemistry with her Monster Jam truck driver Cam McQueen on the Nitro Circus team. Despite her success as a Crew Chief, Becky never abandoned her desire to be a Monster Jam truck driver, and she finally got the opportunity, competing in Costa Rica in 2010 behind the wheel of Donkey Kong, where her impressive debut performance landed her that coveted full time seat as a driver starting in 2011. In 2012 McDonough's career continued to blossom when she joined the popular El Toro Loco® team.

Following McDonough's success in the driver's seat of the El Toro Loco Monster Jam truck in 2012, she was upgraded to a new paint job for 2013. McDonough keep ownership of the yellow version of El Toro Loco for 2014 and she is seeing red… fair warning to all of her competition.

In 2016, McDonough will be piloting the yellow El Toro Loco truck on the Monster Jam FS1 Championship Series tour.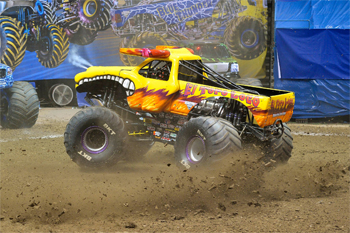 Question: What are you looking forward to most about coming to Australia?

Becky McDonough: Australia has been on my bucket list forever, so I'm excited to have the opportunity to experience all it has to offer.


Question: What can audiences expect from this Monster Jam show?

Becky McDonough: Our typical events include racing, two trucks at a time, and freestyle. Freestyle is where we go out and try to wow the crowd with wheelies, donuts, huge air and occasionally the back flip.


Question: Is it difficult to work within a male-dominated industry?

Becky McDonough: In the beginning, I felt a lot more pressure to prove myself in this sport, especially as a mechanic. I feel I've gained a lot of the male's respect working my butt off at that point to get to where I am.


Question: What inspired your love of monster trucks?

Becky McDonough: I always loved racing, and big trucks. I went to my first Monster Jam in ninth grade and my heart was set. It was the best of both worlds in one event.


Question: Why did you take the leap from mechanic and crew to the driver's seat?

Becky McDonough: Since the ninth grade, all I wanted to do was get behind the wheel. However, I also wanted to know what was going on under me and how everything worked, so I started off crewing until the opportunity to drive came around.


Question: Can you explain to us the feeling of being behind the wheel of a monster truck?

Becky McDonough: It's an unexplainable kind of adrenaline rush! Once the helmet is on and you're on the gas, it's pure excitement.



Question: Can you describe your monster truck, to us?

Becky McDonough: El Toro Loco is pretty unique as it's shaped like a bull. Complete with horns and smoke coming out of the nostrils. I've rigged up a system on my particular El Toro Loco to blow glitter out with the smoke, give it a little girl twist.


Question: What has been your biggest career challenge, to date and how did you overcome it?

Becky McDonough: I would say in the very beginning. 2006 I was a little blonde girl be-bopping in claiming to love Monster Jam trucks and wanted to turn wrenches. Nobody took me seriously. A bunch of the guys had bets on how long I would last. 10 years later I'm still around, so I guess I proved them all wrong. It took a lot of hard work, I felt I had to try harder to prove to everyone I was there for the right reasons and wasn't going anywhere.


Question: How important is social media, in your job?

Becky McDonough: It's unreal how much social media has come about over the past few years. It keeps fans up to date, not just in the 'Monster Jam truck" side, but your life in general which I feel fans like to see, that you're just like them. For us as drivers, it's nice to see the fans point of view, how much they are loving the show and all their pictures/videos.


Question: How does it feel to know you're inspiring younger girls to step out of their comfort zone and achieve their goals?

Becky McDonough: It's pretty humbling. I used to be on that side, looking up to all the drivers, a fan in the stands, day dreaming of how awesome it would be. To finally be doing so and proving that with enough hard work and dedication and you can achieve anything you want.


Interview by Brooke Hunter