Belinda Wheeler Women Firefighters Interview
Fire & Rescue NSW (FRNSW) is gearing up for its 2015 permanent firefighter recruitment campaign with a particular emphasis on attracting more women to the ranks.

The 2015 permanent firefighter recruitment campaign will get underway during May with thousands of would-be firefighters expected to apply.

FRNSW Commissioner Greg Mullins said now was the time for firefighter hopefuls to get themselves prepared for what he described as 'the best job ever".

'We are particularly keen to reach out to fit and healthy women, most of whom have probably never thought of becoming a firefighter. There are hundreds of women who have taken this step over the last 30 years, and so we're encouraging more to step forward and apply," he said.

'Being a firefighter is an immensely rewarding career. No two days are ever the same.
'If you want to make a difference by helping people, and want an interesting, incredibly rewarding career, then why not think about becoming a firefighter?

'With only a few weeks until applications open, now is the time to get yourself physically and mentally ready for the recruitment process."

Candidates will have to complete an online application and undergo a series of tests, including physical and psychological testing. There will also be special information sessions held across Sydney.

Tuesday, 21 April – female firefighter information session (6pm-8pm, Wesley Conference Centre, Sydney)
Thursday, 23 April – general information session (Rooty Hill RSL, 3-5pm and 6- 8pm)
Wednesday, 29 April – information session for Aboriginal and Torres Strait Islander and culturally diverse applicants (Rooty Hill RSL, 6-8pm)
Thursday, 30 April – women's information session (Cronulla Leagues Club, 3-5pm)
Thursday, 30 April – general information session (Cronulla Leagues Club, 6-8pm)

To find out what you need to do to get ready, visit www.fire.nsw.gov.au


Interview with Station Officer Belinda Wheeler
Question: What originally inspired you to become a firefighter?

Belinda Wheeler: When I was seventeen, my brother said that he was thinking about joining the fire brigade, so he started training for it. Since we had always trained together, I started training for it too. Pretty soon I realised how much I loved the physical challenges that would be part of a career as a firefighter, so when the ad came out, I applied!


Question: How long have you been in the field for?

Belinda Wheeler: I have been a firefighter for sixteen years, after being accepted at age 19. I have been a Station Officer for about the last 6 years.


Question: What's a typical day like, for you, on the job?

Belinda Wheeler: A typical day at the station usually goes like this....we arrive at about 7am and do a handover with the previous night shift. Then we get stuck into checking all our gear, truck and tools to make sure we are ready to respond. Next is station cleaning time where we pretty much do the "house work" for the station - bathrooms, vacuuming, mowing the lawn etc. Any time from when our shift starts we can be responded to a job, so sometimes we are still doing morning duties at the end of the day! The next part of our day usually involves drill and a check of our station area. Drill could be anything from using particular equipment, scenarios with other stations or emergency services, or checking hydrants in our local area. We also get out and about in our station area every day to make sure we know what's going on and to chat with the locals - not to mention showing a few kids over our trucks! After lunch, the crew members have an opportunity to catch up on their own things - junior firefighters have study that they need to do to, and as the Station Officer, I have to keep on top of paperwork from calls as well as general station management. We all get together in the afternoon for a session in the gym before the night shift come in to relieve us and do it all over again.


Question: What do you love most, about your job?

Belinda Wheeler: What don't I love! Being a firey at a station is awesome. I work with fabulous people who have such different skills and thoughts, and we all work together in an environment that is ever changing. I also love the physical side of firefighting. People often say they are not really up for a "desk job" - me included. Well this is the ultimate "not-a-desk job". One minute you are cruising in your truck, the next you are out there at a car crash or a factory fire - helping people when they need it the most. What a job!


Question: What is involved in your role as the Station Officer?

Belinda Wheeler: As a station officer I am responsible for a truck and a crew of firefighters. When we attend an incident, the first arriving station officer is the incident controller and is responsible for the incident overall. When we are not at incidents, I am responsible for managing my station and my crew.


Question: Why does Fire & Rescue NSW want to attract more women to firefighting?

Belinda Wheeler: Fire & Rescue NSW would love to see more women in firefighting. Women have been firefighters for 30 years in NSW, but most women still do not see it as a career option. Having more women in FRNSW would diversify our workforce.... And with diversity comes increased productivity and new ways of thinking. Furthermore, it would be great to see more women take the opportunity to enjoy this hugely rewarding career!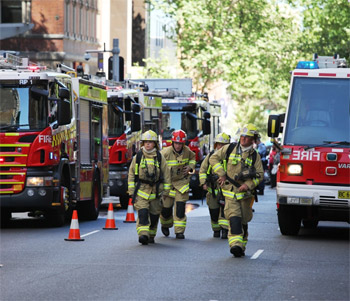 Question: Can you talk us through the application process?

Belinda Wheeler: The application process starts with a series of four online tests. Once you get through these you have the opportunity to undertake the physical aptitude test (PAT). If you pass this, then comes a medical, criminal record check and interview. If you get through all this, you are offered a position to become a recruit firefighter!


Question: How important is being fit and healthy to the application criteria?

Belinda Wheeler: Being fit and healthy is a vital part of being a firefighter, and so it is really tested in the application process. The physical aptitude test will test your strength and endurance to ensure you have the right fitness in order to learn the skills become a firey. The medical ensures that you are healthy from the start to ensure that you are up for the physical challenges of firefighting.


Question: What is your advice to a female looking to join the Fire & Rescue?

Belinda Wheeler: My advice to women looking at joining FRNSW is to go for it! This is such a rewarding career where everything you do is to simply help people! You become part of a new family when you join the fire brigade. It is a challenge, so get fired up! Train hard, visit your local station, and find out as much as you can about what we do.... I guarantee once you see what a career in Fire & Rescue NSW has to offer, you won't look back!


Interview by Brooke Hunter