Imogen Clark While We Wait Interview
A finalist of the Telstra Road to Discovery music program last year, Imogen recently co-wrote the song While We Wait in honour of ANZAC Day about women waiting for their loved ones to return from war.

In her song writing, Imogen captures a really unique perspective around ANZAC Day and what it means to Australian women. The song's story is based on Imogen's great, great grandmother's experience during the war, when women would take their kids to the town square each morning to see a list of names of the men lost overnight – and it's received over 1,000 views in its first week of release!! You can check out the song here

With the 100th anniversary of Gallipoli coming up, the song is already commanding a lot of attention – with Imogen recently performing at the Sydney Australia Day Spectacular in front of 100,000 people, and at the upcoming Camp Gallipoli in Centennial Park for ANZAC weekend in front of an estimated 17,000 people. She's also recently performed the song alongside Aussie country music legend Lee Kernaghan OAM.



Interview with Imogen Clark
Having already played on some of Australia's most renowned stages, including Sydney Entertainment Centre, Sydney Convention & Exhibition Centre, Forum Theatre Melbourne and Tamworth Regional Entertainment Centre, it's no wonder twenty-year-old singer/songwriter Imogen Clark is being regarded by Drum Media as 'showing a maturity beyond her years both in song, her writing and performance...Certainly a mainstay in the Australian live scene" (Timothy Scarfe, 2013).

Imogen's experience includes having been a top 8 finalist in Australia for the Telstra Road to Discovery, as well as a graduate of both the Australian Academy of Country Music and the NSW Talent Development Project. Her long-spanning gigging experience has included being a support act for Matt Corby, Daryl Braithwaite, The McClymonts, Bill Chambers and Christine Anu, as well as playing pre-show entertainment at Sydney Entertainment Centre for the Mumford & Sons, Paul Simon, P!nk, Simple Minds, Carole King, and Leonard Cohen concerts.

On top of her performance successes, in August 2013 Imogen was shortlisted for APRA's prestigious Vanda & Young Songwriting Competition with her original song 'Ceaseless Goodbye', placing her in the top 35 out of 3,300 entries amongst artists such as Josh Pyke. Imogen joins past shortlisters and winners of the competition, Gotye, Megan Washington and Eskimo Joe. Following this, last year 'Ceaseless Goodbye' was given an Honourable Mention in the Nashville-based International Songwriting Competition, placing Imogen in the top 1% of 19,000 worldwide entries and making her 1 of 16 world finalists in her category. The judges of what is deemed to be the world's most prestigious song competition included Tom Waits, Robert Smith (The Cure), Black Francis (Pixies) and Ketch Secor (Old Crow Medicine Show). 'Ceaseless Goodbye' was later nominated as a worldwide finalist in Nashville's Unsigned Only Screen Shot Competition, and, as of March 2015, has progressed to the semi-final of this year's International Song Comp, this time in both the Unsigned Only and Adult Album Alternative categories.


Question: Can you tell us about the song While We Wait?

Imogen Clark: While Women Wait honours the sacrifices made by women throughout history who have had the unimaginable task of waiting for their loved ones to return from war.


Question: Who did you co-write the song with?

Imogen Clark: I co-wrote the song with a fantastic lyricist and great friend, John Walsh.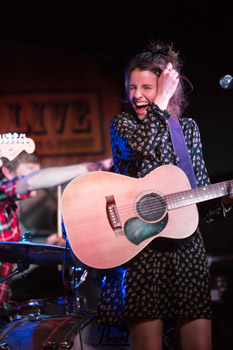 Question: Who inspired While We Wait?

Imogen Clark: Women throughout history inspired the song. The male sacrifice towards war has been very readily documented in song and poetry, but we didn't feel the female sacrifice had been given quite as much acknowledgment. John and I wanted to honour the sacrifices made on the home front by women who held their families together while waiting for their husbands, brothers, fathers, and sons to return from theatres of war around the world. Personally, my connection with the song came from a story my mother used to tell me about my great great grandfather who fought in World War One. My great great grandmother used to walk to the town square every morning with her children and run her shaky finger down the list of fatalities from the previous day. Only once she'd seen her husband's name had been left off the list, she'd walk home with the kids and continue her day as best she could, knowing she'd have to repeat this gut-wrenching routine every morning until the war was over. When we wrote the song, and every time I sing it, I think of that story and the grief that so many families had to go through as a result of war.


Question: Do you write your own songs? What's your inspiration?

Imogen Clark: I have been writing songs since I was about 13. Usually, I'm inspired by people I meet, because I find people and relationships fascinating. I write a lot about love, not only between lovers, but also between family and friends. Love is a key element to the sort of songs I have been brought up on and the sort of songs I love the most, so it's only natural that I'd end up writing a lot about it! I tend to get the most inspiration when I'm travelling on tour, meeting new people and seeing new places, and when I find new music that I love.


Question: What music/artists do you listen to when you are not playing your own?

Imogen Clark: My biggest inspiration is Joni Mitchell. I've never quite found another songwriter whose music hits me in the heart quite as much as Joni's, and I think she's an amazing role model. I'm also a huge Ryan Adams fan and take a lot of inspiration from his ability, like Joni's, to always remain true to himself as an artist. I also love Paul Simon, Paul Kelly, Martin Sexton and Neil Finn.


Question: What's next? Tour/Album/Single?

Imogen Clark: On ANZAC weekend, I'm excited to be performing While Women Wait at Camp Gallipoli in Centennial Park Sydney, which is a camp out concert honouring the ANZACs. The music video for the song will be played at every Camp Gallipoli event, spanning major cities in Australia and New Zealand. I'm looking forward to touring Victoria in May and after the tour, I also have plans to work on a new release which will hopefully be out this year, and more touring after that!


Question: Was there a moment you contemplated throwing in the towel?

Imogen Clark: In all honesty, I've never seriously considered giving up on this career path. Any time things have gotten difficult or I've felt discouraged, the thought of doing anything other than this has always scared me far more than the thought of enduring or resolving whatever issue I'm going through to do with music. I love this more than I've ever loved anything, and I'm willing to handle the hardships in order to see it through.


Question: Do you prefer performing live or recording?

Imogen Clark: While I love recording, I would say I definitely prefer performing. There's just such a vibe you can create from being up on a stage playing to a room full of people, especially when those people are attentive and there's other musicians involved who you can bounce off. I think there's a certain magic to performing live, and I am grateful for that magic every time I get up on a stage and everything else can just fade away. It's like a form of meditation or therapy really!


Question: What/who was your inspiration to go into the music industry?

Imogen Clark: My Dad has been a singer/songwriter since he was a teenager and I grew up listening to his songs and singing along. There were always instruments lying around so naturally, I picked some of them up and taught myself, with lots of help from Dad. My parents are both incredibly supportive and realised I loved singing so started me in lessons with a beautiful lady called Aleda Johnsen when I was 8. I stayed with her for 10 years, singing classical and musical theatre repertoire. I always loved singing (and later, playing guitar) but was never sure whether I wanted to do it as a career, until the first time I played one of my original songs to a crowd. The way I felt singing my own story to people and their response to it was so wonderful, I knew it was what I was meant to be doing, and what I wanted to do for the rest of my life. My folks have been a huge part of that realisation and I'm so grateful for their unconditional support and encouragement. They also encouraged me to get involved in Telstra Road to Discovery for the first time when I was only 14, which really boosted my confidence in songwriting and performing, and it became my introduction into the music industry. On my 15th birthday, I got to perform an original song to thousands of people at the Grand Final in Tamworth. The whole experience was invaluable for me, especially at such a young age; it made me realise it was possible to pursue a career in music, and helped me to learn how. I've remained part of their family ever since, and have met countless friends and industry contacts through the program.


Question: What's a typical day like?

Imogen Clark: To be honest, there's not really a typical day in the life of a musician! I am completely independent so don't have a manager, agent, label, publisher or publicist, so I do all of that myself! Lots of emails and lots of coffee… I'll also write during the day, and if I've got a gig that night I'll head off for that later. On tour, a typical day might be spent travelling (lots of time in cars and aeroplanes), with stops off at radio stations and dodgy roadside restaurants... Funnily enough, the time spent playing the show is probably the smallest percentage of the job!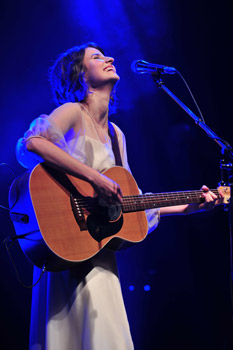 Question: What has been your favourite part of becoming a music artist?

Imogen Clark: I love a lot of things about this job, but I think nothing quite beats the rush of standing on a stage and singing your own songs to an attentive audience and really feeling a connection with people through music. I also love the songwriting process so much, and touring has been a great experience for me. Through supporting wonderful acts like Daryl Braithwaite, Bill Chambers and Christine Anu, and playing at festivals like Adelaide Fringe, Tamworth Country Music and Blue Mountains Music Festivals, I've learnt a lot about songwriting and performing, and it's always fantastic to get to work with people who are great at what they do, in environments where you can really hone your trade. That's a big part of why Telstra Road was very beneficial to me, as it put me in touch with so many inspiring folks and allowed me to share my love of music with likeminded people, which is a huge part of what I love most about this job. I ended up collaborating, touring, and making friends with so many artists I met through the program.


Question: If you could collaborate with another artist, who would it be?

Imogen Clark: My ultimate wish for collaboration would probably be to write and sing with Ryan Adams. I pretty much taught myself how to sing harmonies from singing along with Gillian Welch and Emmylou Harris' harmonies on Ryan Adams' Heartbreaker album. His songwriting has always been a massive influence on me.


Question: Do you have a website fans can visit?

Imogen Clark: Yes! My official website is www.imogen-clark.com and my Facebook page is www.facebook.com/imogenclark.music. I also have Twitter, Instagram, SoundCloud, BandCamp – all that stuff!



60 Second Quiz
Full Name: Imogen Rose Clark
Nickname(s): Immy, Imo, Mo, Motown, Moseph…
Star Sign: Capricorn
Favourite Food: Sushi and cookies & cream ice cream (not together!)
Favourite Films: The Blues Brothers, Good Will Hunting, Fried Green Tomatoes at the Whistle Stop Café, and The Big Lebowski
Favourite Actor: Meryl Streep
Pet: None anymore, sadly (formerly owned a beautiful kelpie called Kimmy and a beautiful bunny called Twitch)
Person You Would Most Like to Meet: Joni Mitchell
Hobbies/Interests: Music, acting, travel, drinking tea
First Job: Singer/songwriter (first and only!)
Are you a Pub, Bar or Club kind: Definitely a pub or bar gal. Clubs are not my thing!
What Can You Never Leave Home Without: Usually my guitar…
What is the first thing you think of when you wake up in the morning: Usually something to do with music – either a melody or some lyrics I'm writing, a new song I've learnt or a new track I'm getting into.

Interview by Brooke Hunter