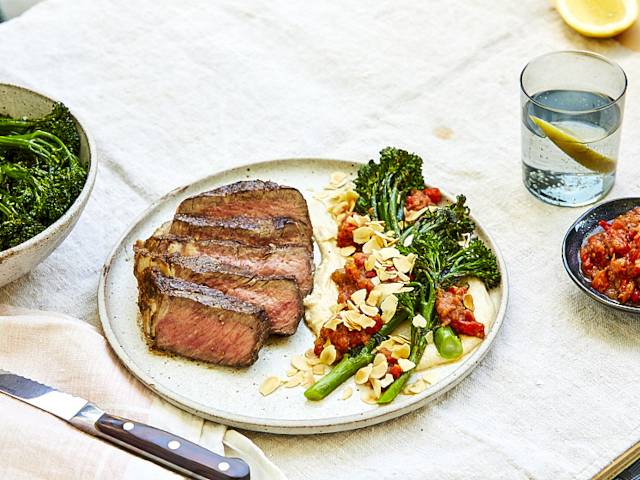 Bistecca steak for your summer backyard barbie
Pip Pratt's BBQ sirloin, charred pico de gallo, BBQ broccolini & almond puree

Serves: 2
Prep time: 20 mins
Cooking time: 30 mins

Ingredients
1 400- 500g sirloin steak
Broccolini, to serve 2

Almond puree
100g almonds, peeled
50ml white vinegar
150g crusty bread
1 clove of garlic
1/2 a lemon, juiced
280ml vegetable oil
70ml olive oil

Pico de gallo
2 red capsicums
3 long red chillies
1 small onion
4 ripe tomatoes
80ml olive oil
1 clove of garlic, finely chopped
1 teaspoon of salt
30ml white wine vinegar
Salt & pepper
Canola oil

Method
Night before
1. Toast almonds in a pan or oven till nicely amber in colour and soak overnight in 250ml water.
2. Take sirloin out of the packet and leave uncovered overnight or 24 hours on a rack in the fridge

On the day
1. Take the steak out of the fridge, oil with a little canola oil and season with salt and pepper using a 3 parts salt to 1 part pepper ratio.
2. Drain the soaked almonds over the crusty bread leaving the bread to soak in the juice and the vinegar.
3. Blend the almonds in a blender for 30 seconds and then add the soaked bread, leftover soaking mixture, garlic, lemon and salt. Blend all ingredients for 1 minute. Once combined, add the oils to emulsify into a chunky puree. Taste for seasoning and zing. Cover and set aside.
4. Rub all vegetables in a little vegetable oil and season lightly with salt. Grill over a high heat on the BBQ. Blacken the capsicums and chillies and "burn" the tomatoes until well charred. Slowly grill the onion and the garlic to cook out the rawness. Once the capsicum and chillis are blackened, put in a bowl and cover for 10 minutes to steam off the skins.
5. Place the onion, tomatoes and squeezed out roasted garlic in the food processor. Rub the skins off the capsicums and chillis and de-seed. Place in the food processor. Pulse together with the olive oil, fresh garlic and salt. Taste for seasoning and spice. This should be a rough, chunky salsa, not a puree.
6. Take the steak and place on the hottest part of the BBQ. Flip every two minutes until at your desired doneness to ensure an even cook.
7. Rest the steak for half the time you cooked it (use a wired rack to ensure it doesn't sit in juices and continues to cook on the plate, which could result in overcooking).

Tips
• Leaving the sirloin steak in the fridge overnight dries the steak out slightly giving it a better crust, texture and flavour.
• Use canola oil not olive oil to cook the steak as it has a higher smoking point so won't leave a bitter taste.
• If you prefer a spicier salsa, leave the seeds in one or more of the chillies.
• Suggest using sea salt flakes to season as it melts better Into the steak when cooking.


If there's one thing Aussies love, it's a good old BBQ. But with so many of us likely to be spending more time at home and entertaining friends and family this summer, it's time Aussies learnt the tools needed to elevate the classic barbie to something extra special and extra tasty.

Australian Beef has assembled the Beef BBQ Squad – Bistecca's steak pro, Pip Pratt, Texas smoking superstar, Randi Thraves and BBQ expert at The Lantern Group, Mitchell Davies – each sharing their expert tips, hacks and mouth-watering recipes so Aussies can up their BBQ game this summer.

Pip Pratt, Head Chef at Bistecca shares his BBQ sirloin steak with Mexican style pepper and tomato salsa with almond puree and his hot tips for BBQ Greatness.
• My secret to a beautiful steak crust, flavour and texture is to dry the sirloin for 24 hours on a rack in your fridge before removing it about 10 minutes before cooking.
• Try using canola oil when cooking on the barbie, not olive oil as it has a higher smoking point, so won't leave a bitter taste.
• When seasoning your steak, remember the 3 part salt to 1 part pepper ratio.
• And lastly don't forget to rest your steak for half the amount of time you cooked it – easy to remember and so important.