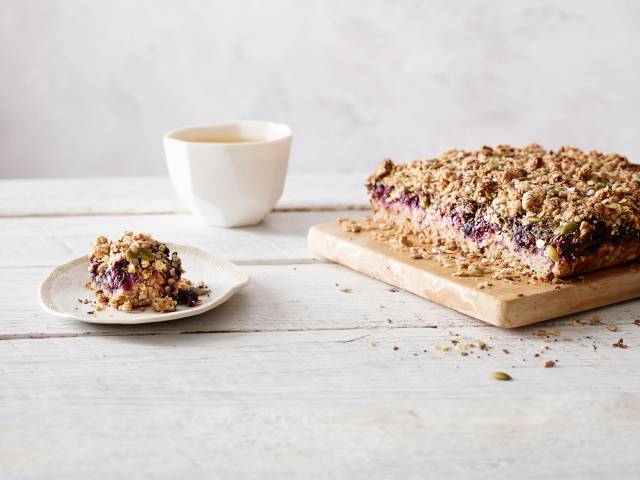 Blueberry Slice Bars
Ingredients
2 cups (250g) quick oats
1 1/4 cups (185g) wholemeal flour
3 tablespoons coconut palm sugar
1/2 tablespoon baking powder
1/2 tablespoon cinnamon
1/4 tablespoon salt
1 egg, large
1/2 cup (125ml) coconut oil, room temperature
1/4 cup (65g) unsweetened apple sauce
3 cups (465g) blueberries
2 tablespoons rice malt syrup
1 lemon, zested
1 tablespoons cornflour
1 tablespoon pure vanilla extract
1/2 cup (140g) mixed seeds (sunflower, pumpkin, chia, flaxseed)

Method
1 Preheat oven to 180°C.
2 In a large bowl, add oats, flour, coconut palm sugar, baking powder, cinnamon and salt. Using a spatula, mix well.
3 Add egg, coconut oil and apple sauce and continue to mix well until all incorporated.
4 Line a square 20cm x 20cm baking tray with baking paper and lightly cover with oil spray.
5 In a medium bowl, add blueberries, rice malt syrup, lemon zest, corn flour and vanilla extract. Stir well with spatula.
6 Place 3/4 of the dough in prepared baking dish, flatten using your hands or back of a spoon.
7 Spread filling over the top evenly followed by ¾ of the seeds. With the remaining dough, rub between finger tips and crumble all over the filling, finishing by scattering the seeds.
8 Bake for 45 minutes.
9 Remove from the oven and let cool completely before slicing into 16 squares.
10 Store in fridge for up top 3 days in airtight container. Can freeze for up to 3 months.