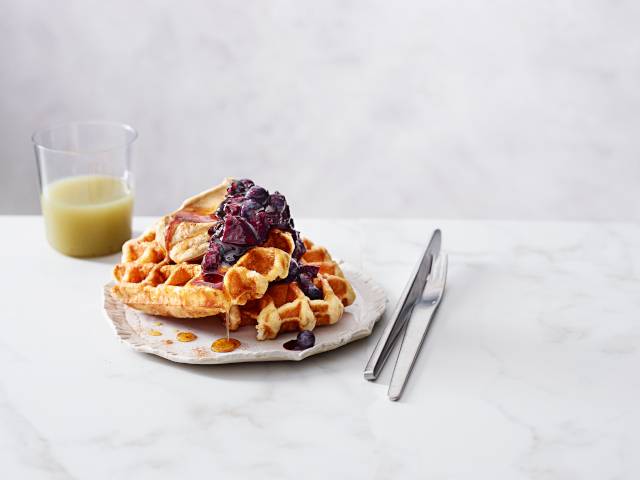 Waffles with Blueberry, Apple Compote & Cinnamon Mascarpone
Ingredients
2 cups (310g) fresh blueberries
1 x 250g mascarpone
3 teaspoons honey
1/2 teaspoon ground cinnamon
2 large granny smith apple, peeled, cored, and cut into 2cm chunks
1 tablespoon lemon juice
3 tablespoons sugar
3/4 cup (180ml) cup milk
3 tablespoons vegetable oil
1 egg
1 cup (150g) self-raising flour
1 tablespoon sugar
Maple syrup
Cinnamon

Method
1 Combine the mascarpone, honey and cinnamon in a medium bowl with a spoon. Cover and place in the fridge to chill.
2 For the apple compote combine granny smith apples, blueberries, lemon juice and sugar in a large saucepan. Place over a low heat for approx. 10min stirring gently and occasionally until apples are tender but not soggy. Remove from heat, set aside to cool completely. (Makes around 400g).
3 Pre-heat your waffle maker.
4 For the waffles place the milk, vegetable oil, and egg together in a medium bowl and whisk together.
5 In a separate, large sized bowl, combine self-raising flour and sugar.
6 Slowly pour the liquid mixture into the dry mixture and mix well with a spoon.
7 Pour 1/4 cup of batter into your waffle maker and cook for 3-4 minutes or until waffle is golden brown. Carefully remove and place onto serving plate.
8 Repeat steps with remaining batter till finished.
9 Top with a scoop of frozen yoghurt, 2 tablespoons compote, maple syrup and cinnamon. Serve immediately.
10 Excess compote can be stored in the fridge covered for up to 1 week.