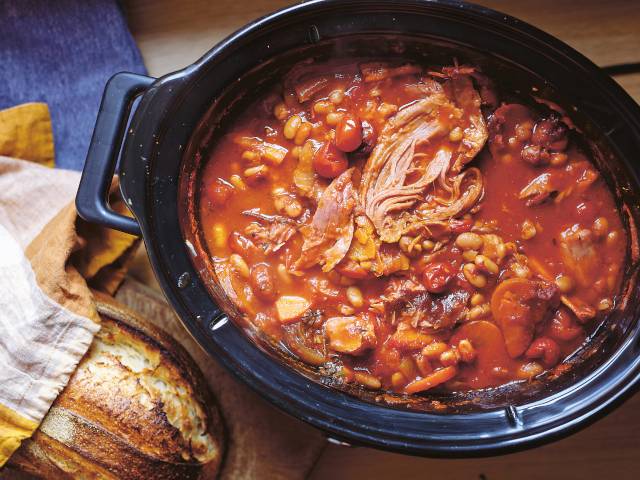 Around the Kitchen Table by Sophie Hansen and Annie Herron

Slow-cooked beans with ham hock (p. 228)

Prep time: 20 mins, plus overnight soaking
Cook time: 6¼ hours
Serves 6

I try to regularly make a batch of these through winter so that there's always something healthy and hearty in the fridge ready to reheat. We all love this on toast and it's a great filling meal to start the day, especially on those long, cold days when we don't get home until late in the evening. These beans are also good for lunch and dinner, as per my serving suggestions below.

2½ cups (500 g) dried white beans, soaked overnight in cold water
1 smoked ham hock
2 brown onions, diced
3 carrots, peeled and sliced into 1 cm (½ inch) rounds
2 thyme sprigs
400 g (14 oz) tin cherry tomatoes
2 cups (500 ml) tomato passata (puréed tomatoes)
2 Tbsp red wine vinegar
1 Tbsp dark brown sugar
1 Tbsp dijon mustard
1 Tbsp pomegranate molasses (optional)

Drain the beans and place them in a large saucepan of water. Bring to the boil over high heat, then reduce the heat and simmer for about 1 hour or until the beans are tender and cooked through.

Turn the slow cooker to high. Drain the beans and tip them into the slow cooker.

Put the ham hock in the saucepan, cover with water and bring to the boil. Reduce the heat and simmer for 10 minutes. Remove the ham hock and place it on top of the beans in the slow cooker.

Add the onion, carrot, thyme, tomatoes and passata. Pour in 1 cup (250 ml) water, or enough to just cover the beans and ham hock. Gently stir in the vinegar, brown sugar, mustard and pomegranate molasses, if using. Cover and cook on low for 5 hours (or for up to 7 hours if that suits you – perhaps add a little more liquid towards the end as those beans can get thirsty!).

Remove the ham hock and shred the meat from the bone, then return the meat to the beans and gently stir.

Notes:
You can use 2–3 x 400 g (14 oz) tins of white beans instead of dried beans. They won't need soaking or pre-cooking – simply drain and rinse them, then add them to the slow cooker with the ham hock.

Serving suggestions:
• Pile the beans on top of baked jacket potatoes and finish with a little plain yoghurt and chopped parsley.
• Divide the beans among small ovenproof plates, make a dent in each, crack in an egg, dot with feta and parmesan cheese and parsley, then cook in a hot oven for 15–20 minutes or until the eggs are just cooked through.
• Thin out the beans with stock and serve them as a stew or soup.
• Use the beans as a jaffle or toasted sandwich filling.

Images and text from Around the Kitchen Table by Sophie Hansen and Annie Herron, photography by Sophie Hansen. Murdoch Books RRP $39.99.