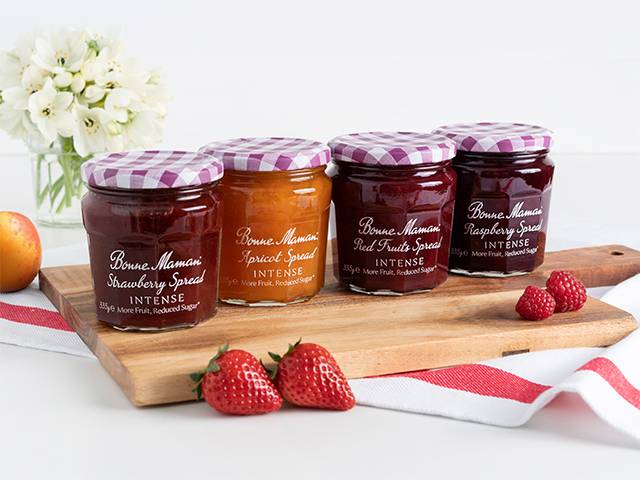 Bonne Maman Relaunches Its Favourite Sweet Sensation – INTENSE range
Packed with succulent fruits and finest natural ingredients, and sealed with their iconic gingham lids, Bonne Maman is relaunching their INTENSE range with new larger 335g jars.
The range is made with an exceptionally high percentage of ripe fruit, offering more intense fruit flavours and 30% less sugar than regular Bonne Maman conserves.
Perfect for both sweet and savoury dishes, the new 335g INTENSE range includes Bonne Maman classics; Raspberry, Strawberry, Apricot as well a Red Fruits Spreads, which is making its Australian debut.
The Bonne Maman INTENSE Range uses only the finest natural ingredients with no artificial colours, flavourings or preservatives.
All conserves in Bonne Maman's INTENSE range come in a new larger 335g jars (RRP $5.99) and will be available in Independent Supermarkets in the spreads aisle.
Review:
Bonne Maman's INTENSE range of jams are so delicious you want to spead them on everything. Great on toast, with scones, but I like to add to my mariades & sauces to add a rich intense flavour that packs a punch.