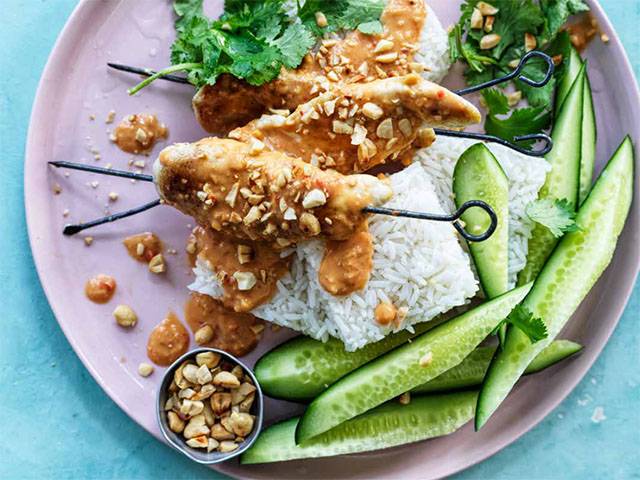 3 chicken tenderloins
2 teaspoons coconut oil
300 g last night's leftover steamed jasmine rice (which is pressed into the takeaway container)
½ Lebanese cucumber, cut into chunks
coriander leaves, to serve

Cheat's twenty-second satay sauce
1½ tablespoons crunchy peanut butter
1 tablespoon desiccated coconut
2 teaspoons chilli jam
½ teaspoon ground coriande
Matt Preston's Six-minute chicken satay Method
Thread each chicken tenderloin onto a metal or soaked bamboo skewer. Heat the oil in a frying pan over medium-high heat. Add the chicken skewers and cook for 2 minutes each side or until cooked through.

While the chicken cooks, get your plate ready. Press last night's leftover rice into the takeaway container, then turn out onto a board and cut into cubes. Place the cubes on a serving plate with the cucumber and coriander leaves.
To make the satay sauce, place all the ingredients into a small microwave-safe bowl. Stir to combine. Microwave on high for 10–20 seconds or until heated through. Add 2 tablespoons boiling water and stir to combine (if you like your sauce runnier just add a touch more water).
Add the skewers to the plate and drizzle with the satay sauce.
This recipe is from Matt Preston's World of Flavour Book