Caterina Di Biase for Melbourne Fashion Week
In the 23rd year of the country's most premier fashion event of the season, Melbourne Fashion Week, kicked off on 1 September 2017 with an incredible opening show. This runway saw some of this season's hottest hair trends created by a team of hairdressers best, among them was stylist Caterina Di Biase.
No stranger to the backstage scene of this nation's most exclusive runway shows, Caterina Di Biase was named hairdresser of the year four times, is the owner of Heading Out Hair and Beauty salons across Melbourne, Schwarzkopf Professional's Creative Director and 2017 Educator of the Year.
Combining forces with fellow industry professional Kevin Murphy, Caterina put her skills and passion to work, creating looks for the Martin Grant runway. One of the most prominent looks of this runway was the sleeked back, fresh and bold style – a trend we may see emerging as one of this year's hottest spring style.
How were the looks created for Martin Grant and David Jones runway?

Martin Grant:
The looks created for Martin Grant were freshly cleansed hair rather than wet looking or grungy. It still looks like natural freshly cleansed hair, but not freshly blow-dried. The silhouette was 90's inspired with a great bend in the silhouette to add shape and texture.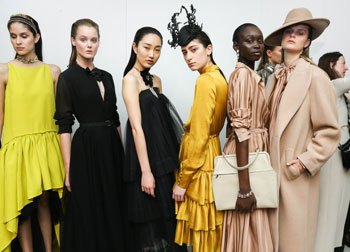 David Jones:
The David Jones runway featured a much more relaxed look with lightly styled, soft curls to add body to their hair – but also giving it that effortless look. Using Kevin Murphy products to add texture, the look was created using a softer approach to the style. A great look that is easy to create at home with your blow dryer and texturising products.

Why are they the new looks for summer?

These are great natural looks for summer because of the beautiful texture. More so, these looks are not only great for summer but also for all the upcoming spring races! They are looks that work beautifully paired with a fascinator to balance out the overall look. These looks are a perfect day to night style that are easy to create and so stylish.

Tips for spring racing hats, fascinators and tiaras - and what styles for each of these. (e.g. wearing hair up or down with tiaras)

My top tip - remember to do your hair! People think that they are limited to pulling hair back and putting on a hat or fascinator, but it is important to balance out your fascinator with your hair, whether that's a beautiful bouncy blowout or slicked back to give you a polished look - hair styling is definitely a must!

There are so many options these days too, which means you are not limited to a fascinator. I love those stylish clips and decorative hair ties as they are such a beautiful option and can be statement pieces by themselves or alongside your hate or fascinator.

When it comes to tiaras, it's all about what works for you! Tiaras can indeed work with your hair up or down. But it's important to remember that you can wear a tiara as long as they are balancing out your face. You must look at what works for your entire race day look – which includes face shape, outfit, style, and overall balance.

For example: If you have a longer face, you want to look at balancing out the length with some width. Hats and tiara's with a swept part are great for shortening a long face.


Images Supplied by Lucas Dawson Photography for Melbourne Fashion Week