There's an old adage that it's the singer not the song. That's not strictly correct. It's all about the singer and the song. Without those two components you have nothing. No amount of production, studio trickery and sheen can compensate for the lack of those two essential ingredients.

Chloe Styler has both of these things – in spades. She can sing like an emotional, empowered angel, and has songs that she owns, lyrics of observation, heart and soul that she delivers with an intensity and commitment that make you believe she experienced the events and then wrote about them five minutes before she walked into the studio.

"Consider Me Gone" is one of those tracks and the first lifted from the 24-year old's forthcoming debut album.

Recorded at The Grove Studios, "Consider Me Gone", sees Andy Mak (Vera Blue/Winterbourne) at the production helm and on bass, piano and keys. Harry Day from Middle Kids features on drums while Sam Telford (Vera Blue) provides guitars. It's impeccably mixed by Jackson Barclay (Birds of Tokyo) and mastered by US dream team, Greg Calbi & Steven Fallone (Tame Impala/Taylor Swift).

"The whole team worked so well together to bring this song to life in a way I could never have imagined", says Chloe.

"It's the perfect blend of every influence of mine, from early 2000s punk pop to 80s pop to a more contemporary indie pop – it's the perfect song to welcome you all to this new era".

"Writing Consider Me Gone was like going to therapy. I was able to get all the feelings out that I'd held in for so long, and the words practically fell onto the paper in front of me. There's no anger, regret or any ill feeling in this song – just relief for finally being able to let go of something that I held onto for way too long".

The accompanying music video was shot by an all-female production team including director, Madeline Jones (Meg Mac) on a beautiful sun-drenched day on Queensland's Gold Coast in between lockdowns.

"Filming the music video was so much fun! It was the perfect day to film, and it couldn't have happened without my amazing all female-team. I'm so proud of what we were able to create. It was crazy to see my pink-California dream Pinterest board come to life on the Gold Coast".

"Consider Me Gone has been a long time coming and I can't wait for it to reach the people it needs to. Remember – you're the director of your own movie! Write your own lines!"

"Consider Me Gone" by Chloe Styler is available now through MGM.
Interview with Chloe Styler
Question: How would you describe your music?

Chloe Styler: I'm really proud of where my music is at today; I'd say it's a mix of Indie Pop, singer/songwriter with a hint of early 2000s pop/rock. Each song is given the production life it deserves. I'm really enjoying the process of finding my sound and being truly me with my music!


Question: What inspired Consider Me Gone?

Chloe Styler: "Consider Me Gone" came about after a break up which dragged on months longer than it should have. But about a year ago I finally felt that enough was enough and that my ex should 'consider me gone'. I cut ties with him and I'm proud of myself for doing that, especially because I wouldn't have this song if I didn't!


Question: Can you tell us about the music video?

Chloe Styler: I'm so fortunate to have filmed the music video with an all-female production team! I'm surrounded by such strong, incredible female creatives around me that I was able to draw upon for this project. The film clip was directed and filmed by a friend, Madeleine Jones. She's a phenomenal creative who has such admirable dedication to her craft. My stylist, Tamzen Holland, worked tirelessly to bring my outfit vision to life and her assistant, Maddy Smith, was such a great addition on set! Reanin Glah is my go-to hair and make-up guru and always knows how to make me feel confident in my skin. I also had the wonderful Madeline Randall on set taking BTS photos. We shot it over three different locations on the Gold Coast over a 12-hour day. We filmed at the Ice Cream Parlour at Dreamworld, at Miami Beach and on Sovereign Island. It was such a fun day!


Question: Is there a particular message you hope listeners take from your music?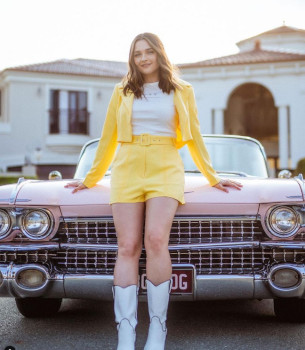 Chloe Styler: I just want people to feel something when listening to my music. Connection is so important to me, so to be able to write a song that somebody can relate to, or find solace in, is enough for me.


Question: Do you prefer performing live or recording?

Chloe Styler: It's really difficult to compare the two because they're so unique! Performing live is so exhilarating, but being able to bring a song to life in a studio after is so special. All my songs start out as a voice memos recording on my phone so they really have the chance to go any direction in terms of production. So that's extremely exciting for me!


Question: What motivates you most when writing music?

Chloe Styler: I 100% write from personal experience so it's safe to say that every song of mine gives some insight into my life. I find this to be the most genuine way that I can connect with people; I don't hold anything back!


Question: Which music/artists are you currently listening to?

Chloe Styler: I'm loving Phoebe Bridgers at the moment, and of course, Taylor Swift. My favourite record of Taylor's is her Red album, so it's been great being able to listen to her re-recording of it.


Question: What or who was your inspiration to go into the music industry?

Chloe Styler: I can't pinpoint an exact moment or thing that inspired me to get into the music industry; it just kind of happened. It's all I've ever wanted to do!


Question: If you could collaborate with another artist, who would it be?

Chloe Styler: I'd love to collaborate with Kacey Musgraves. She's a phenomenal, witty songwriter and I just know I would learn so much from her!


Question: Did you have any pre-conceived ideas about the music industry?

Chloe Styler: Not really! I like to go into things with an open mind and this was no different.


Question: What has been your favourite part of becoming a music artist?

Chloe Styler: I absolutely adore being able to connect with people through my music and social media. Being a musician allows me to genuinely connect with people and *hopefully* make some sort of impact in their life. These are the things that drive me in life, so to be able to incorporate my values into a career that I love is just a dream come true. I love writing music and telling stories; so it's definitely the perfect job!


Question: What's a typical day like?

Chloe Styler: My days are very relaxed at the moment! I've finished my first year of my Masters degree at university so now I'm taking a much-needed break. This includes binging my favourite series on Netflix that I haven't had a chance to catch up on yet!


Question: What's next, for you?

Chloe Styler: I'll be releasing more music in the New Year so follow me on Spotify to be the first to hear the new stuff! I'm really excited about 2022 and can't wait to show you all what I've been working on over the last 18 months.


Question: Can you share your socials? (links please)

Chloe Styler: Instagram
Facebook
Twitter
TikTok


Interview by Gwen van Montfort