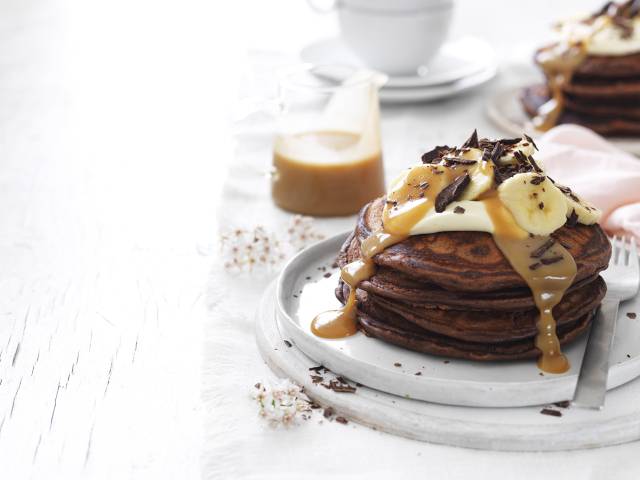 Chocolate Pancakes
Prep Time: 20 Minutes
Cook Time: 20 Minutes
Makes: 8-10 Pancakes

Ingredients
Peanut butter sauce
• ½ cup (150g) smooth peanut butter
• ¼ cup (35g) brown sugar
• 150ml thickened cream
• 2 tbsp maple syrup

Double choc pancakes
• 1 ¼ cups (190g) plain flour
• 2 tbsp caster sugar
• 2 tbsp unsweetened cocoa powder
• 1 tbsp baking powder
• ¼ tsp salt
• 3 eggs
• 1 tsp vanilla extract
• 1 cup (250ml) milk
• 50g unsalted butter, melted, plus extra for cooking
• ⅓ cup (70g) milk choc bits
• 300ml cream, whipped
• 2-3 bananas, sliced
• Grated dark chocolate for garnish (optional)

Method
Peanut butter sauce
1. Combine peanut butter, brown sugar, cream and maple syrup in a small saucepan and heat over low heat, stirring continuously for 3 minutes or until smooth and sugar has dissolved.
2. Sauce should have a thick pouring consistency. If it becomes too thick, stir in a little water or cream to loosen the sauce. Pour into a serving jug, cover and set aside.

Double choc pancakes
3. Sift flour, sugar, cocoa powder, salt and baking powder together in a medium bowl. Mix well. Make a well in the centre.
4. Whisk together eggs, vanilla and milk in a small bowl. Pour into the dry ingredients, along with melted butter. Mix until just combined. Fold in choc bits and set aside to rest for 10 minutes.
5. Heat a non-stick frying pan over medium-low heat and add a little melted butter. Swirl until it begins to foam.
6. Using a ⅓ cup measure, scoop pancake batter into hot frying pan. Cook 2 minutes or until bubbles form and burst on the top of the pancake. Turnover and cook for a further 1 minute. Place cooked pancakes into a large baking dish and cover with foil. Keep warm in a low oven while cooking remaining pancakes.
7. Serve pancake stacks topped with sliced bananas, whipped cream and drizzled with the warm peanut butter sauce. Garnish with grated dark chocolate.