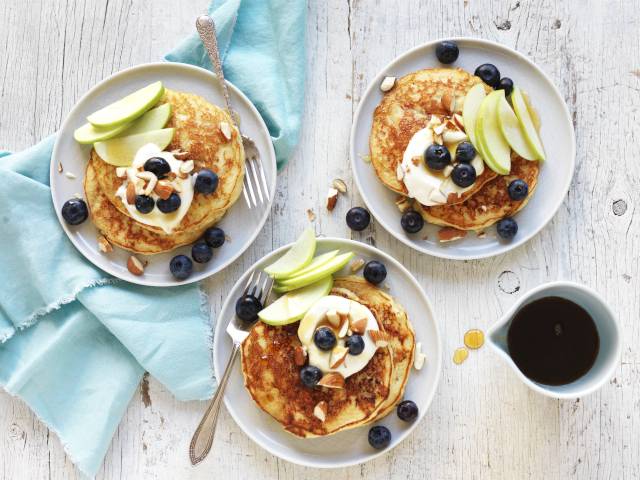 Gluten-free Apple & Almond Pancakes
Prep Time: 5 minutes
Cook Time: 20 minutes
Makes: 8 pancakes

Ingredients
• 2 eggs
• 1/3 cup milk or almond milk
• 1 tbsp coconut oil, melted
• 1 tbsp maple syrup, plus extra to serve
• 1 ½ cups almond meal
• 1 tsp gluten free baking powder
• ½ cup grated green apple, plus extra sliced to serve
• ½ tsp ground cinnamon
• Greek yoghurt and strawberries, to serve
• Natural almonds, roughly chopped, to sprinkle

Method
1. In a large bowl, whisk eggs, milk, oil and syrup together. Stir in almond meal, baking powder, grated apple and cinnamon. Mix to combine well.
2. Heat a large, lightly greased non-stick frying pan over medium heat. Working in batches of 3, pour ¼ cups of batter into the pan. Cook pancakes for 2-3 minutes, until bubbles break on the surface and underside is golden brown. Flip over and cook for 1 minute.
3. Serve topped with a dollop of Greek yoghurt, extra sliced apple and berries. Drizzle with extra maple syrup and sprinkle with almonds.