Contrarian New York, Natalie B and Tiger Lily Jewellery
Contrarian New York embodies the raw sex appeal and classic refinement that made them an instant favourite among stylists and celebrities. The label is designed by a mother and daughter duo Barbara and Alexis Laken (formerly one of the prestigious creative directors at Alice and Olivia). Their goal is to create every piece with a focus on materials and styling that speak to individuality, ingenuity and glamour.

Contrarian New York aims to create trends by synthesizing the three essential elements of good modern design: originality, curiosity and craftsmanship. The collection seamlessly combines inspiration of the quality and wit of French Couture and the edginess and cool aesthetic found in downtown street style.
As seen on: Katie Holmes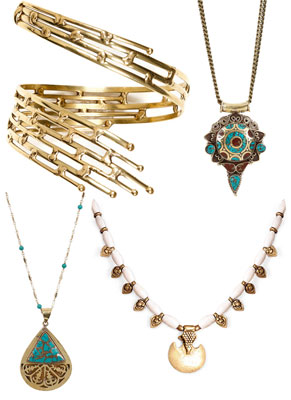 French-Moroccan born but raised in Toronto, Canada, Natalie B is a an accomplished singer, songwriter, pianist, model, painter, make-up artist and jewellery designer.

The exclusive Natalie B -Spiritual Harmony Collection' is inspired by the ancient Indian belief of experiencing spiritual harmony by combining three metals and natural stones. Each piece has been skilfully handcrafted using silver, brass and copper with the finest selection of natural stones such as turquoise, lapis, moonstone and labradorite. Discover the profound strength of each piece by wearing it.
Natalie B jewellery has emerged as a Hollywood favourite frequently seen on Vanessa Hudgens and Ashley Tisdale.

Tiger Lily Jewellery is designed to represent the purest core of a woman who is both a tiger and a lily in the mental emotional, and physical sense; a woman who is exhilarated by adventure and exploration but also envelopes herself in the elegance and glamour that life offers.

Best known for versatility and simple elegance, Tiger Lily Jewellery is owned and designed by Malibu resident Heather Gardner whose designs are loved and well-worn by many.

Gardner's passion is to create jewellery that blends nature's beauty within a modern trend-setting composition that makes women feel as beautiful and unique as they truly are.
As seen on: Vanessa Hudgens, Kourtney Kardashian, Kendall Jenner, Christina Applegate, Brooklyn Decker and Alyssa Miller.