Toyota Country Music Festival Tamworth
Daisy Spratt is an Americana artist from Melbourne, Australia. Her music is toe tapping, inspiring and uplifting, with a positive message. She was born in Queensland, Australia, but grew up in Davenport, Iowa and Lawrenceville, Georgia through her childhood. She was surrounded by country, blues and folk music, which has influenced her Americana sound.

Her self-titled debut EP was released on November 5, 2018, with her brand new single, "Think Again Boy" out now.

In 2016 she released her debut single, Love Like That, which got to the top 10 of the country iTunes charts. In 2017, she released her second studio single, Soda Pop, which got into the top 40.

Through the release of her debut EP she aims to gain airplay on national and international radio stations, more streaming through Spotify, as well as opportunities to network with other musicians and producers. She hopes that her new songs will take her to the next level in her music career, with the goal of eventually writing a full album and touring the globe.

Currently her songs, Love like That and Soda Pop are being featured on Australian Tiger Airway flights across Australia, and rotation was extended for another year due to positive passenger feedback.


Interview with Daisy Spratt
Question: How would you describe your music?

Daisy Spratt: My music is upbeat, and positive. It's eclectic, in the sense that it is a cross between Americana, country and pop music. It's definitely easy listening, and good music to play while driving as well.


Question: Which is your favourite song to perform live and why?

Daisy Spratt: Other than some of my own songs, I would choose 'Dreams' by Fleetwood Mac. I love the song! It's a classic. I've sung it live so many times over the years. I also loved how the song came about; the way music and songwriting spoke for Stevie Nicks and Lindsay Buckingham in a time when it would have been difficult to speak, and helped to process those emotions.


Question: What should we expect from your upcoming tour?

Daisy Spratt: Well, I'm in the process of recruiting my band members. So, you can expect a full, organic sound in the coming months, with great guitaring as well as vocals. The more immediate future will be intimate with myself, and my guitar. We are playing a lot of festivals for 2020.


Question: If you could have anyone, in the world, attend a show, who would it be?

Daisy Spratt: Shania Twain. I mean to have anyone of a high caliber in the industry, to come watch me perform, is just humbling in itself. I looked up to Shania Twain a lot growing up in the USA.


Question: Do you prefer performing live or recording?

Daisy Spratt: I love performing live. There is a different energy and adrenaline rush that you get, when performing for others in the moment. It's also a little more organic, because there are embellishments you can make to the song, to make the experience different to the recording. Recording is great, and I love doing it, but it's usually just you and a producer in the studio, so it's a different kind of energy.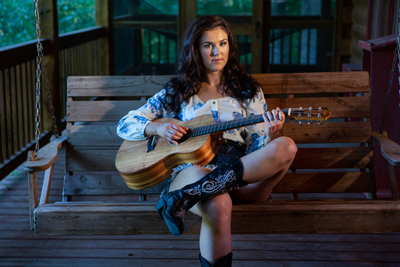 Question: What motivates you most when writing music?

Daisy Spratt: Life (laughs), moments, and experiences happening around me. It helps me process my feelings and emotions when I'm happy or sad. Co-writing is also a huge motivator. I love working as a team, and bouncing off ideas with other people in the room.


Question: Which music/artists are you currently listening to?

Daisy Spratt: I'm a die-hard fan of Fairground Saints at the moment. They are an upcoming band in the USA. I love all their songs and play them on repeat. I've been listening to a mix of country, but also electronica and pop music, like Broods or Glades.


Question: What or who was your inspiration to go into the music industry?

Daisy Spratt: The first live concert I ever saw was Sarah Brighton, who is a brilliant opera singer. I would have been around five years old. It definitely planted a seed that's brought me to where I am now. My family says that I used to say "I'm going to be a singer like Sarah Brightman" when I was really little (laughs)!


Question: If you could collaborate with another artist, who would it be?

Daisy Spratt: That's hard! There are so many talented songwriters and artists. I'd probably have to pick Ed Sheeran. He seems so fun and down to earth. I think writing with him would be so enjoyable, bantering and having a laugh, and you'd create something great as well.


Question: What is the biggest challenge you have faced along the way to your musical success?

Daisy Spratt: Doubting yourself, it's a tough industry, and there is a lot of talent. Especially with globalisation now, and the rise of technology and streaming, you can feel like a little fish in a big pond. But, my faith, my husband and my family keep me grounded, and I'm determined to not give up.


Question: What's a typical day like?

Daisy Spratt: I do a lot of driving around town, so a typical day involves time in my car haha! I do vocal warm ups, and listen to podcasts and music when I'm in the car. I'm doing a lot of interviews at the moment, so most days I am answering phone calls, or filling in applications and documents online. If it's not interviews, it's tons of emails I'm responding to everyday. Rehearsing is also important. So, I do that regularly in my lounge room, writing and going through songs on my guitar, and then asking my husband's opinion on how I'm sounding (laughs). But there isn't really a "typical" day as a musician, because each month changes depending on what I'm recording, or releasing at the time.


Question: What has been your favourite part of becoming a music artist?

Daisy Spratt: The networking. It's so much fun meeting different songwriters, musicians and producers, and hearing their stories and journey. It's pretty cool having a publicist now as well, and the Deadhorse Branding Team, rooting for me, and pushing me along in my craft. Being an artist changes a lot, and fluctuates, which I love. Every week is different, and there are multiple facets to the business, with song writing, performing, networking, making music videos, running social media, and I love that - that I don't do the same thing every single day.


Question: Can you share your socials?

Daisy Spratt: @daisysprattmusic
www.facebook.com/daisysprattmusic
Youtube


Interview by Brooke Hunter