Returning with their first solo single of 2021, and following the release of their standout 2020 self-titled debut album, today Sydney duo Dekleyn serve up their infectious pop single 'Over Again'. Steadily making a name for themselves since 2017, the talented duo have independently released three EPs, in addition to their debut album, and a series of standalone singles, together boasting over 7 million streams across platforms. Known for their smooth vocals with heavy-hitting choruses, combining electronic elements and synths with guitar leads and melodies, the pair have strived to broaden the horizons of conventional indie-pop.

Teaming up with Mark Zito (Fractures) on co-production duties, 'Over Again' delivers a truly international pop palette, with Justin Kleyn's vocals taking centre stage, alongside refined guitar licks, and a driving beat that delivers an equally perfect soundtrack to a warm summer's night, or cosy winter's morning.

Taking the story of a love that wasn't destined to be, Dekleyn create an uplifting take on the memories of a past relationship, sharing "'Over Again' is a fun upbeat tune about the ups and downs of a relationship, the rekindling of an old fire, and the attempt to make it all work out. It's about making the best of a bad situation and trying to be in the moment and take it all as it comes."

Made up of Justin Kleyn and Matthew DeCelis, Dekleyn have seen a plethora of support from all corners of the globe, whilst amassing a solid fan base with their ever evolving indie pop soundscape. Already championed by both triple j and Unearthed, as well as tastemakers such as EARMILK, Acid Stag, Beautiful Buzzz, Atwood Magazine, Going Solo, and more, the duo are continuing to impress with their effervescent productions and take on songwriting. Whilst recently signing with Raida Artists for bookings, Dekleyn have been prolific in their touring, with support slots for the likes of Confidence Man, Fergus James, Fractures, CLYPSO and Angus Dawson, whilst selling out their 'Thrive' EP launch show in Sydney.


Interview with Dekleyn (Matthew DeCelis)
Question: How would you describe your music?

Dekleyn: Our music is upbeat, electronic pop, combining smooth synths with pop guitar elements. It's easy listening, full of lyrics about love and relationships.


Question: Can you tell us about Over Again?

Dekleyn: Over Again takes us back to our early days of acoustic guitar jams. It's a super upbeat, fun, dancey pop song that builds up and up as it goes along. It's a story about love and loss, but you wouldn't know it unless you focused on the lyrics hard enough. Over Again is the first song in the new era of Dekleyn, our post-Covid revival!


Question: Is there a particular message you hope listeners take from your music?

Dekleyn: Mostly we just want people to enjoy themselves when they listen to our music. Most of our music revolves around making the best of a bad situation, and enjoying yourself!


Question: Do you prefer performing live or recording?

Dekleyn: We definitely love a good balance. Too long without either makes us antsy, we love to switch it up to keep ourselves fresh and interested in what we are doing.


Question: How did you guys meet and when did you start making music together?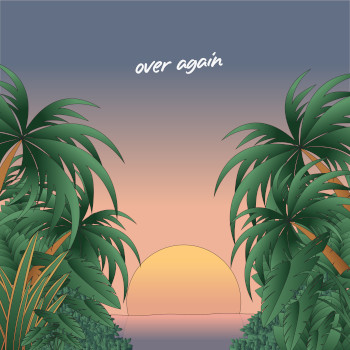 Dekleyn: We met on Facebook about 10 years ago, we're from the same area and knew of each other and started jamming every so often. In 2017 we started making our own music together and haven't stopped since!


Question: What motivates you most when writing music?

Dekleyn: Our desire to make it somewhere and make the best music we possibly can motivates us to work harder and do better. Listening to artists' works that we admire definitely pushes us to do better.


Question: Which music/artists are you currently listening to?

Dekleyn: LANY's new album, Shallou, ARIZONA, Yumi Zouma, Daft Punk, The Japanese House


Question: What or who was your inspiration to go into the music industry?

Dekleyn: Initially we were both inspired by singer-songwriters such as Ed Sheeran and John Mayer, however our inspirations quickly shifted to more of the pop style bands of The 1975, 5SOS etc. when we started making tunes early on.


Question: If you could collaborate with another artist, who would it be?

Dekleyn: LANY, Shallou, Bon Iver, The Japanese House come to mind. We love their styles and feel our sound could work with them all in different ways.


Question: How does it feel to hear your song played over the airwaves?

Dekleyn: It's definitely a great feeling, it's something very special to us every time it happens and we always try to listen together when we know it's coming! I think it's something that will still be a special feeling for a while.


Question: Did you have any pre-conceived ideas about the music industry?

Dekleyn: I think we thought it would be harder than it was to make a start and an impression in the industry. Whilst our reach has been fairly small in comparison to others, we've definitely made a bigger impression so far than we ever thought we could. You can definitely start from anywhere and give it your best shot and do well if you put your mind to it!


Question: What has been your favourite part of becoming a music artist?

Dekleyn: Creating our own art that other people can enjoy together, meeting new people we've never met before at shows and working together to create sounds that we love. The entire experience is always enjoyable and something we don't take for granted


Question: What's a typical day like?

Dekleyn: Uni, work, make music, repeat


Question: What's next, for you?

Dekleyn: We hope to put out some more music for the rest of the year with some bigger projects in the work for next year. Would definitely love to get back to some live shows as soon as possible too!


Question: Can you share your socials? (links please)

Dekleyn: Facebook
Instagram
Twitter
SoundCloud
Spotify

Interview by Gwen van Montfort