Emily Tonkin 30:fifteen Interview
In the current economic climate it is no secret that youth unemployment is at an all-time high. During such a tough and challenging economy, many young people wonder if they will find employment after their education. Young designer Emily Tonkin could be the inspiration they need, as this young entrepreneur has founded her own business, brand and clothing line. Seeing a gap in the market for high quality, stylish and affordable tennis and active wear for women, she decided to create her very own sportswear collection, 30:fifteen.

Emily describes the 30:fifteen range as sporty yet girly. She wants every woman to embrace their active lifestyle while performing in clothes which have been designed to suit their every need and their desire to look stylish. The brand is expertly manufactured in the UK to a high standard and is available in America, Australia and the UK.

Emily grew up in the UK and spent a lot of her childhood playing Tennis and dancing. After her A-levels, Emily decided to join professional performing arts college -The Centre' to peruse a career in dance with Musical Theatre and in 2009 moved to LA to study acting. Emily's career plan took a swift change as she later decided to study Merchandise Product Development at FIDM as an accelerated degree. It was not long before Emily was inspired to create her own clothing range and spent her free time building and developing the brand.

This talented young designer created 30:fifteen, a high quality and innovative tennis range, designed by women for women. On or off the court, 30:fifteen is comfortable, stylish, durable and odour absorbent. Emily has proved anything is possible if you put your mind to it, she now works full time on her innovative brand 30:fifteen.
www.30fifteen.co.uk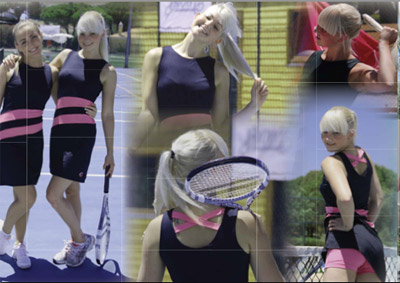 Interview with Emily Tonkin
Question: Can you describe 30:fifteen?

Emily Tonkin: 30:Fifteen is for women, it focuses on providing garments for every women; whether they workout 5-6 times a week or once a week. I want the cute, stylish, comfortable and durable designs to encourage women to workout, play sports and be active. 30:Fifteen encourages a healthy active lifestyle and by offering gorgeous garments, there really is no excuse. The debut collection is tennis focused, but the tops and shorts are ideal for any workout.


Question: What is different about 30:fifteen?

Emily Tonkin: The quality, the styling and the brand message. It is feminie yet still performs to high technical standard; wearing/buying anything from 30Fifteen you are on the right path to a healthy, active lifestyle.


Question: Who is 30:fifteen for?

Emily Tonkin: 30:Fifteen is for every women who leads an active lifestyle, there is no age limit. If you want to feel comfortable and look stylish from the court, track, or yoga mat then 30:Fifteen is the brand for you.


Question: What inspired you to create 30:fifteen?

Emily Tonkin: My inspiration and ideas come from myself and the women in my life. I come from a very sporty family and I lead a very active lifestyle. I could never find affordable, cool workout wear or tennis outfits, so I that was my starting point. All the women in my family/friends are all different sizes and they influence my ideas and are my inspiration so a lot of my designs are based on this. The Sue collection: suits women with broad shoulders and those who are conscious of their tummy. The Anna collection: suits women with wider hips and flatter stomach. The Jane Collection: suits the taller women and the women that like a looser fit on their stomach, and the Alethia collection: is great for the women with long legs.


Question: What does 30:fifteen provide to women that other brands do not?

Emily Tonkin: Styles that suit every body shape, unique styles, fabulous fabrics and a commitment to making women feel confident.


Question: Your brand is affordable, why was this necessary for you?

Emily Tonkin: I really focused on this aspect, purely because there are great brands out there that cater for women's fitness but have to be seen as an investment, especially when life today is so expensive. I wanted to be able to prove great quality women's activewear without them having to see each piece as an "investment".


Question: How have Australians responded to your designs?

Emily Tonkin: Everyone has given us great feedback, and I am really excited to see the brand grow in Australia. It's very exciting!


Question: Why was tennis wear the main inspiration for your collection?

Emily Tonkin: It's a big sport that brands always seem to miss or focus on. Trying to find a stylish, flattering, comfortable and durable tennis skirt is near impossible, there are so few available so I wanted to end that, and introduce 30:Fifteen.


Question: Can you talk about the process behind creating your own fashion line?

Emily Tonkin: On paper it is quite simple, I starting sketching some ideas, and doing ridiculous amounts of research, then got introduced to some potential investors who loved the idea and backed me. I then spent months sourcing manufacturers, suppliers etc, but one of our investors has a very strong relationship with our manufacturers and so I flew out there to see the site and what they could do and also meet the staff etc. We started production almost immediately, I chose my fabrics, showed them my designs and techs and the got to work. I went through fits and then had samples made and got orders through samples.


Question: Can you talk about the material used for the 30:fifteen collection?

Emily Tonkin: The core fabric used is finished with odour and sweat absorbent technologies so you feel comfortable for longer.


Question: What inspires you when designing?

Emily Tonkin: Everything. Life. What's happening around me and my friends or family. The weather, what people are reading, listening too, watching etc. I get inspired a lot by a lot of different things.


Question: Do you pay attention to trends?

Emily Tonkin: I make sure I am aware of them, I like to keep up to date with all things fashion but when it comes to my designs it's more about what I think is missing.


Question: What's next for 30:fifteen?

Emily Tonkin: Oh I have so many plans but I mainly want to see 30:Fifteen expand, and grow further. I want to reach more women. We will be expanding with new collections, and in the future I would love to expand so we have showrooms in the US and Australia.